« AWESOME! Department of Homeland Security Authorizing Libyans to Study Nuclear Sciences and Aviation in the US [Y-not]
|
Main
|
Open Thread »
March 23, 2014
Sunday (Evening) Travel Thread: Botanic Gardens [Y-not]
Greetings traveling morons! Welcome to your Sunday travel thread. Today's thread is brought to you by "Safety, 80s style!":

Inspired by my recent jaunt to Las Vegas, I thought I'd use this week's thread to talk about...
...botanic gardens!
"Whaaaat?", you say. It's true! While looking for a break from the moron(ette) lifestyle, I visited Springs Preserve, a complex of botanical gardens and museums a few short miles from the Las Vegas Strip. What can I say? I like that sort of thing. Maybe some of you do, too.
First a brief report on the Springs Preserve. Although I went there to check out the botanical gardens, the preserve actually encompasses several types of activities. There are the gardens, a museum called "Origen" (which was featuring a Leonardo Da Vinci exhibit while we were there), an outdoor amphitheater, a solar power living laboratory, a playground, and the Nevada State Museum. The latter is not technically part of the Springs Preserve. It was closed while we were there and, I think, requires separate admission. Speaking of which, the admission fee for the preserve complex is pretty high, $19 for adults, with discounts for kids (5-17), students, and seniors (65+).
In terms of the botanical gardens that I've visited, Springs is not the best, but it's not the worst, either. If I lived there, I would certainly become a member and visit it regularly, in large part because I really enjoy desert plants and landscapes. The gardens themselves are rather small, but the pathways are designed in such a way that they "feel" somewhat bigger. I liked how there were plenty of places to touch down and sit (or even picnic), but I was not a fan of the music they were piping into the outdoor spaces – I'd have much rather listened to the birds chattering away. Nevertheless, if you're in Vegas and you want to have some down time and/or you have kids in tow and want a safe place for them to play and run around, I'd recommend Springs.
OK, on to the main topic, what botanical gardens do you recommend for a visit? Which ones are worth traveling some distance to see and which are only worth a visit if you're in the area? To get us started, here's a list of the Best Botanical Gardens in the US via The Travel Channel. I like this list because it seems to survey the entire U.S., so there should be something from every region of the country. (They use that highly annoying slide format, so I've put their list here with links for your convenience.)
Missouri Botanical Garden - St. Louis, Missouri
Known for "a 14-acre Japanese garden… and one of the world's largest collections of rare and endangered orchids."
Admission: $8 adults (ages 13 & over); Discounts for children and county residents
Lewis Ginter Botanical Garden - Richmond, Virginia
Known for "stunning classical domed conservatory houses an orchid collection as well as an annual butterfly exhibit (Memorial Day Weekend through mid-October)."
Admission: $11 (discounts for kids, seniors, and winter season)
Franklin Park Conservatory and Botanical Gardens - Columbus, Ohio
Known for large greenhouses (allowing year-round visits) and a glassblowing exhibit.
Admission: $12 (discounts for kids, seniors, and students)
**Their website is currently down, but the link does go to the proper URL. Here's an alternate link to use in the meantime: http://www.experiencecolumbus.com/columbus-ohio.cfm/Attractions-Parks,-Gardens-Farms/Franklin-Park-Conservatory-and-Botanical-Gardens/id/5571**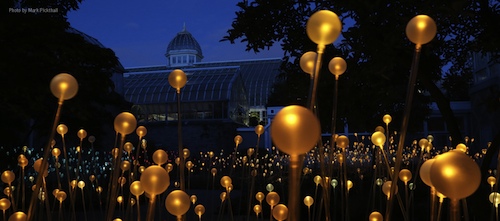 The Franklin Park Conservatory is currently hosting an exhibit by artist Bruce Munro.
Desert Botanical Garden - Phoenix, Arizona
Known for its emphasis on desert plants (over 50,000), including many rare species, in 145 acres. Currently featuring an exhibit of Chihuly glass.
Admission: $22 (discounts for seniors, kids, and students)
I've been to this one and although I love desert landscapes and plant-life, it is not my favorite garden in the southwest. I prefer the Arizona-Sonora Desert Museum, in Tucson. The latter is more of a natural landscape and includes some native animals as well. My recollection is that the drive out to the "museum" is somewhat harrowing and takes you through some interesting country, including a small funky mountain town.
I also really like the Red Butte Gardens on the University of Utah campus in Salt Lake City. Very nicely done, medium-sized gardens with a stunning view of the Salt Lake valley. There is also an outdoor amphitheater where concerts are held in the summer.
ABQ BioPark Botanic Garden - Albuquerque, New Mexico
Known for "a Japanese garden designed by noted landscape architect Toru Tanaka and a children's garden guarded by a 14-foot topiary dragon. The BioPark also includes a zoo and aquarium."
Admission: $12.50 (discounts for kids and seniors)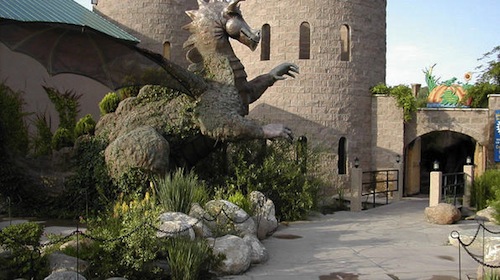 Wow!
United States Botanic Garden - Washington, DC
Known for being "one of the oldest botanic gardens in North America, [it] was established by Congress in 1820."
Admission: FREE
San Francisco Botanical Garden - San Francisco, California
Known for nearly 100 rare magnolias that bloom from mid-January through March, as well as a redwood grove and rare cloud forest plants.
Admission: $7 (FREE for SF County residents; discounts for kids and seniors)
Atlanta Botanical Garden – Atlanta, Georgia
Known for "a 600 foot-long canopy walk among the branches of oaks, hickories and poplars," as well as spectacular displays of "native azaleas, camellias, hydrangeas, perennials and bulbs."
Admission: $18.95 (discount for kids)
New York Botanical Garden - New York City, NY
Known for historic Victorian greenhouses and a train show each winter.
Admission: Incredibly complicated pricing, depending on when you visit and what you want to see. I was too annoyed to figure it out!
Chicago Botanic Garden – Chicago, Illinois (actually, the gardens are in Glencoe, a northern suburb of Chicago that I think is accessible by rail)
Known for an amazing display of bonsai. It's also one of the largest gardens in the country.
Admission: FREE but there is a parking fee of $25 per car (discounts for seniors and Cook County residents)
Fairchild Tropical Botanic Garden - Coral Gables, Florida
Known for rare exotic fruit species and an amazing butterfly conservatory.
Admission: $25 (discounts for kids and seniors)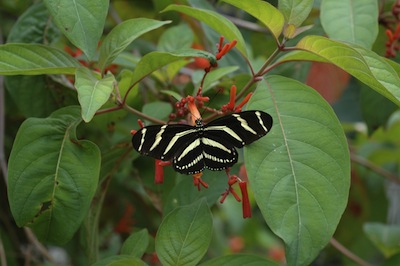 Zebra butterfly on firebush
Dallas Arboretum and Botanical Garden - Dallas, Texas
Known for the largest Spring flower festival in the Southwest and a pumpkin village display each Fall.
Admission: $15 (discounts for kids and seniors)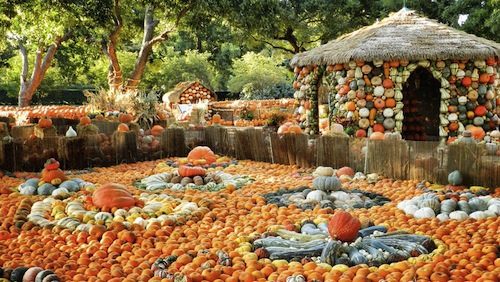 Amazing pumpkin exhibit
So that concludes the Travel Channel's list. Which botanical gardens do you like best?
How about outside the U.S.? I've only been to a handful outside the continental U.S., in Hawaii, Canada, and Germany. Of those, the one I liked the best was probably Stanley Park in Vancouver, B.C. Although not strictly a botanical garden, it is a truly amazing old-growth forest in the city. It's a must-visit if you are ever in the area.
To wrap up our 80s themed travel thread, here are the B52s performing "Roam" (which came out in January 1990):

posted by Open Blogger at
06:37 PM
|
Access Comments