« Rangers Confront Man Wearing Nonsensical Uniform and Tabs Identifying Him as a Ranger
|
Main
|
Is This Something? »
March 17, 2014
Cosmologists Say They've Discovered The Gravitational Waves Predicted by Einstein, Evidence of the First Trillionth of a Second of the Big Bang's Lightspeed Expansion
If I understand this right (and I probably don't), the universe is estimated to be 13.8 billion years old. This estimate is made based upon how much cooler hot bodies have become over time, calculating backwards from present temperatures.
That figuring yields a 13.8 billion year estimated age. However, the size of the universe is inconsistent with this 13.8 billion year figure. The size of the universe suggests an older universe, because things couldn't have moved so far (space couldn't have expanded so much, distant galaxies couldn't have flown away so far) in just 13.8 years.
I think we know how fast galaxies are moving away from each other, and this current speed is not adequate to explain the prodigious distances between them, given the 13.8 billion year estimated age. Therefore, it must be that at some point in the very, very remote past, things (and spacetime itself) were moving much, must faster than they currently seem to be.
So there's a theory to explain why the heat-figured age of the universe (13.8 billion years) diverges from the distance-and-dimension age of the universe (many, many billions of years more than 13.8 billion years): inflation. The theory is that the very early universe, in the opening trillionth of a second of existence, somehow had the property of expanding at the speed of light... or even faster. I believe physical laws weren't quite firmed up yet (the universe created physical laws at the same time it created physical space), so there may be a little wiggle room, in the earliest microseconds of the Big Bang, as to what is and isn't physically possible.
If understand this right (which, again, I don't), cosmologists have been searching for "gravity waves" in the background radiation of the universe, itself an echo of the Big Bang. Background radiation is presumed to be the scattered energy of the once ultrahot, ultradense universe (very understatedly termed "the hot dense state").
I guess they've been searching for variations -- wavelike peaks and troughs -- in this primordial residue.
Einstein, I think, predicted that such "gravity waves" existed and should eventually be detectable by human instrumentation. These gravity waves apparently also prove (or tend to prove) the inflation theory as well.
I think -- again, I don't really understand this -- that gravity waves would represent a "wrinkling" in unfolding spacetime consistent with the inflation sub-theory of the Big Bang Theory. I suppose a lack of gravity waves, and therefore a smoothness in the background radiation, would disprove it or undermine it.
Before getting into that, these waves were detected by a telescope operating at the South Pole, because the South Pole has such thin sky above it, and such little local light. The telescope is called BICEP2. This is a pretty cool picture of the Antarctic telescope: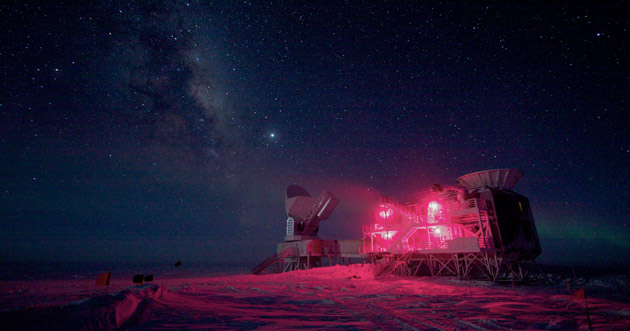 I wanted to post that picture because it's the only thing I understand on a tangible level here. And because, colors.
From Stanford:
Researchers from the BICEP2 collaboration today announced the first direct evidence supporting this theory, known as "cosmic inflation." Their data also represent the first images of gravitational waves, or ripples in space-time. These waves have been described as the "first tremors of the Big Bang." Finally, the data confirm a deep connection between quantum mechanics and general relativity.


...

These groundbreaking results came from observations by the BICEP2 telescope of the cosmic microwave background – a faint glow left over from the Big Bang. Tiny fluctuations in this afterglow provide clues to conditions in the early universe. For example, small differences in temperature across the sky show where parts of the universe were denser, eventually condensing into galaxies and galactic clusters.

Because the cosmic microwave background is a form of light, it exhibits all the properties of light, including polarization. On Earth, sunlight is scattered by the atmosphere and becomes polarized, which is why polarized sunglasses help reduce glare. In space, the cosmic microwave background was scattered by atoms and electrons and became polarized too.

...

Gravitational waves squeeze space as they travel, and this squeezing produces a distinct pattern in the cosmic microwave background. Gravitational waves have a "handedness," much like light waves, and can have left- and right-handed polarizations.

"The swirly B-mode pattern is a unique signature of gravitational waves because of their handedness," Kuo said.
Okay, I don't really understand this, but I think they're saying that if spacetime is itself propagating it should propagate like a wave, with peaks and directionality, and this should show up in this "swirliness" detected in background radiation.
And somehow this is due to quantum mechanical effects on the tiniest possible scale becoming visible on a cosmic scale, due to a universe which had previously been smaller than an electron suddenly blowing up to a size thousands of lightyears across. In blowing up in size from much, much smaller than an atom, to much, much bigger than a galaxy in just a second or two, the secondary effects of quantum-level of phenomena, the imprinting of "swirliness" in the background raditation, were blown up like a photograph being increased in size a billionfold.
Subatomic-scale phenomena become visible when you blow them up a billion or trillion times in size. 220, 221, whatever it takes.
Scientists believe that in the fabric of space-time, there are tiny ripples called quantum fluctuations. If you could look at space-time on the smallest scale possible, you would, in theory, see them, even today. Unfortunately, no microscope is capable of seeing something that small.

Such fluctuations also existed at the beginning of the universe. Inflation, said Irwin, blew them up much larger. That is what we think of as gravitational waves.

The gravitational waves suggested by the BICEP2 results would have expanded across the entire universe at that time, Irwin said. The length of one of these waves -- the distance between peaks and troughs -- would have been billions of light years across.

Light from the early universe, called cosmic microwave background radiation, reveals these telltale signs of our universe's history...

Instead of temperature, BICEP2 scientists were looking specifically at the polarization of the cosmic microwave background -- that is, the direction the electric field is pointing across the sky....

In theory, this swirling polarization pattern could only be created from gravitational waves. And that is what BICEP2 found.

"It's a very clean signature of those gravity waves," Irwin said.
As I keep saying, I don't understand this. It seems like big shakes, though, so I've given it my best try.
Incidentally, these waves were apparently detected three years ago, but they've kept the discovery quiet as they've firmed up their case that these are the gravitational waves they've been looking for.
In one of these articles (can't find it now, alas), they speculated that while nothing can move faster in space than light, space itself can move (expand) faster than the speed of light.
I just mention that because, Hyperspace and Warp Drive. We all want it.

posted by Ace at
07:04 PM
|
Access Comments