« Interpol: More "Suspect Passports" On Malaysian Flight Than At First Thought
|
Main
|
Open Thread »
March 09, 2014
Sunday Travel Thread: Outta Time Edition [Y-not]
Good evening, Traveling morons! For those of you not in Arizona, Hawaii, or the Navajo Nation -- did you remember to set your clock forward for daylight savings time? Inspired by this horrible event, today's theme is "G-D It I'm TIRED So This Is What You'll Get And LIKE It!"
Seriously, though, I am really wiped out after a couple of late evenings last week and spending most of yesterday afternoon in the garden. So I apologize, but the thread will be a little bare bones today.

Today's thread is brought to you by The Days of Our Lives opening sequence:
Via Gizmodo, a neat map that shows How the Time of Sunrise and Sunset Varies Around the World.
Time zones are strange old things, especially the way they prescribe one time to thousands of miles of land mass—so this visualization shows which parts of the world experience unusually early and late hours of daylight as a result
If I'm reading this map correctly, they're saying that my location gets sunrise a little late, but the sun stays up longer. Sadly, I haven't been able to zoom it up well enough to tell with certainty. Moreover, our house's placement relative to the mountains may negate the effect to some extent. I confess I'm more of a morning person, so I guess I'd be better off in Greenland!
On a related notefrom xkcd, "Now" lets you visualize the current time anywhere in the world at any given moment in time that you check it. Kind of fun.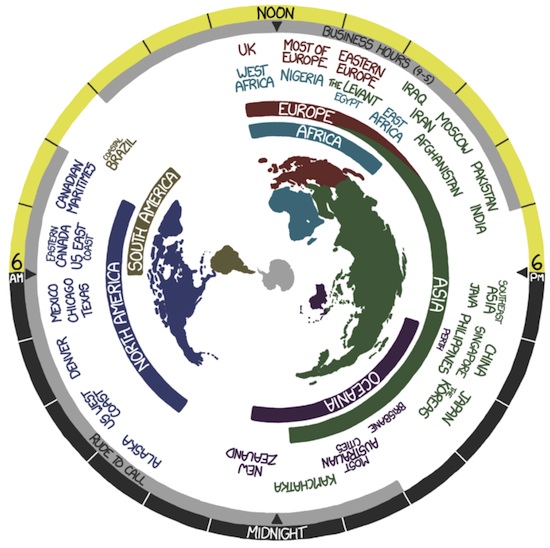 Last week when I was thinking of today's topic, I decided to focus on travel destinations that are known for seasonal festivals and events, mostly because that's a type of travel that I really enjoy myself. Well, I have a lot of links, but not much energy to assemble them into a coherent post… but, what the heck, l'll put the links out there for you all to enjoy at your leisure.
A favorite type of festival at Casa Y-not are arts festivals. We love them, whether they be elaborate week-long affairs or just small ones in our local home town. Heck, we even liked the one that Lafayette, Indiana held each year in May. 'Not sure I'd travel to attend it, but if you're in the area it is definitely worth a visit.
One of our favorite arts festivals will be held next weekend in Scottsdale.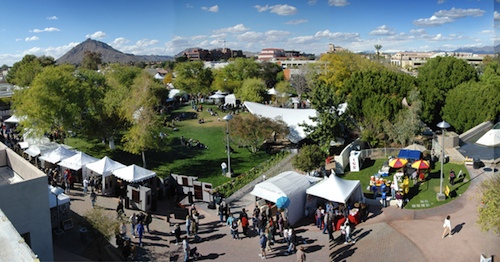 The Scottsdale Arts Festival is held in March each year.
We've been several times and it never disappoints. The weather is fantastic, the art is top-notch, the venue is lively but comfortable (not too crowded), and there are great food and music options as well. Plus, it coincides with Spring Training, so we can double up on our activities. I highly recommend this festival, especially for couples – wives can enjoy the festival and husbands can catch some baseball.
It's many months away, but another one that we really enjoyed (also in the Southwest) is held in the Fall in Taos, New Mexico. It's been several years since I've been (our schedule tends to explode in the Fall), but my recollection is that it was a wonderful event and the scenery in the area is spectacular.
Other arts festivals held around this time of year (to which I have not been) include: the Spring Arts Festival in Santa Fe next month (I have been to Santa Fe and it's well worth the trip if you're artsy) and the Coral Springs Festival of the Arts next weekend. There are many more, mostly in warm weather locations at this time of year. Here's a list of West Coast arts festivals, for example.
A second major type of festival that many people enjoy are music festivals. We've heard a lot in recent weeks about the South by Southwest (aka SXSW) music festival that is happening now in Austin, but did you know there's also a South by So What? festival in Grand Prairie, Texas? It'll be held next weekend. If you're in Florida, you might want to check out Hard Miami in a couple of weeks. Or go to this site to find a music festival near you.
The third major type of festivals that many people love are Food and Wine events. When we lived in Chicago the big thing to do was to go to Taste of Chicago in the summer. We did it one year and were so appalled by the crowd size and the horror of walking on several inches of rib and chicken bones that we never went again – but some people love it. A little more our speed might be the Palm Desert Food + Wine Festival which is held later this month. (Palm Desert is nice, but I haven't been to this festival.) Of course, the Phoenix area has numerous festivals during the winter and spring months.
Perhaps the most unique festival I ran across while researching is the Virginia Fly Fishing and Wine Festival. Held in mid-April in the bustling burg of Waynesboro, Virginia, this festival combines fly fishing with food and drink. Sounds kinda fun!
Finally, the festival-going globe-trotters amongst us might find this listing of festivals around the world of some use.
Do any of you have recommendations of great festivals going on this Spring?
**UPDATE**
A couple of more Spring festivals of note, courtesy of our commenters:
Via Margarita DeVille:Spoleta Festival, MAY 23 — JUNE 8, 2014 in CHARLESTON, SC
Via stace: Fiesta San Antonio, April 10 - 27, 2014

To wrap up, how about a few silly quizzes to entertain you?
Via a site called Best Trip Choices, here's a travel "personality" quiz to identify your travel style. I came out as a "Mid Venturer," aka a "Pioneer". (Any of our Utah or LDS morons should get a chuckle out of that given that I'm in Utah now!) The quiz seems reasonable in terms of travel style identification, but the trip choices it offers based on that are pretty lame, imho.
Via BuzzFeed (yeah yeah, I know) here's a completely silly quiz to help you identify what kind of vacation you should take. I got "An Inspiring Retreat." OK. I guess it beats "Dumpster Behind the Tattoo Parlor."
Probably the best of the quizzes I found in terms of identifying meaningful vacation ideas, is this one courtesy of Tripzard.
How'd you all do?


posted by Open Blogger at
06:51 PM
|
Access Comments