« International Day of Women Open Thread
|
Main
|
Saturday Morning Open Thread »
March 07, 2014
Overnight Open Thread (7 Mar 2014)
You'd think making a decision on the Keystone XL pipeline would be easy, especially when a new poll says there is overwhelming support for it. In fact, Keystone XL would only swell U.S. pipelines by 0.033 percent.

The first U.S. pipeline to transport oil started carrying crude from Coryville to Williamsport, Penn., in 1879. In the intervening 135 years, the continental USA became interlaced with 2,600,000 miles of these steel tubes. And how many more such miles would KXL add? A grand total of 852. That's an increase of 0.033 percent, or the rough equivalent of delivering an extra faucet to the plumbing department at your local Home Depot. Believe it or not, this microscopic change in America's pipeline profile fuels this massive controversy.
Funny Animal Videos With Appropriate Music
Sexual Assault
Canadian guilty of sexual assault after piercing condoms. So is it sexual assault when a woman purposely skips taking her birth control pills so she can get pregnant?
In Russia....
Explosive, spectacular car crash. With a very nice soundtrack.

Otter vs Honey Badger
Otter attacks alligator and kills it. Oh yeah, bring on the Otter vs Honey Badger pay per view special.
Vaccine Denial
I know, it is a Mother Jones link but one could apply what the article say to how liberals think in regard to global warming, financial policies, politics, etc. No matter how hard you try, you can't change an anti-vaxxer's mind.

you might think it would be of the utmost importance to try to talk some sense into these people. But there's a problem: According to a major new study in the journal Pediatrics, trying to do so may actually make the problem worse. The paper tested the effectiveness of four separate pro-vaccine messages, three of which were based very closely on how the Centers for Disease Control and Prevention (CDC) itself talks about vaccines. The results can only be called grim: Not a single one of the messages was successful when it came to increasing parents' professed intent to vaccinate their children. And in several cases the messages actually backfired, either increasing the ill-founded belief that vaccines cause autism or even, in one case, apparently reducing parents' intent to vaccinate.
Of note, the guy that did this study was the one that did one on "conservative" subjects and how they refused to believe a "truth" about George W. Bush and continued to believe the "lie". Did they not think to question liberals too?
Parkour Fails
Orgasm Machine
I'm sure Obamacare will cover this. Scientists build orgasm machine for women.

During the operation, a patient would remain conscious so that a surgeon could correctly pinpoint the right nerves to fit the electrodes in a patient's spinal cord. Then, a signal generator would be connected which would be most likely implanted under the skin of a patient's buttocks.

Stuart Meloy, a surgeon at Piedmont Anesthesia and Pain Consultants in Winston-Salem, N.C., came up with idea by accident.

"I was placing the electrodes and suddenly the woman started exclaiming emphatically," he said to Newscientist. "I asked her what was up and she said, 'You're going to have to teach my husband to do that'."
So, um, where exactly was he placing these electrodes?
Dog Video
Tonight's ONT brought to you by Presidential uniforms: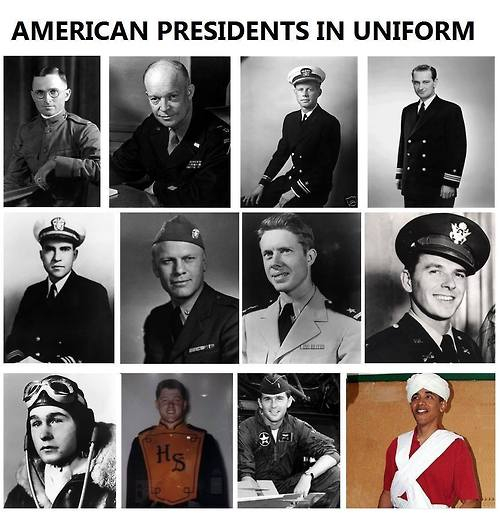 Notice: Posted by permission of AceCorp LLC. Please e-mail overnight open thread tips to maet or CDR M. Otherwise send tips to Ace.

posted by CDR M at
10:48 PM
|
Access Comments