« US vs. Canada Hockey Semi-Final
|
Main
|
Huffpost Live On Legal News This Week »
February 21, 2014
Rand Paul Calls Upon Ted Nugent to Apologize for Calling Obama a "Subhuman Mongrel"
Nugent: "I Crossed the Line"
He's right, on principle and also on the politics.
Here is the full Nugent quote, most of which is okay in my book, if a little extra-spicy -- until those unfortunate two words:
I have obviously failed to galvanize and prod, if not shame enough Americans to be ever vigilant not to let a Chicago communist-raised, communist-educated, communist-nurtured subhuman mongrel like the ACORN community organizer gangster Barack Hussein Obama to weasel his way into the top office of authority in the United States of America.
On principle, Nugent was wrong to racialize his insult. You can fairly say any number of things about the President. Many of his supporters will falsely claim a racial component about anything you say about him.
However, Nugent's statement actually contains, clearly, a racial component. You can't claim that Obama and his supporters are "making up a racial component" when it's right there, right in the words.
On politics-- well, Nugent has been an outspoken voice associating himself with the right. In the guilt-by-association climate that prevails in this country (well, it prevails with respect to conservatives only), anyone on the right is answerable for anything anyone else on the right says at any moment.
Rick Perry has already gotten heat for failing, initially, to criticize Nugent's words:
According to the Dallas Morning News, Perry said Thursday morning that, "Anybody that's offended – sorry, but that's just Ted." By Thursday afternoon, he told CNN's Wolf Blitzer that he's "got a problem" with the words Nugent used.
And now gubernatorial candidate Greg Abbott has had to "flee" reporters who were asking about it:
Abbott on Thursday reportedly fled reporters who tried to ask him about his decision to campaign with Nugent.
Note there is of course a potent media bias which states that some troublesome associations will be front page news while others will not even be questioned.
Another form of media bias in this is what I'd call Vindictive Absolutism. The Vindictive Absolute standard is routinely applied only to "enemies," while friends get a much more lenient standard. The media was all but determined to cover up for Alec Baldwin, for example, taking the position, I guess, that to insist that Alec Baldwin never call someone a "coon," "queen," or dyke was just too much to expect of any man.
But let's look at Hillary Clinton. One of the most damning revelations in the Hillary Papers was this: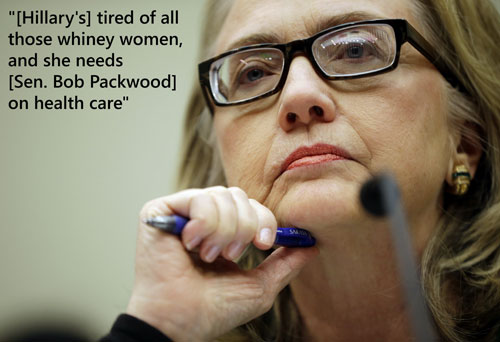 The political left, and the media (but I repeat myself), like to pretend that their standards are Absolute and Inviolable -- at least, when they seek to inflict them on their opponents.
But when it comes to their friends -- members of the political left (such as Hillary) or the media (such as Baldwin) -- we suddenly discover there is a lot more give in these rules, a lot more room for context, a lot more room for human understanding.
Any Republican who made a cold political calculation like Hillary did -- calling women complaining of serious harassment "whiney women" and excusing Packwood's groping because she needed his vote -- would be endlessly badgered by the media for engaging in a War on Women.
But when it comes to Hillary Clinton, suddenly they understand that there will be some politics going on in politics. Of course she said this, they think to themselves. There are more important issues than a few "whiney women."
We mustn't lose sight of the omelet for all the broken eggs.
In fact, the media has not even repeated Hillary's "whiney women" thought. It doesn't even consider it important enough to mention. They haven't even offered a defense that these calculations go on all the time in politics, because they haven't informed their audience of the sentiment in the first place.
All this is true, but this is the environment we find ourselves in.
And I do think one can chew gum and walk at the same time: One can hold the media to account for its egregious bias in story selection and what it chooses to gin up public outrage about, while also faulting Ted Nugent for turning what should have been a fair insult against the President into a broad insult against a huge group of people -- racial "mongrels," for one, and anyone who may have been called "subhuman" due to his race.
One last point: Have you ever been in an argument with someone who keeps claiming, for example, that Obamacare is not a move towards socialism, while you suspect that person would actually be okay with socialism?
It's frustrating, because the argument is sort of dishonest: the person is claiming it's not socialism, as if that matters at all to his argument, when in fact his real argument -- which he won't admit -- is that socialism is good, or at least socialism is nothing to be afraid of.
We engage in that sort of dishonest argumentation at our peril, because the media will certainly not permit us that sleight-of-hand. If our real position is that a bit of racialized commentary is A-OK, then why do we spend so much time arguing that when we knock Obama for being lazy it's not a racial comment?
It's not a racial comment, by the way, but if our real back-up argument is racial commentary is okay, then we're being like that guy who argues Obamacare isn't socialist, but really means to argue that socialism is okay.
I think we need to be pretty precise about what we are and are not defending as fair and civil.
And if we resort to the fall-back position that calling someone a "mongrel" is also okay, we can't really blame anyone for concluding "They're okay with some racial remarks, and it really doesn't matter if this or that particular remark is racial or not, because at the end of the day, they're willing to defend the clearly racial ones, too."
Making that argument loses us the other one, which is far, far more important.
And as a general policy, I don't want to stand for the proposition that there's nothing wrong -- nothing, not even enough to warrant a social scolding -- with racialized insults.
For Anyone Currently Pretending To Not Understand Why "Mongrel" Is a Racial Remark... Try googling "racial mongrelization."
You'll see the term has a long, and wretched, history.
You might also want to google the historical pedigree of "subhuman," and who it is, chiefly, who has used this term.
For the Legions of People Claiming to Not Know What Mongrel Means... WordReference defines it for you:
mongrel /ˈmʌŋɡrəl/
n
1 a plant or animal, esp a dog, of mixed or unknown breeding; a crossbreed or hybrid

2 [TABOO] a person of mixed race

Nugent Apologizes, But Not to Obama:
Robert Byrd, Democrat, Senator, Kleagle: Robert Byrd notoriously wrote the following in 1946:
"I shall never fight in the armed forces with a negro by my side ... Rather I should die a thousand times, and see Old Glory trampled in the dirt never to rise again, than to see this beloved land of ours become degraded by race mongrels, a throwback to the blackest specimen from the wilds."

—Robert C. Byrd, in a letter to Sen. Theodore Bilbo (D-MS), 1946
This has been endlessly quoted on rightwing blogs (on leftwing blogs-- not so much).
This establishes, yes, that the left isn't quite as against racism as they pretend to be.
But it also establishes why some of us are having a hard time believing these claims that "I didn't know mongrel could have a racial connotation."
It's right there in that Byrd quote, something I've cited here dozens of times.
How could you not know?
And, okay, maybe you didn't know. But now that you do know, does it change your opinion, or do you remain steadfast in defending Ted Nugent, on the claim that he probably meant a "mutt dog"?

Or let me ask it this way: How does the argument work, exactly, that Robert Byrd's statement was racist, but Ted Nugent's was, somehow, not?