« Michael Barone: Obamacare is Obama's Iraq War
|
Main
|
Top Headline Comments 12-21-14 »
February 20, 2014
Overnight Open Thread (2-20-2014)
Because there are reports that some people around here have been unduly happy...
Welcome to the United States of Welfare
At some point in the last year or two we quietly passed a milestone in America: As a nation we are now more benefit-takers than full-time workers.
Of course there's probably some overlap between these groups but the bottom line is that getting by with government money is more the rule now in the US than the exception.
So if you work full-time and aren't getting some form of government payout based on your income, you're a sucker part of an elite group these days. You should feel proud to declare that you are a Producer. A majority of America thanks you.
Americans who were recipients of means-tested government benefits in 2011 outnumbered year-round full-time workers, according to data released this month by the Census Bureau. They also out-numbered the total population of the Philippines.

There were 108,592,000 people in the United States in the fourth quarter of 2011 who were recipients of one or more means-tested government benefit programs, the Census Bureau said in data released this week. Meanwhile, according to the Census Bureau, there were 101,716,000 people who worked full-time year round in 2011. That included both private-sector and government workers.

That means there were about 1.07 people getting some form of means-tested government benefit for every 1 person working full-time year round.
Note that these means-based benefits do not include Social Security and most government pensions. Those fall into an entirely separate Big Effin' Problem category.
Among the 108,592,000 people who fit the Census Bureau's description of a means-tested benefit recipient in the fourth quarter of 2011 were 82,457,000 people in households receiving Medicaid, 49,073,000 beneficiaries of food stamps, 20,223,000 on Supplemental Security Income, 23,228,000 in the Women, Infants and Children program, 13,433,000 in public or subsidized rental housing, and 5,854,000 in the Temporary Assistance for Needy Families program. Also among the 108,592,000 means-tested benefit recipients counted by the Census Bureau were people getting free or reduced-price lunch or breakfast, state-administered supplemental security income and means-tested veterans pensions*.
*I'm not quite what this is but it seems distinct from the usual years-of-service-based military pensions.
Wait are you paying for your own food? Come on - be a smarty and join the EBT party.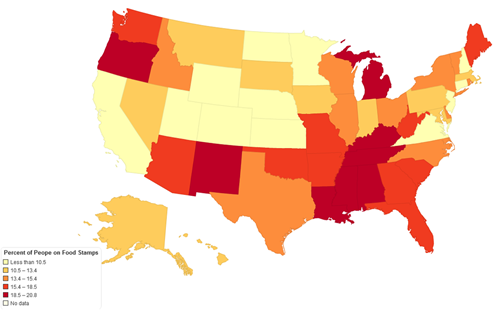 The Tragedy of the Dependency Culture
Here David French looks at how the War on Poverty and easy government checks has damaged the spirit and souls of people in Appalachia.
To get a sense of the extent of government dependency in some Kentucky counties, in Martin County, Ky. (a county LBJ visited), consider this: Income from government transfer payments exceeds all income from wages and salaries - a ratio that far outstrips the national average.
...Perhaps most disturbing of all - for those who seek private intervention to alleviate poverty and transform lives - it appears the avalanche of government aid inoculates the region against effective charitable assistance. In a separate report, Cheves details how charitable dollars also flow into Appalachia, to no discernible effect. In fact, local residents are often all too happy to let private volunteers do repair work they're perfectly capable of performing themselves - sometimes leaving homes in disrepair until the annual summer influx of college students, all eager to help. The tragedy of government dependence is the tragedy of the slowly-dying human heart - the loss of hope and the rejection of any personal revitalization that requires more than a bare minimum of effort (followed by immediate and dramatic rewards). In my own time working with at-risk youth in Kentucky, my wife and I found it extraordinarily difficult to compete with the no-strings-attached federal money, where it was all too easy to reject any true reform or true personal initiative in favor of the life they knew.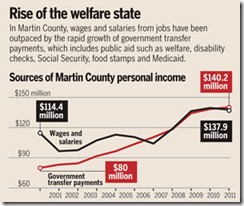 Which brings us to the end state: Meet the 36-Year-Old Dane on Welfare Since She Was 16
Free at last from the eternal shackles of survival and responsibility. And purpose.
It turned out, however, that life on welfare was not so hard. The 36-year-old single mother, given the pseudonym "Carina" in the news media, had more money to spend than many of the country's full-time workers. All told, she was getting about $2,700 a month, and she had been on welfare since she was 16.

...Carina was not the only welfare recipient to fuel the sense that Denmark's system has somehow gotten out of kilter. Robert Nielsen, 45, made headlines last September when he was interviewed on television, admitting that he had basically been on welfare since 2001.

Mr. Nielsen said he was able-bodied but had no intention of taking a demeaning job, like working at a fast-food restaurant. He made do quite well on welfare, he said. He even owns his own co-op apartment.

Unlike Carina, who will no longer give interviews, Mr. Nielsen, called "Lazy Robert" by the news media, seems to be enjoying the attention. He says that he is greeted warmly on the street all the time. "Luckily, I am born and live in Denmark, where the government is willing to support my life," he said.
Thanks to a generous state both Carina and 'Lazy Robert' can look forward to pleasant retirement from a life of arduous non-work in just another decade or so.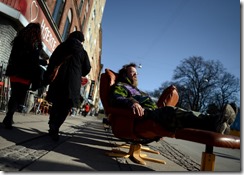 How You Too Can Score Some of Those Sweeeet Guvvie $$$
Hey don't get angry - start getting your share.
Look all that government money is just going to be spent and wasted before the big crash anyway. So why
shouldn't
it go to someone like yourself who's willing to invest it in value-retaining durable goods like liquor, XBoxes, firearms, Russian brides, and full-featured bunkers. Because someone has to keep our American cultural heritage alive.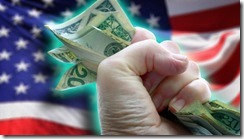 Are You Responsible For the Worst Thing One of Your Ancestors Ever Did?
Yes says the Guardian.
A newly appointed city commissioner in New York, Stacey Cumberbatch, told the New York Times last week that she believed British actor Benedict Cumberbatch's fifth great-grandfather owned her ancestors on an 18th-century sugar plantation in Barbados. They "are related," the newspaper noted, "if not by blood, then by geography and the complicated history of the slave trade."

...But there is a third dimension to the victim-perpetrator axis that is less often discussed: what of those who were not directly involved in wrongdoing but who benefited from it nonetheless? This can apply contemporaneously but also to generations beyond. What if your crime - if it can be called that - is to be born the son, grandson or great-grandson many times removed from those wrongdoers, their acts echoing in your blood and in your name? Should Benedict Cumberbatch still say sorry? Should he pay for the sins of his forefathers?
David Thompson points out that while many on the left seem to implicitly assume sin is genetic, they also don't really understand the math of genetic inheritance.
As we're apparently obliged to fret about one of Mr Cumberbatch's fifth great-grandparents, what about the other 127 fifth great-grandparents? Or the 2,048 ninth great-grandparents? There's bound to be some dirt there. And as a concerned and "reflexive" person - one apparently troubled by "privilege," "structural injustice" and the "tentacles of history" - shouldn't Ms Hanman first check whether her own distant ancestors committed any sins, whether deemed grievous at the time or as fathomed by modern standards?

If "undoing past wrongs" is the imperative, along with "collective accounting," as Ms Hanman appears to believe, why not venture further into history and supposition? If we go back to Ms Hanman's own 18th great-grandparents, we could merrily agonise over the deeds and rumoured deeds of a million or so people, about whom we could be even more tendentious and unrealistic. If we poke long enough and deep enough, and squint where necessary, we may find hustlers, rustlers, colonisers and cannibals. Imagine the fun.
"You better stay away from him
He'll rip your lungs out Jim
I'd like to meet his tailor"
Could this be the ultimate Sochi fail? Kate Hansen seems to think so. The American luger filmed an unwanted hotel guest roaming the halls of Olympic Village yesterday, tweeting out the video link, posted to YouTube, along with this caption: "Wolf in my hall?!? #SochiProblems #SochiFail." In the video's description, she writes, per Sky News, "I'm pretty sure this is a wolf wandering my hall in Sochi."
[Apparently this was a hoax by Jimmy Kimmel but since I already had the headline I figure why let the hobgoblin of truth and accuracy take away all the fun.]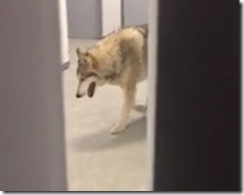 Also the 15 Scariest faces of Sochi.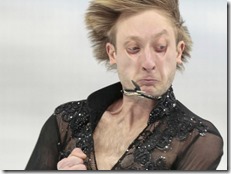 Yahoo group. That is all.
The group thingy. And the middle class.
And my Twitter spew.
Tonight's post brought to you by updated Maslow: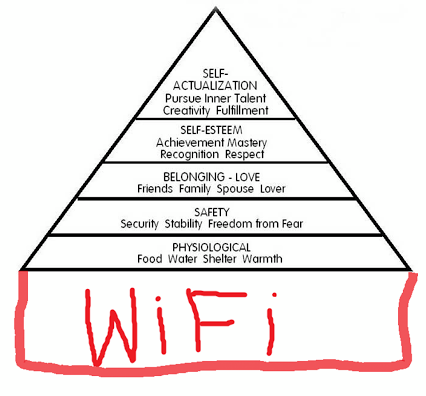 Notice: Posted by permission of AceCorp LLC. Please e-mail overnight open thread and stock tips plus 1 bitcoin for S&H to maetenloch at gmail. Otherwise send your scraps to BizarroAce. Do not taunt happy-fun ball. Avoid contact with genital area. Not valid in MT, DE.

posted by Maetenloch at
10:47 PM
|
Access Comments