« Sun. Morning Open Before The Book Thread Thread [OregonMuse]
|
Main
|
Open Thread (reserved for politics) [CBD] »
February 16, 2014
Sunday Morning Book Thread 02-16-2014: The City of Books [OregonMuse]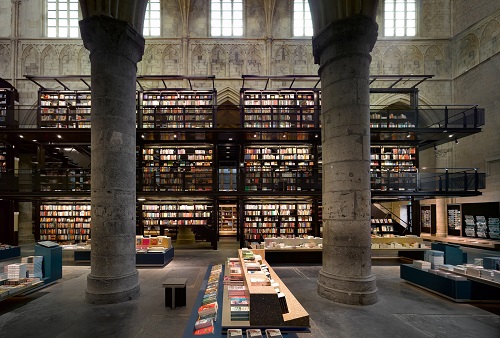 Boekhandel Selexyz Dominicanen Bookstore, Maastricht, Holland
Good morning morons and moronettes and welcome to AoSHQ's prestigious Sunday Morning Book Thread.

Great Bookstores
A book thread reader tipped me to this Business Insider article ,18 Bookstores Every Book Lover Must Visit At Least Once. Some of these look absolutely gorgeous. I was chiefly interested to see if one notably awesome bookstore made the list, and I was not disappointed.
Coming in at #18 is Powell's Books in Portland, Oregon. Started by Walter Powell in 1971, it has expanded into several locations, even when other bookstores were closing due to competitive pressure from the large chain bookstores and internet sales.
It is one of this country's most remarkable bookstores:
The "City of Books," as the four-story flagship store on West Burnside is known, occupies an entire city block, and carries more than one million books. The sixty-eight-thousand-square-foot space is divided into nine color-coded rooms, which together house more than 3,500 sections. From the moment you walk in, it feels as if you could find anything there. (And if you can't, try one of the seven branch stores in five other locations throughout Portland, specializing in everything from technical books to home and garden.)
If you're ever in Portland, you really need to visit Powell's. It's an amazing bookstore.
We have a bookstore down here in Eugene which I like to think of as sort of a Powell's mini-me: Smith Family Bookstore has survived for 35 years by selling (primarily) used books, particularly used college textbooks. There is no facility on the Smith Family web page for browsing their inventory, since none of it is online. You actually have to go there yourself. I kind of like that.
So I'm wondering if any of you morons have favorite local, independent bookstores nearby that have managed to survive the brutal competition of the last two decades.
Here are some more bookstores worthy of note.
Thanks to Chris for the tip.

You've Seen The TV Show, Now Read The Book
I don't know how many of you are watching the 'House of Cards' series on Netflix starring Kevin Spacey. I myself am a fan of the original BBC series with Ian Richardson as the conniving, power-obsessed politician that came out in 1990. Spacey is a good actor, but he doesn't match the robust malevolent glee of Richardson's Francis Urquhart.
That mini-series, however, was based on the novel 'House of Cards' by former Thostaer adviser Michael Dobbs, and originally published in 1989. For a modern book, it has been unusually hard to get a hold of. Until now. The Kindle edition of HoC is now available for purchase at the pleasantly surprising price of $6.15. Dobb's two sequels, "House of Cards: To Play the King" and "The Final Cut," will be made available later this year.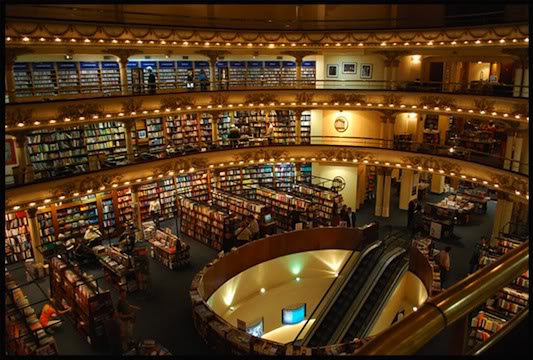 Librería El Ateneo Grand Splendid, Buenos Aires, Argentina

Moron(ette) Recommendations
I get a lot of interesting book recommendations in other threads. For example, in one of the Amanda Knox threads earlier thie week, I caught this one:
For a more lighthearted look at Italy, there is always the John Grisham novel Playing for Pizza.

Its about a third string American quarterback on the Cleveland Browns who manages to turn in the single worse performance ever. The Browns cut him and no team in the US wants him. So his agent finds him an Italian team for him to play on - the Mighty Panthers of Parma.

Posted by: Anna Puma (+SmuD) at February 12, 2014 06:44 PM (4w7wl)
How about that? A Grisham novel that's not about sleazy, corrupt lawyers.
Amazon says:
The Parma Panthers desperately want a former NFL player—any former NFL player—at their helm. And now they've got Rick, who knows nothing about Parma (not even where it is) and doesn't speak a word of Italian. To say that Italy—the land of fine wines, extremely small cars, and football americano—holds a few surprises for Rick Dockery would be something of an understatement.
It's available on Kindle, too.
Heh:
BONUS: This edition includes an excerpt from John Grisham's The Litigators.
Aaaannd... we're back to our regularly scheduled program.
But remember, if you buy Playing For Pizza and it isn't very good, or it doesn't live up to your expectations, then Anna Puma (+SmuD) is to blame.
This gives me the perfect excuse to talk about my own favorite Grisham novel, The Testament. This is about an eccentric billionaire who changes his will right before he dies, cutting out all of his predatory, avaricious relatives and ex-wives who thought they'd soon be cashing in big time. Instead, he leaves his entire estate to someone he claims is his daughter by a woman no one has ever heard of. It turns out she is a missionary working somewhere in the Brazilian rainforest region, so the law firm that is settling the estate has to send one of their suits down there to find this Christian missionary, who cares nothing about money, and tell her that she has just inherited 11 billion dollars.
Now that's a great plot.

Also in this Kindle edition:
BONUS: This edition includes an excerpt from John Grisham's The Litigators.
Boy, they're really milking this Litigators thing, aren't they?

"To Protect (our interests) And Serve (our coffee)"
For the last few years, we've been seeing the variations of this scenario play out with depressing regularity all over the country:
1. Police shoot up some innocent civilians by mistake
2. No charges are filed
3. The police department sets up a police commission to investigate police misconduct
4. Said police commission exonerates police officers of any wrongdoing whatsoever
5. Local D.A. declines to prosecute
5. Case closed.
I used to be a pretty strident "law and order" guy who took the LE side pretty much all of the time, but after hearing, over and over again, these stories and no-knock-raid-gone-horribly-wrong stories, now I'm not so sure. And I'm not so much outraged that these horrendous situations can happen, but rather the irresponsible response of the government officials afterwards, which includes stonewalling, destruction of evidence, planting of phony evidence, filing false reports, intimidating witnesses, etc., is simply beyond belief. That they are so successful at evading responsibility in most of these cases is absolutely maddening. There was a particularly egregious example mentioned in the sidebar recently where two women were shot at 103 times by 8 police officers because they were delivering newspapers from a pickup truck that looked sort of like the one a suspected cop killer was last seen driving.
As you might guess, this was the Los Angeles Police Department, whose reputation for brutality and corruption is legendary.
So here is a book about the LAPD, written by a guy who was there. I saw it mentioned in the comments section of the sidebar article. LA Secret Police: Inside the LAPD Elite Spy Division by former LAPD officer Mike Rothmiller.
I haven't read this exposé, so I don't have an opinion of the quality of the evidence Rothmiller presents, if he has any, or if he is just telling the story as he saw it.
The Amazon blurb says
Detective Rothmiller...exposed the tentacles of corruption which reached to the highest levels within the LAPD and Washington D.C. It wasn't long after that an assassin attempted to take his life. It was apparent to many that powerful forces wanted him silenced. Incredibly, in this book Detective Rothmiller names names! See why this book changed the LAPD and is required reading at many universities. As former Assistant United States Attorney Marvin Rudnick said, "Rothmiller was in a position to know. He did very sensitive work."
And
[T]he ending of this book will shock you. Within the new epilogue is a multi-page essay written especially for this updated book by Pulitzer Prize winning journalist David Cay Johnston. In it he describes his personal experience as a target of Daryl Gates illegal intelligence operations while he served as a Los Angeles Times reporter. You'll also read the challenge posed by detective Rothmiller to the LAPD. A challenge LAPD has refused to answer.
It's available on Kindle for $2.99. For that price, I'll read it.

What Is The Most Literate City In America?
According to a study conducted by Central Connecticut State University President John Miller and reported in this USA Today article, Washington DC is the highest out of 77 cities included in the study.
So how does Miller measure 'literacy'? The rankings are based on
data that include the number of bookstores, library resources, Internet use, educational levels and newspaper circulation.
But
[Miller] acknowledges that the study, which includes cities with populations of at least 250,000, measures quantity, not quality. "That's more subjective and harder to verify," he says.
So the top five are Washington, Seattle, Minneapolis, Atlanta, Pittsburgh. The bottom 8 are cities in two states: California and Texas.
Details of CCSU President Miller's study are posted here.
Heh. "Central Connecticut State University: Where Even The President Does Research."
___________

So that's all for this week. As always, book thread tips, suggestions, rumors, threats, and insults may be sent to OregonMuse, Proprietor, AoSHQ Book Thread, at aoshqbookthread, followed by the 'at' sign, and then 'G' mail, and then dot cee oh emm.
What have you all been reading this week? Hopefully something good, because, as I keep saying, life is too short to be reading lousy books.

posted by Open Blogger at
10:10 AM
|
Access Comments