« Sunday Morning Open Thread
|
Main
|
Sun. Morning Open Before The Book Thread Thread [OregonMuse] »
February 09, 2014
Free Speech Advocates Have Another Way to Push Back in Russia [2nd Amendment Texan]
In the late 1980s the Poles came up with a clever slogan in its struggle against the Soviet-controlled Polish communists: "2+2=4". It was the concept expressed by George Orwell in his book, Nineteen Eighty-Four, that universal truths such as "2+2=4" are a threat to a state built on deceit, a definition that any client state of communist Russia would meet. It was also a rather cheeky way of protesting the communists without appearing to do so: "2+2=4" is hardly the same as "Kick Out the Russians". Even in the Soviet bloc, the Polish puppet government found it difficult to conduct a massive round up of citizens displaying placards that purported a basic math equation that any first grader would see as an obvious truth. The Poles beat the enemies of clarity at their own game.
I was reminded of this event during a business trip to Russia last summer, which had just passed an anti-gay law in the name of protecting young children from learning about sexual issues in an age-inappropriate way. Certainly an honest policy discussion could occur on the best way to handle sex education with small children. However, as with much of Russian government action throughout the ages, the "age-appropriate" argument is simply cover for suppressing free speech.
It turns out that what this Russia law does is prohibits speech of any kind related to homosexuality that could be viewed by children of any age. You could be arrested if your travel bag proudly displays your grandfather's 42nd Infantry Division patch (it's a rainbow) or for wearing a Will & Grace T-Shirt. Under this vague law the government can arrest anyone they wish, as there are few things worn in public that cannot be interpreted as a violation of the law.
Years after the Soviet system collapsed, free speech is still a struggle. Russian journalist and vocal Putin critic Anna Politkovskaya's murder was soon followed by the death of her ally, Alexander Litvinenko. Having accused the Russian government of Politkovskaya's murder he promptly died from Polonium-210 poisoning, the first known instance of an assassination with a personal Weapon of Mass Destruction.
Understandably, both gay and free speech advocates are upset over this law, which adds to signals from the government that it is indifferent to crime if the victim is gay. A Russian official explained to me that a recent attack on a homosexual victim was not a prosecutorial priority, despite the entire crime being captured on video. It seems that intimidating people from peacefully supporting what they think is equal treatment is far more important than putting criminals in jail.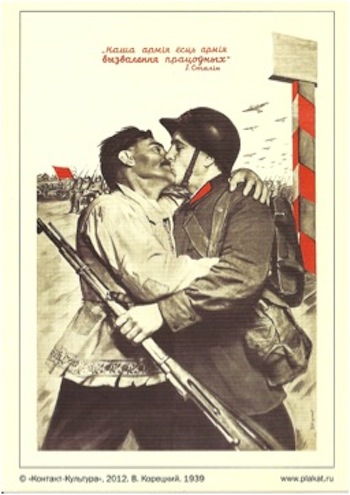 To combat this terrible situation, I propose a method to protest the Russian law that the government may be hard pressed to retaliate against. Since there is real danger of being arrested in Russia right now for showing any obvious signs or symbols of gay pride, Russian gays, gay supporters, and free speech advocates of every stripe could adopt the "Our army is the army of liberation for all workers in the world" image, a famous WWII Russian Army propaganda postcard. It depicts a Russian red army soldier liberating German-occupied land, with a grateful peasant giving the Russian solider a kiss directly on the mouth. In the spirit of the anti-communist Poles utilizing "2+2=4", the protesters in this arena could adopt this classic icon – well known in Russia – as their unofficial logo.
What will the Russian government do? Claim that a 75 year old, well loved Russian iconic image is and was always a symbol of gay equality? That the state sponsored communist artist, Victor Koretsky, was being subversive? While we should put nothing past a state that wants to exert power over a minority group, I suspect that utilizing this image will allow protesters to be heard while also allowing the Russian government to save some face and not enforce the law on those displaying the Koretsky image. As seen with its declining to prosecute anti-gay crimes, the Russian government knows how to pick and choose what to prosecute and what to ignore.
— The 2nd Amendment Texan writes and speaks about foreign policy, among other things, and has experience in both the White House and the Pentagon. You can follow him on Twitter: @MichaelJames357

posted by Guest Blogger at
09:00 AM
|
Access Comments