« Sun. Morning Open Before The Book Thread Thread [OregonMuse]
|
Main
|
Gun Thread (2-9-2014) »
February 09, 2014
Sunday Morning Book Thread 02-09-2014: Put A Little Love In Your Heart [OregonMuse]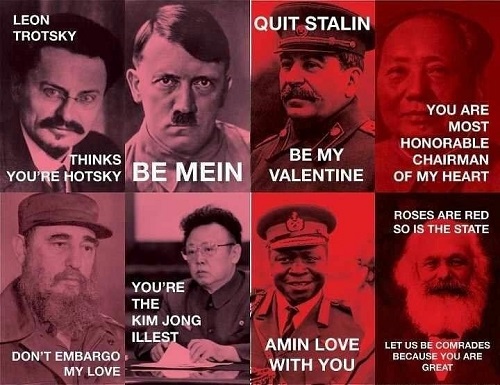 A Valentine's Day Card For Jimmy Carter*
*This is not hyperbole. Or, at least, not very much. After all, Jimmy Carter is the guy who was quoted as saying, "When I go to a dictatorship, I only have to talk to one person and that's the dictator, because he speaks for all the people" Yes, he actually said this.

Oh, and good morning morons and moronettes and welcome to AoSHQ's prestigious Sunday Morning Book Thread. And since Valentine's Day is coming up fast, it's time for a little romance. But first, the Bard.

Some Words You Probably Didn't Know Were Invented By Shakespeare
I've heard that Shakespeare, in the course of his writing, invented over 1700 new words, never seen before in the English language. He could do this because, well, because Shakespeare. Not only was he a really smart guy, but perhaps just as important, the English language was in a state of flux, and had been for quite some time. So a bunch of limitations and constraints we take for granted simply didn't apply. The 15th century English printer William Caxton, who lived a generation or two before Shakespeare, is said to have remarked late in his life that he was unable to read the books from his youth, that's how much the language had changed in only a few decades. I know that sounds strange to us, but that's because our English has been more or less stable for centuries and changes have come only slowly and gradually. What's the last big change to hit the English language, other than vocabulary? Contractions?
This piece in the Puffington Host lists 13 words that were actually coined by Shakespeare. I found it interesting because they're actually common words we use every day, rather than some arcane turn of phrase. Like 'gloomy'. And 'radiance'. And 'critical'. Also, 'zany'. That one surprised me. I always figured the origin of 'zany' would turn out to have been relatively modern. Nope, Shakespeare.

How Well Read Are You?
Here's a (long) quiz to gauge your proficiency in world literature. I'm not going to tell you how I did. Let's just say I thoroughly embarrassed myself.
And of those few I got right, a bunch of them were absolute, blind guesses.
I'd have done better if they had included moar sci-fi and zombie titles.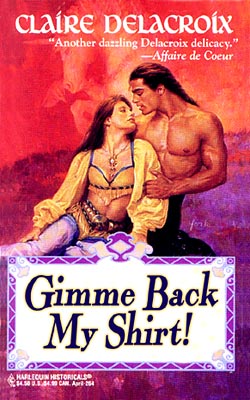 Romance Novels - A Guide For The Perplexed
There be three things which are too wonderful for me, yea, four which I know not: The way of an eagle in the air; the way of a serpent upon a rock; the way of a ship in the midst of the sea; and the way of a man with a maid.

(Proverbs 30:18-19)
I've never read one, so that qualifies me to write authoritatively about them.
Let's start out by asking, what is a romance novel? According to the Romance Writers of America, two elements are necessary for a novel to be considered as being in this genre:
A Central Love Story: The main plot centers around individuals falling in love and struggling to make the relationship work. A writer can include as many subplots as he/she wants as long as the love story is the main focus of the novel.

An Emotionally Satisfying and Optimistic Ending: In a romance, the lovers who risk and struggle for each other and their relationship are rewarded with emotional justice and unconditional love.
Other than that, the sky is pretty much the limit. There are a number of officially recognized sub-genres: Contemporary Series, Contemporary-Single Title, Historical Romance, Inspirational Romance, Paranormal Romance, Romantic Suspense, and Young Adult Romance.
What, no zombies?
Actually, the sub-genre I was thinking of is one I've heard referred to as "bodice rippers" where there is sex and the heroine may not actually be willing.
A classic in this sub-genre would be something like Sweet Savage Love by Rosemary Rogers or Stormfire by Christine Monson which even the positive reviews admit is quite brutal.
But the woman's goal is always the same -- she wants a monogamous relationship with a strong, masculine love interest. Nothing else will do.
And no matter how strong or assertive the main woman character is, the man who gets her in the end is always stronger.
(Women love and admire strength. Or perhaps 'power' is a better word. It's depressing to note that if our culture permitted polygamy, a repulsive toad like Bill Maher, merely because he is the main guy on a TV show, would probably have 3 or 4 wives.)
And with only one exception I've ever heard of, the authors of romance novels are women.
Supposedly the first the modern "romance" novel, the one that really amped up the genre, was a bodice-ripper published in 1972. The Flame and the Flower by Kathryn Woodiwiss is, remarkably, still in print. The Kindle edition goes for $5.69. I think the Amazon blurb is a hoot:
Doomed to a life of unending toil, Heather Simmons fears for her innocence—until a shocking, desperate act forces her to flee. . . and to seek refuge in the arms of a virile and dangerous stranger.
But of course! Nothing like the twin virtues "virile and dangerous" to make a woman's heart beat faster and faster.
This all sounds all traditional and hetero-normist, doesn't it? Might there be a "love knows no boundaries" type deal where the protagonists are not of opposite genders? I didn't think so. But I was wrong.

Links To Stuff Jefferson Said
No, really. I was poking around some earlier book threads, and noticed a link to some of Jefferson's writings from commenter 'Retread'. 3 volumes are available in Kindle editions for the low, low price of $0.00:
Memoir, Correspondence, And Miscellanies, From The Papers Of Thomas Jefferson, Volume 1
Volume 2
Volume 3
There's a fourth volume, but it's not available on Kindle as far as I can tell.
The guy wrote a royal boatload of stuff, available on Kindle You can get it on Gutenberg for free, also. So now you know.

Really?
OK, so Amazon has this list, 100 Books to Read in a Lifetime, and is it my imagination, or are some of the selections incredibly lame?
It's just bizarre how many of their "gotta read" books were written within the last 35-50 years.
I mean, The Handmaid's Tale? Really? That's a book that everyone's just gotta read? And Portnoy's Complaint? That's the best you can do? (If it's Philip Roth you want, you'd be much better off with The Great American Novel, which is at least funny in places. Margaret Atwood, however, should not be read by anyone).
So how did the literary toffs at Amazon compile this list? Amazon rankings, perhaps? Psychic readings?
Maybe they would have gotten better results if they had.
To put together the list, Amazon largely steered clear of its "Best Books of the Year" lists, mathematical algorithms, and other formulaic indicators. Instead, it relied simply on months of debate and deliberation from its editorial team.
Oh. In other words, they just pulled it out of their posteriors. That's just great. They should have been honest and called it the '100 Currently Faddish Books to Read in a Lifetime Because There Is No Wisdom Before 1950' list.

Moron Book Promotion
Rand Koch e-mailed yesterday and wants me to let you all know of his book promotion:
Guantanamo Clarity: What You Need to Know, normally priced at $1.99, will be free at Amazon on Sunday, Monday and Tuesday -- February 9, 10 and 11.
It's a short e-book to clear up the mistaken notions (to put it politely) about Guantanamo, what the rules are, and why it's still open.

What I'm Reading
Last week I mentioned long-time moron Sean Gleeson and his compendium of short pieces by authors with the initials SG. One of them was a 1916 account of Japanese women who are hired to do menial work hotels and tea-houses. It is actually one chapter of the book Working Women of Japan by Sidney Gulick, and no, "working woman" is not a euphemism for prostitute. I was actually motivated to download the free Kindle edition, and you know, it's kind of interesting. Gulick was an American missionary who lived in Japan for 25 years starting in 1888, was fluent in Japanese, and wrote a number of books to try and promote understanding and peace between Japan and western countries, which, ultimately, didn't work out so well. The turn of the 20th century was an interesting time for the Japanese, as they had recently decided (1868 ) to ditch their traditional feudal class system and were in the process of modernizing, so it was a time of great social change, some good and some not so good. Gulick saw it all and wrote about it extensively. WWoJ deals with all manner of working women, from farm hands to factory workers, to geisha to licensed prostitutes. It won't appeal to everyone, parts of it are kind of dry, but I'm finding it to be an interesting glimpse into another time and culture.

___________

So that's all for this week. As always, book thread tips, suggestions, rumors, threats, and insults may be sent to OregonMuse, Proprietor, AoSHQ Book Thread, at aoshqbookthread, followed by the 'at' sign, and then 'G' mail, and then dot cee oh emm.
What have you all been reading this week? Hopefully something good, because, as I keep saying, life is too short to be reading lousy books.

posted by Open Blogger at
10:35 AM
|
Access Comments