« Open Thread (reserved for politics) [CBD]
|
Main
|
Civil (and Uncivil) War Open Thread [Y-not] »
February 09, 2014
Food Thread: Get Your Elbows Off The Table! (CBD)
We Politely Request That All Off-Topic or Political Comments Be Directed to the Thread Directly Below This One, Which Will Serve Officially as the Current "Active Conversation" Thread for All Discussions Not Related To This Topic.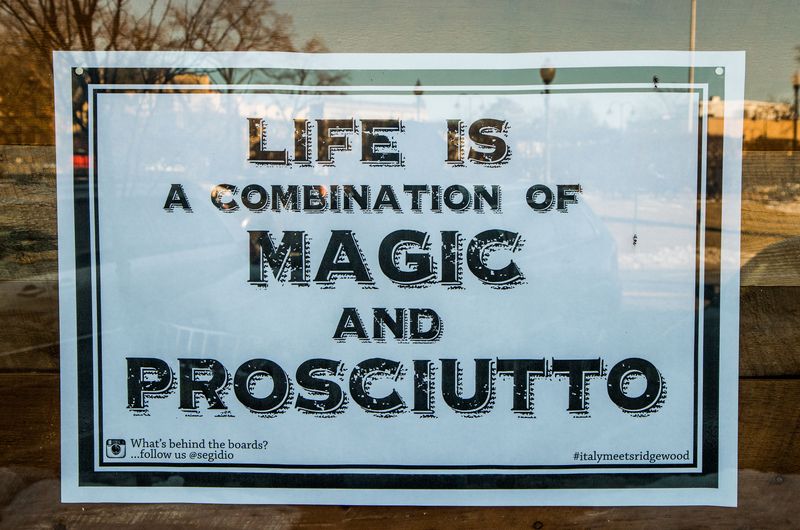 Photo courtesy of tommy:eats

"Sharing food with another human being is an intimate act that should not be indulged in lightly."
-- M.F.K.Fisher
"If more of us valued food and cheer and song above hoarded gold, it would be a merrier world."

-- J.R.R.Tolkien
I am often frustrated by the assumption on the part of some (perhaps just a few) guests to our home that we are simply providing a meal that should be tailored to their specific and annoying food requirements. I have long assumed that when I am invited to someone's home, it is for the pleasure of their company, and that any food and drink provided is a delightful and generous bonus.
Yes, food and drink is a wonderful lubricant for conversation, and the very act of eating is elemental -- it is, after all, a necessity of life. But we are not just our ids, and some recognition of something other than the base desire to stuff one's face with hot wings and beer is in order.
Not that there is anything wrong with a healthy desire to stuff one's face with good grub, and wash it down with something alcoholic. I am second to none in my desire to shove lots of good food down my gullet, but for whatever reasons, it is far more satisfying when done in the company of others, and with the recognition that we are sharing this bounty for more than the basic motivation of hunger. < / high horse >
Here is a great melty cheese dip without Velveeta which, as we all know, is in short supply (or not...I really have no idea). Of course the recipe requires sodium citrate, which is not obtainable on short notice.....and of course this should have gone up last week for the Super Bowl festivities, but I deserve credit for being only one week behind.
Gumbo is a fine, fine food, and this guy has a good recipe, along with an extremely helpful guide to ingredients.
Bobby Flay seems to be an acquired taste, but the man is undeniably talented, and many of his recipes are unabashedly robust, full-flavored and conspicuously fatty and delicious. If you don't think that Hot Potato Chips With Blue Cheese Sauce sounds great, then you need more help than even AOSHQ can provide.
I am usually dismissive of frozen drinks, mostly because they are made far too sweet, and from crappy booze. But here is a frozen margarita that is as good as it gets.
And for you food geeks who need to know exactly where in the carcass that chunk of cow came from....this is an amazing tool. I think I posted it once before, but it is so useful and interesting that it deserves another look.
LIME GRILLED SHRIMP
1 lb. peeled shrimp (#30 is a good size), tails left on.
1 ½ limes, juiced*
¼ teaspoon cayenne pepper
½ teaspoon salt
1 small garlic clove, minced fine
2 oz. Extra Virgin olive oil
Soak 4-5 wooden skewers in warm water while the shrimp is marinating
Whisk the marinade ingredients together. No need to emulsify them, just mix well. Actually I think it would work quite well if you are able to emulsify this marinade, but I haven't been able to, and it tastes great anyway.
Pour the marinade over the shrimp and mix gently. A small bowl is fine, or you can put it all into a Ziploc™ bag and squish them around until they are covered completely with the marinade. Whatever works. Refrigerate for about an hour and then place the shrimp onto the soaked skewers. Pierce the shrimp in two places so they don't rotate around the skewer and make you nuts when you flip them on the grill.
Preheat the grill for a few minutes; the hot grill will leave great looking and tasting grill marks on the shrimp. The hotter the grill, the better the flavor, so use the surface-of-the-sun setting if you have one.
Grill, covered, for a 2 minutes on each side. Try not to overcook the shrimp. This is the only remotely difficult part of this recipe. If you get distracted by the pretty birds in the backyard, or go inside for another drink, the shrimp will still taste good, but they'll be a bit rubbery and not as sweet.
*Use the extra ½ lime for fresh-squeezed lime juice for the margarita that goes really well with this dish.

posted by Open Blogger at
04:14 PM
|
Access Comments