« Conservative Groups Out Raising Establishment Ones?
|
Main
|
Borrowing [OregonMuse] »
February 01, 2014
Saturday Car Thread 02/01/14 - [Niedermeyer's Dead Horse & Countrysquire]
Happy Saturday, horde.
Today begins a series on the yin and yang of the car world: The Mutts and Jeffs. The Beauties and the Beasts.
In the car world, beauty is somewhat relative, and without the awkward, ill-designed dog of a car that offends one's senses, could we truly appreciate the graceful lines of a beautiful automobile?
Countrysquire reports this week on those cars that are so ugly, some might call them cute:
This plan for this week's Saturday Car Thread post was to write about the most beautiful cars on the planet. Knowing how our discussions typically progress (or digress), it made sense to begin with an ugly car thread today and follow with the good stuff next week.
A quick internet search will pull up a number of top-10 lists of cars that have been judged to be ugly, but some cars make those lists simply because they were poorly built or were hated for some other reason. I tried to keep this list focused only on styling and not let other negative characteristics come into play. While most of vehicles listed were available here in the states, some from other markets were simply too bad to ignore. Eastern-bloc built cars are not included because they all were awful, as were those built before the late '20s. There were literally hundreds of different auto manufacturers before the Great Depression and the coach-building technology was very primitive. Most closed cars had an upper body comprised of a simple wooden frame wrapped with sheet metal, and the designs never integrated well with the rest of the car. As we'll see next week, that all changed in the 1930s.
So let's get our hate on and look at a few of these:
Citroen Ami:
'Ami' is one of the few French words that I know. It means friend, of course, and who doesn't like to have an ugly friend? The color coordination on the one pictured is horrible, but does seem to fit it quite well.
Renault 10:
The Renault 4 is always a popular choice on the ugly list, but I chose the Renault 10 because I remember seeing a few of these around when I was a kid, and have yet to overcome that trauma. A long nose with a short rear deck has long been key to a successful automotive design, yet the French found a way to make it weird.

Dodge Polara: (thanks kbdabear!)
This was a tough choice, mainly because the Chrysler Corporation had so many ghastly cars in the late 1950s and early '60s. The Dart and its corporate twin, the Plymouth Valiant, manage to distill all of these design oversteps into their new small car. My theory is that there was some LSD experimentation going on in Highland Park at this time.

Pontiac Aztek:
It's on everyone's list for a reason. Even Walter White couldn't make the Aztek cool. [Editor's note: And that's a "beauty shot"!]

Daimler SP250:
While Jaguar, Austin-Healey, Morgan and others were building some gorgeous roadsters in England, Daimler foisted this fish-mouth thing onto the market. They look worse in person.

Fiat Multipla:
Many of the most eye-pleasing automotive designs come from Italy. This is not one of them. I don't even know where to begin. At least the Citroen has a little charm.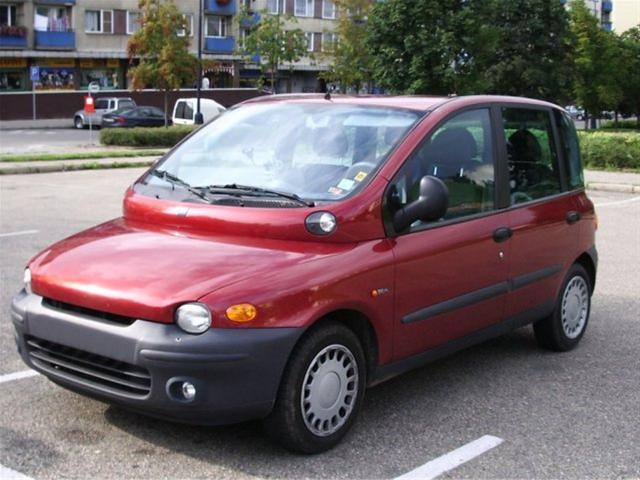 Datsun F10:
The Japanese have long had success using designs that were derivative of others. Though they were often criticized for copying existing designs, the Datsun F10 showed that they had no other option. They were just that bad at a clean-sheet design.

Subaru Leone:
When Fuji Heavy Industries decides to build a car, the Subaru Leone is what you get. Agricultural and built for a purpose. That purpose was not cruising on Saturday nights in hope to pick up some tail.

Scion IQ:
If I owned a Smart Car, I'd make an effort to park next to the IQ at the mall, just to make my car look less ridiculous.

Packard Hawk:
1958 was the last year for the once proud Packard nameplate. In an attempt to keep the company afloat, they had merged with Studebaker and this was the result. What had once been a lovely Raymond Loewy design, now looked like it should have a noodling hillbilly's arm reaching into the grill.

This week's vintage film speaks to the making of road maps and the road warriors who made the process possible. Even today, despite the availability of GPS, I use a map and the compass in my car to guide my way. The availability of accurate maps on a smartphone is still, in my mind, superior to the availability of accurate GPS instruction.

And don't laugh at this week's driving tune. If you claim you didn't crank this up and lay your foot down on the accelerator, well, I won't call you a dirty, stinkin' liar, but...

This week's photo for the 'ettes is but one in a long line of gentleman scoundrels:

And, for the Morons, some classic American good looks:

Please feel free to send any complaints or commendations to us at Twitter: Nied's Dead Horse and Countrysquire.


posted by Open Blogger at
04:00 PM
|
Access Comments