« The Left Talks a Great Deal About the Evils of Income Inequality, But Is Very Happy to Perpetuate a Regime of Social Inequality
|
Main
|
NBC's Political Director: When You Think About It, The Story of the Veteran Soldier Who Did Ten Tours of Duty and Was Badly Injured Defending This Nation and Who Now Spends Every Day in Painful Physical Rehabilitation Is Kind of Obama's Story, Isn't it? »
January 29, 2014
Gallup's State of the States and the Fortunes of Senate Democrats
A lot of people have been excited/burned/outraged/delighted/disappointed/overly-reliant/overly-dismissive of Gallup over the last few years. They certainly deserved the burn over blowing the Presidential election. So can we get any useful information out of this year's State-of-the-States release? Yes- if you acknowledge their bias, and watch how each state has moved, you can see how certain Senators up for this cycle are barely treading water against a growing partisan current. Let me show you what I mean.
So, I've been watching 17 seats this cycle- 2 Republican, 15 Democrat- that have at least the potential to become interesting. Let's take a look back to the last time these seats were up, when the country was in a state of Obama-mania.
Edison Media Research conducted extensive exit polling in all fifty states. The M/F, income bracket, race, ideology, and party ratios of each state are readily available to anyone who wants to roll through them. I've focused here on just the partisan breakdown of each specified state from that year.
(FYI-States are ranked from least likely to most likely to now flip/remain Republican according to me.)
New Mexico (Udall-D) D+17
Oregon (Merkley-D) D+11
Virginia (Warner-D) D+7
New Hampshire (Shaheen-D) D+2 (note- sizable # of Independents)
Minnesota (Franken-D) D+3
Colorado (Udall-D) R+1 (note- sizable # of Independents)
Louisiana (Landrieu-D) D+4
Iowa (OPEN-D) D+2 (note- sizable # of Independents)
Alaska (Begich-D) R+16
Michigan (OPEN-D) D+11
North Carolina (Hagan-D) D+11
Arkansas (Pryor-D) D+4
South Dakota (OPEN-D) R+6
Georgia (OPEN-R) D+2
Kentucky (McConnell-R) D+9
West Virginia (OPEN-D) D+16
Montana (Walsh[replacing Baucus]-D) D+3 (note- sizable # of Independents)
Particular personalities have an ability to win despite being "the wrong party". They can manage to survive election cycles if they either build support with enough independents to even out the gap, or they maintain some level of popularity with voters of the opposite party within their state, or they vote like an -INO. However, there can be a hill too steep to climb. If a state's voters were to dramatically change their party allegiance, either due to a string of scandals or, more likely, due to an extremely unpopular policy within their state, the party deficit widens, and becomes a canyon that cannot be crossed.
In Florida, Ohio, and a few other critical Presidential swing states, Democrats saw little drop in their edge from 2008 to 2012, per the exit polls conducted. Unfortunately, exit polls were not conducted in a large number of the above states in 2012, so we can't compare the drop off for all of these seats in partisan advantage between President Obama's election and re-election.
We can, however, watch how the Gallup surveys in each state have changed over time. Keeping in mind they held a bias in 2010 and 2012 (finding states to be slightly more Democratic than they would turn out to be in the former, and more Republican than they would in the latter), quite a few states, particularly in the South and West, have seen a rather dramatic shift in self-identified party ID.

So enough blabber, here's the data: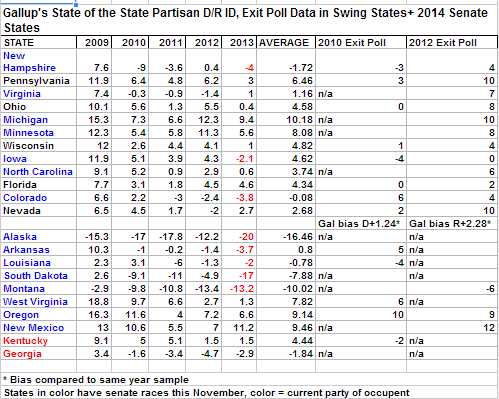 Unfortunately, without exit polling comparisons, surveys are our next best thing for comparing partisan ID. We do have one exit poll shift of note between 2008 and 2012 involving a state with a very vulnerable incumbent Democrat: North Carolina. Per the chart, you'll see the Democratic edge in voters from the 2012 exits to be D+6- a five point drop from 2008. You'll recall the President lost the Tar Heel state, and his party lost the governor's race handily.
Midterms always see a sizable drop-off in voter participation, and with independents backing the Republican in the two most recent surveys from the Tar Heel State, Democrats would need a turnout exceeding President Obama's in '08 to save her- barring a Republican goof up or dull campaign.
So besides Senator Hagan, who else looks doomed, at least from watching the surveys over time? The states of Arkansas, West Virginia, South Dakota, and Montana really stand out- and coincidentally, Republicans are favored in all of these contests. Colorado, Iowa, and New Hampshire also saw sizable changes in surveyed ID, and two of these races are pegged (right now) as leaning to the Democrats. Alaska, Louisiana, and Michigan all saw respectable shifts towards the GOP, and they're being closely watched as well. The potential for a large shift in seats reflecting the state-by-state changes is quite real, provided the Republican primaries bear fruit instead of rotten apples.
The 2014 cycle was never going to be a cakewalk for the Democrats, even coming off the high of 2012, because many of the states they have to defend are changing against them, much like the GOP's misfortunes on the Presidential level. It's a good thing the Republicans are (for now) in such a predicament, despite their penchant for asshattery: 2016 is going to be a bear.

posted by CAC at
05:05 PM
|
Access Comments