« Russian Ghost Ship Devoid of Any Life Except for Thousands of Cannibalistic Rats Threatens to Land Upon England
|
Main
|
Top Headline Comments (1-28-2014) »
January 27, 2014
Overnight Open Thread (1-27-2014)
Chuck Schumer Wants Tracking Devices on Autistic Children
Senator Chuck Schumer (D-NY) has proposed a far-reaching new law that would force taxpayers to cover the costs of placing tracking devices on autistic children after 14-year-old autistic child Avonte Oquendo was found dead last week. The tracking devices would not be implanted, but would instead be attached to watches, ankle bracelets, belts, or shoelaces. "The program would be completely voluntary for parents and run by local law enforcement," Schumer's office announced.

...Studies show that approximately half of autistic children wander away from supervised areas. The legislation would grant $10 million for the program.
Well I know some families with autistic children who have to be constantly vigilant or else their kid will take advantage of an unlocked front door and wander far off into the neighborhood. And it's my understanding that the Secret Service uses a similar tracker to find VP Joe Biden whenever he wanders off.
But even if it's a good idea at the family level for autistic children to wear these trackers Schumer completely fails to explain:
Why is this the business of the federal government?
Why do we need a law covering this?
Why should the taxpayers cover the costs of these devices?
Somewhere along the line a lot of the American people have bought into the assumption that just because something is good in a nice-to-have way, it must automatically involve the federal government paying for it. Now Schumers are always going to be Schumering because it's their nature but sadly this bill is likely to pass with bipartisan support. Because the children.
Also in News You Can't Use: Can Whales Be Autistic? And will they need to be tracked as well?
NYT: Fear the Power of the Koch War-Zeppelin
Only a few weeks into this midterm election year, the right-wing political zeppelin is fully inflated with secret cash and is firing malicious falsehoods at supporters of health care reform.
A right-wing war zeppelin? That's a good idea. I like that. We'll start the ball rolling and get funding approved at the next VRWC meeting Koch-willing.

Why Wendy Davis' Lies Matter According to the Washington Post
Well they might harm her future state and national political prospects and we can't have that.
What Davis then needs most of all is not to win - although that would be nice for her and her supporters - but rather to be seen as having run a creditable campaign that continues to elevate her star status. Allegations like these about her résumé, if they persist and/or lead to other problems with the campaign, are perilous to that perception.
Truthfulness is simply not a value of the left. So telling lies or 'incorrect promises' or 'loose speech' or whatever the euphemism du jour is is only wrong if you do it badly. Or aren't a member of the left.
Meanwhile the rest of the media is coming to Davis' defense but the main problem is that her campaign is built around her identity as a single mother who succeeded except it turns out she wasn't single nor much of a mother.
CA Supreme Court: Illegal Alien Should Get License to Practice Law
Well of course. It's not like attorneys are officers of the court or expected to follow the law or anything. Silly rabbit.
What Barbara Walters Will Be Remembered For When She Retires This Year
1. Being a woman reporter
2. Baba Wawa
3. "If you were a tree, what kind would you be?"
4. Eating canapes and tea with the Black Panthers in Radical Chic
5. Holding Castro's gun
6. The View
7. Being a woman reporter
Eh - not so impressive when you actually list them out.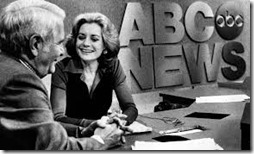 Mr. McGinty, who joined the service in 1958 directly after high school, was a drill instructor at the Marine boot camp in Parris Island, S.C., and a brig officer at the Norfolk, Va., naval base before volunteering for duty in Vietnam in 1966.

"I didn't want to be earning my pay guarding a bunch of AWOL sailors," he told Edwin F. Murphy, author of the 1987 book "Vietnam Medal of Honor Heroes."
For his actions during a battle in 1966 he was awarded the Medal of Honor. His citation may well be the only one with the phrase 'attacking hordes'. He died last week at age 73.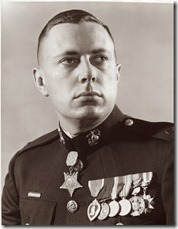 ScarJo Stands Up For SodaStream, Israel
You see SodaStream is an Israeli company which makes them bad, bad, bad so anyone who works for or supports them is bad as well. Sadly this may hurt her career in Europe and dark blue areas of the US.
In the meantime, Johansson deserves applause for being willing to take the heat for standing up for SodaStream. The attack on SodaStream shows the true face of the BDS movement. They don't care how good the company is for the regional economy or even the Palestinians who work there. They don't care that the "settlement" in which it exists would almost certainly remain within Israel if a peace treaty with the Palestinians were to be signed. All they care about is demonizing the very existence of the Jews who live there. As the abuse from Aslan and the rest of the BDS movement shows, that same demonization will apply to anyone, even an Obama-supporting politically correct liberal Democrat like Johansson. Though this may not have been a fight that she would have chosen to engage in, Johansson must now show that she and others prepared to stand with Israel won't be intimidated.
Well I just like their products - the fact that it outrages all the right people is a pleasant bonus.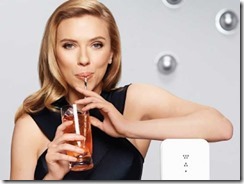 Gear Whores Guard the Starbucks
So Gear Whores Anonymous pointed out this picture of two MD state troopers guarding Starbucks after the mall shooting this weekend who seem to have every possible piece of gear and accessories attached to themselves as well as a rifle, shotgun, and pistol and of course tactical duct tape and (I assume) tactical athletic cups.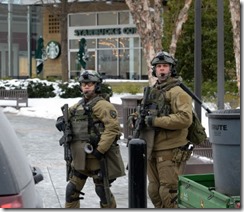 On the other hand one of them is wearing a Molon Labe patch which I'm guessing is not officially approved.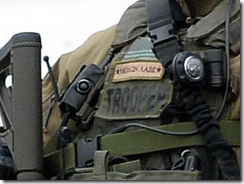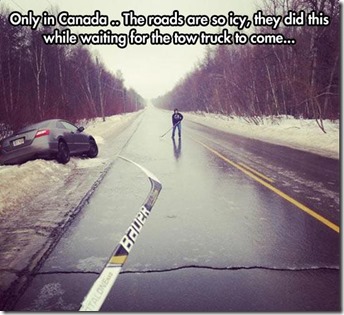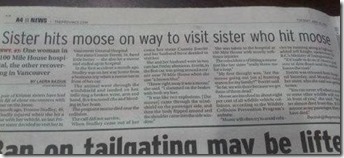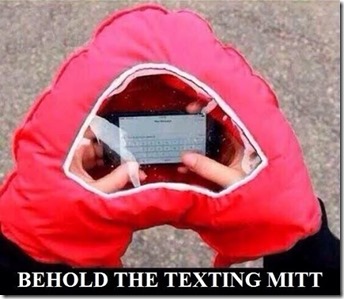 The Yahoo AoSHQ group. Bla bla bla.
And my twitter thang.
Tonight's post brought to you by Machine Gun Kelly and friends: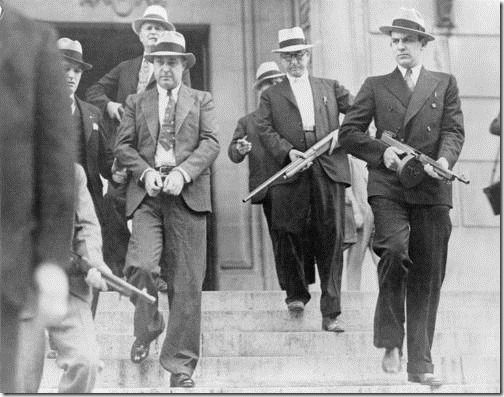 Notice: Posted by permission of AceCorp LLC. Please e-mail overnight open thread tips to maetenloch at gmail. Otherwise send tips to Ace.

posted by Maetenloch at
10:44 PM
|
Access Comments