ę Wiserbud Has Radio Show, Incredible Guest
|
Main
|
The Washington Post's Readers Are Already Freaking Out At Having to See the Volokh Conspiracy in Their Little Cocooned Cult Ľ
January 25, 2014
Saturday Car Thread 01/25/14 - [Niedermeyer's Dead Horse & Countrysquire]
Good afternoon beloved horde.
Thanks for joining us for another Saturday car thread.
Today, Countrysquire offers the meat, starting with his terrific write-up about recent high-stakes classic car auctions. I'll admit to being staggered by some of these prices and, especially so, by his report on the Jeep Wagoneer:
Last week was auction week in Scottsdale Arizona and a lot of coin was dropped. All of the totals are not in yet, but cumulative sales should be in excess of a quarter billion dollars. Not enough to build a buggy health insurance website, but a lot to spend on iron, leather, rubber and paint. The circus called Barrett-Jackson is the most famous because of the television coverage and the shear number of cars they sell. In years past, they sold some great cars from the classic pre-war period, but in recent years have become known for muscle cars. 1,402 of the 1,407 cars sold for a staggering $110,521,505 total. The high sale was an L-88 equipped 1967 Corvette Sting Ray which went to the owner of Heartland Dental for $3,850,000. The high sellers at both the RM auction and the Gooding Co. auction were both 1958 Ferrari 250s. The RM car was a LWB California Spyder and brought home $8.8 million dollars. A similar 250 GT cabriolet only managed to muster a mere $6,160,000. Sales for the weekend at those two premium auctions averaged well over $400,000. The Bonhams sale averaged $270,000, with a í53 Ferrari just edging a 1931 Alfa Romeo for high sale honors, with each bringing just north of $3 million.
The í31 Alfa was a Zagato bodied 6C 1750 Supercharged Gran Sport Spyder and probably my favorite car offered this year.
Eight million dollar Ferraris and three million dollar Porsches are fun to talk about, but everyone has one, so letís move on to some It sold for how much?! cars...

These are cars a member of the horde might know something about. RM and Gooding each sold an early Ď60s VW Ď23 Windowí bus. They brought $82,500 and $140,250 respectively. Yes, those commas are in the correct place and I didnít add any extra zeros. OK, we canít afford a minivan, so how about a nice SUV? A perfect 1977 Toyota Land Cruiser realized $101,750 at RM. Perfect, but the color of something that one of my Shelties might cough up. I believe the lovely NDH is a fan of the Jeep wagons, so, had she been in Scottsdale, she could have competed with the guy who spent $27,630 for a bone-stock 1988 Jeep Grand Wagoneer with 68,000 miles at the Russo and Steele sale. The older FJ40 Land Cruisers and VW busses have been bringing big money for a while, so they were not a surprise like the Wagoneer.
(Editors note: I want that Jeep)

One of the best things on the internet is a thread over on the HAMB called Vintage shots of days gone by. Itís not just cars, itís about Americana. After four years and 90,000 replies, it just keeps going. If you like that sort of thing, be prepared to spend hours looking through the vintage pictures. Hereís a sampling, and you'll find another down in the elbows department: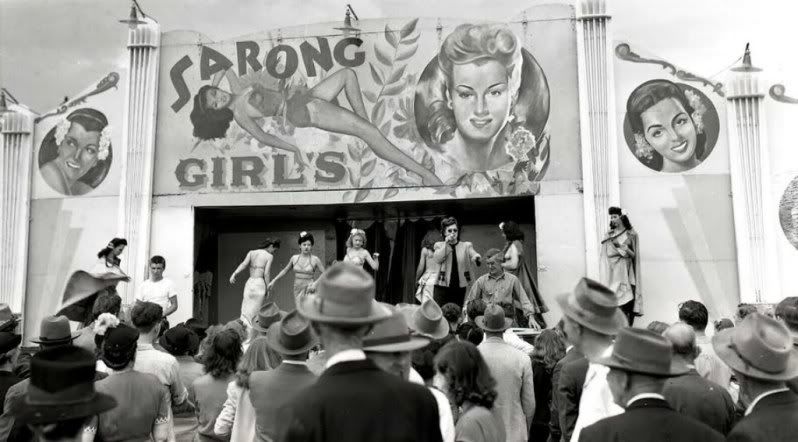 The Insurance Institute for Highway Safety (IIHS) recently conducted their Small Overlap Test on 11 mini-cars and the results might send a chill down your spine if you happen to own one of these vehicles.
About the test:
Introduced in 2012, the small overlap test replicates what happens when the front corner of a vehicle collides with another vehicle or an object such as a tree or utility pole. In the test, 25 percent of a vehicle's front end on the driver's side strikes a rigid barrier at 40 mph.

The test is more difficult than the head-on crashes conducted by the government or the longstanding IIHS moderate overlap test because most of the vehicle's front-end crush zone is bypassed. That makes it hard for the vehicle to manage crash energy, and the occupant compartment can collapse as a result. Nevertheless, in many size categories, manufacturers have found ways to improve vehicle structures to meet this challenge.
Check out the results at the IIHS vid below and keep in mind that, given the opportunity, the environmental nut-jobs would have you park your SUV or your family sedan and put your life in danger in one of these. There simply is no substitute for 2 tons of steel in a crash. Add to that even the standard safety technology offered today and I'll take my Jeep over one of these cars any day of the week, gas mileage be damned.

This week's cruising tune makes me want to take the winding backroad:

A nod to the moronettes, with something hot and spicy:

And, for the morons, Countrysquire offers you this gentle reminder of elbows from days gone by:

Free free to send all comments, compliments, and condemnations to us at teh Twitter: Nied's Dead Horse and Countrysquire.
BTW, if you're into that twittering groove, you might want to check out these folks as well.

posted by Open Blogger at
02:05 PM
|
Access Comments