ę Saturday Morning Open Thread
|
Main
|
Wiserbud Has Radio Show, Incredible Guest Ľ
January 25, 2014
Yard and Garden Thread [Y-not and WeirdDave]
Greetings fellow morons and moronettes! Welcome to your weekend yard and garden thread. Your co-hosts are Y-not and WeirdDave. Feel free to use this thread to share ideas, thoughts, questions, product reviews, jokes, and whatnot about gardening.
January seemed like a good time to start this thread, which we hope to do every week. Football season is basically over, no one watches hockey (I keed, I keed!), and many of us started the New Year with aspirations of turning over a new ďleaf,Ē tackling projects that save money and make our lives happier. So without further ado, hereís some thread-fodder.
Just to help orient folks, Y-not is in Zone 7a (at roughly 4,600 feet in Utah) and WeirdDave is on the East Coast in Zone 6b. For those who donít know, USDA plant hardiness zones are based on the average annual extreme minimum temperatures over a 30 year window. They are updated periodically. The current USDA map is based on data from 1976-2005. Find out your zone by entering in your zip code at this website.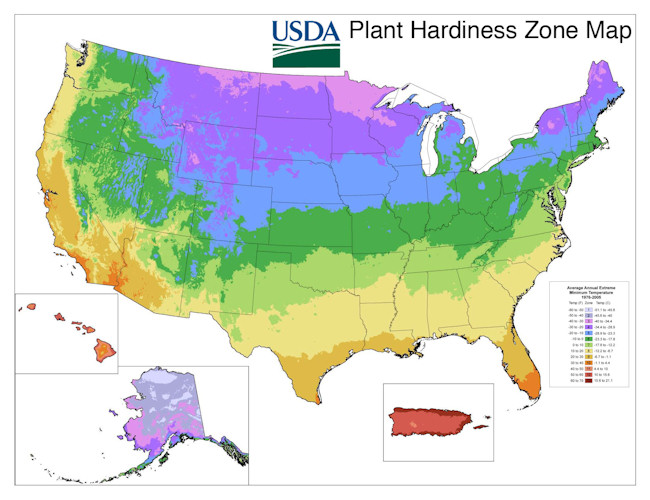 Contributions from WeirdDave and Y-not below the jump.

WeirdDave:
So, the other day in a thread someone mentioned a gardening thread, and I happened to mention that I had emailed Ace last year volunteering to post one every week. Someone else said ďWhat a great idea!Ē and then suddenly I got a DM on Twitter from a COB and it looks like Iíve gotta write a gardening thread.
I suppose Iíll start with my personal garden. I have good news to report: There isnít a weed to be seen. No ugly green creepers mar the pristine dirt of my garden. A lush, brown carpet of dead leaves gently caresses the frozen soil, drawing the eye to a pleasing arrangement of rusty, empty tomato cages in the corner. A plastic owl gazes forlornly out at the skeletal trees of the woods, daring mere songbirds to migrate back from Florida and attack. Should a rabbit or two awake from winter slumber, strong chicken wire bars their entrance to the famine beyond. A series of black trellises sway gently in the wind, faithfully supporting their cargo of dead vines. Suddenly, a shot rang out! The maid screamed, and a pirate ship appeared on the horizon!
So thereís not much going on in January in my garden. However, like the ant with the rubber tree, Iíve got high hopes, and I suppose we can discuss them. The first thing I have to do this spring is replace all of the dirt in the garden. Whatís in there is really horrible, clay and rocks, and I grew next to nothing last year. As soon as the ground thaws, Iím going to have a crew of Columbians* come and dig the entire 8í X 16í plot down 2 1⁄2 feet, making sure to leave the bottom level. Iím going to fill the bottom 6 inches with loose rocks the size of golf balls, bed a 1⁄2Ē PVC pipe in the rocks, and then dump 2í of mushroom dirt on top of that. (see fig A) When I need to water Iíll just stick the hose in the PVC pipe, turn it on, and everything will get watered from below, like a giant flowerpot. Once thatís done, then I can start thinking about what to plant.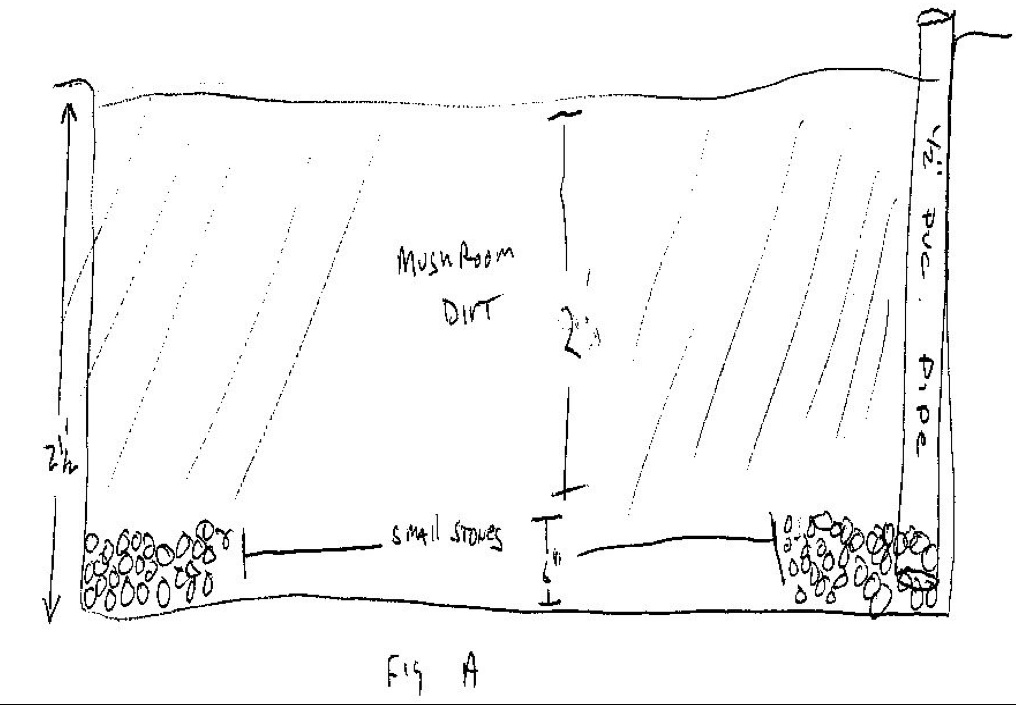 Finally, has anyone seen the following Verizon commercial?
I know itís not the case, but to me it sure seems like this poor dumb old farmer cant figure out that he needs to water his crops until the smart young Verizon folks show up and show him how to work the sprinklers. Probably not what Verizon was going for, but it makes me smile every time.
*Thereís nothing special about Columbians, itís just that the guy I call when I need labor done is an immigrant from there, and he has a crew of legal immigrants from Columbia who work for him. Itís gonna cost me three or four hundred bucks to hire them, but I figure itís worth it.
Y-not:
As January comes to a close, most of us North American morons are still in the throes of winter. The days are short and much of the continent is covered in snow. My own yard has snow on the east-facing front lawn and a minefield of frozen puppy poop on bare ground in the back. (Awesome!)
In theory, there are a myriad of things even those of us experiencing cold winter weather can be doing to get ready for Spring. There are plenty of to do lists available online. I thought this was a good one as it divides things up by zone.
One of the most common winter tasks is starting plants from seeds. I havenít done this yet and decided not to this year, primarily because it would require an investment of cash for lights and shelving that we have earmarked for other things. Although some people Iíve talked to use seeds because of the chance to start early, in my limited experience last year the tomato plants friends gave me that they started from seed did not produce fruit any earlier. In fact, it was slightly later Ė same variety of plant side-by-side in the same raised planter. Aside from cost-savings, it seems to me the big incentive to starting from seed is the bigger selection available Ė so if I ever do it, itíll be because of that.
Another good wintertime activity is planning. I have exactly one year of experience gardening in Utah. Itís not much, but I now know which early crops did well, which failed to thrive (or were attacked by bugs), and how much room I need for some of the plants. (I planted cauliflower last summer and the damned things nearly took over my beds.)
But I find the planning part somewhat overwhelming and so Iím hoping for some suggestions from the horde. Iíve been researching resources for organizing and planning your gardening activities. Here are some examples. Have any of you tried these or others?
Green Thumb Journal appears to be a free web-based community (similar to My Fitness Pal and Calorie Counter in the diet/exercise arena). It allows you to track your gardening activities in a journal, post/share photos, share ideas with other members, etc.
Folia is another web-based gardening resource that you can join for free (but upgrade for a fee). One feature that caught my eye at this site is the ability to literally zone in on the hardiness zone in which youíre most interested. Even without joining I can see membersí garden journals from my zone, wherever they happen to be geographically.
Of course, there are also phone apps. This article provides a good starting point for some of the apps available to gardeners. I havenít begun investigating them yet, but the features Iíd be most interested in are a mapping feature, a cost/expenses calculator, and a system for alerting when to start various tasks based on the desired results.
What do you use to organize your gardening activities?


posted by Open Blogger at
10:40 AM
|
Access Comments