« Open Thread (reserved for politics) [CBD]
|
Main
|
Oh My: "I Have Never Fought the Word 'Genius' When People Have Said That About Me" »
January 19, 2014
Food Thread: A Collection of Food Links (CBD)
We Politely Request That All Off-Topic or Political Comments Be Directed to the Thread Directly Below This One, Which Will Serve Officially as the Current "Active Conversation" Thread for All Discussions Not Related To This Topic.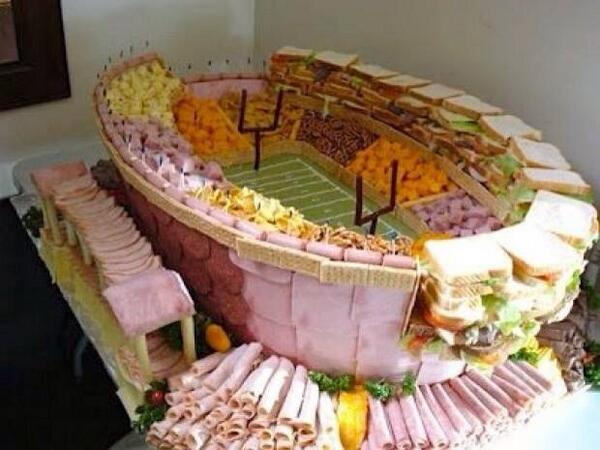 H/T Niedermeyer's Dead Horse
I am in my annual Post-Holiday-Food-Rut, so I have even less interesting stuff to say about cooking and drinking than is usual. So here is a collection of food and drink links, in no particular order, and without approving of their content. Something attracted me to them, and what I saw was interesting enough to bookmark them.
Garden and Gun is sort of an all-purpose magazine that caters to people who like good food, but prefer it served by polite, professional waiters in Charleston instead of tatted freaks with filthy dreadlocks and a crappy attitude (NYC, for those who aren't familiar with my contempt for New York City waiters).
Chef Tim Love is a recent addition to my bookmarks, suggested by a Moron whose name I cannot recall. It's Western food, whatever that is, and the recipes on this site are loads of fun. He also owns some restaurants, but I have no idea whether they are good, bad or indifferent.
This guy hasn't written in more than four years, but his perspective on food is delightful, and Swiss, but without any pomposity. He really just loves to eat and cook and learn about both.
The Cocktail Spirit is simply a collection of videos by Robert Hess, who is a student of the classic cocktail. If you want to learn how to make it the way it was in the Good Old Days™, then take a look at his stuff.
Bobby Flay is definitely an acquired taste, but there is no denying his talent. Many of his recipes are almost unbearably busy, with too many steps for an impromptu meal. But the dude can cook, and his stuff is worth trying especially if you like your food on the spicy side.
And for the very few Morons who drink whiskey, here is a fairly comprehensive list of American distilleries and brands. I say "fairly," because I know of at least one that is missing because I drive past it once in a great while. Yes, they distill in New Jersey. And you thought we just build diners and steal from the taxpayers?
And because this is a cooking thread after all, a great roast chicken recipe from Ina Garten (The Barefoot Contessa). Just be warned that one reason why it's so good is that the croûtons are crispy because of copious quantities of fat, so this is not a diet dish.
Roast Chicken With Croûtons
4 pound roasting chicken
2 lemons
2/3 baguette, cut into large croûtons
1 large yellow onion
2 tbs. butter (melted)
½ cup olive oil
Salt & pepper
Preheat oven to 400° convection (425° standard)
Cut onion in half, then slice thin. Place in small roasting pan and toss with 2 tablespoons of olive oil.
Trim excess fat from chicken cavity, and sprinkle salt and fresh-cracked pepper inside.
Quarter the lemons and stuff the cavity with as many quarters as possible. Don't worry if they don't all fit. Tie chicken legs together with twine.

Dry exterior of chicken and brush with melted butter. Get all of the nooks and crannies!
Salt and pepper exterior of chicken.
Place chicken on top of onions (try to mound the onions so most of them are under the chicken), and roast for 75-90 minutes, increasing the temperature to 425° for the last 15 minutes.
About 5 minutes before the chicken is done, place the croûtons in a large sauté pan on medium heat and toss with about ½ the remaining oil. Toast the croûtons, tossing occasionally until they are nicely browned but not burned. Add additional oil if necessary.
Remove the chicken and tent with aluminum foil for 10-15 minutes.
Place croûtons on platter. Remove lemons from chicken and cut chicken into pieces and place on top of croûtons.
Pour pan juices over chicken and serve immediately, with onions on the side (or poured over chicken if you prefer).
1219 Calories/serving; 87g Fat; 63g Protein; 45g Carbohydrate; 3g Dietary Fiber; 254mg Cholesterol; 743mg Sodium.

posted by Open Blogger at
04:00 PM
|
Access Comments