« Open Thread
|
Main
|
Overnight Open Thread (1-19-2014) »
January 19, 2014
Spaced-Out Challenge: John Dobson (1915-2014)
[We Politely Request That All Off-Topic or Political Comments Be Directed to the Overnight Open Thread Coming Shortly Above This One, or the Open Thread down page, Which Will Serve Officially as the Current "Active Conversation" Thread for All Discussions Not Related To This Topic.]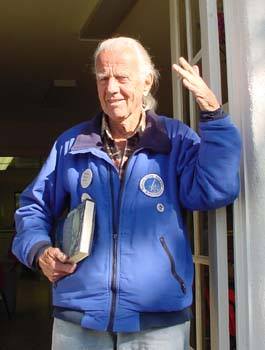 image by the Sidewalk Astronomers
"The importance of a telescope
is not in how big it is,
it's not in how well made it is,
it is how many people,
less fortunate than you,
got to look through it."
-John Dobson
Welcome to this week's edition of the Spaced-Out Challenge. There are no targets this week. Instead, it's dedicated to the life of a man who dramatically impacted astronomy with a simple idea he refused out of his personal philosophy to patent.
If you want a more biographical write up on Dobson, check out the L. A. Time's wonderful obituary here. I'm going to skip over his unorthodox cosmological theory, and focus here on the "before and after" impact he had. It was, to put it mildly, profound.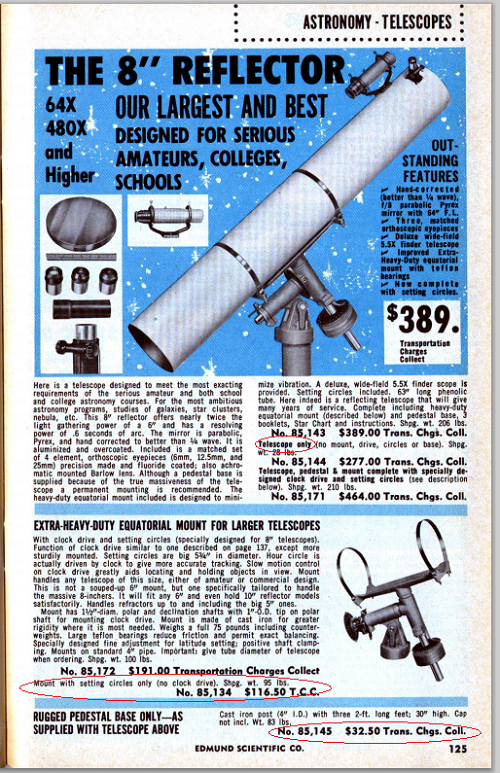 From Edmund Scientific, 1968.
Edmund's "top of the line" 8" reflector was considered a monster for it's time, and the price- $389 (over $2600 in today's dollars) was too. Throw in the mount and shipping, and you're shelling out over $4k in today's money. The reflector also weighed over 200 pounds, so "portability" wasn't exactly a strong selling point. Many people in the amateur community were discouraged from using instruments approaching this size, and few considered building the 12, 16, 24, and 30+" scopes that dominate star parties today.
John Dobson and his merry crew of sidewalk astronomers and telescope builders profoundly changed amateur astronomy by making it extremely easy to get a great view for almost nothing. The cost of a large telescope crashed with John's innovations and promotion: discarded glass, plywood, teflon bits, heavy-duty concrete pouring tubes, and a worn-out LP could be used to construct a sizable telescope for less than $400 (in today's dollars). No innovation since has done so much for so many in the field of amateur astronomy as this cheap, simple reflector design.
In addition to making an introductory 8" reflector accessible to millions, the innovations of this extremely simple design meant amateurs could build bigger. Much bigger: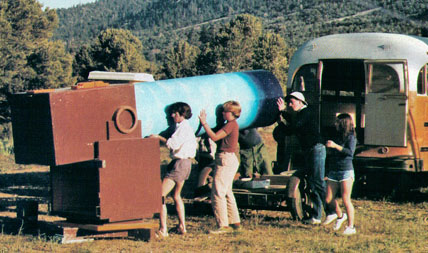 Image by Dennis di Cicco of the San Fransisco Sidewalk Astronomers' 24" telescope at the 1978 Riverside Telescope Maker's Conference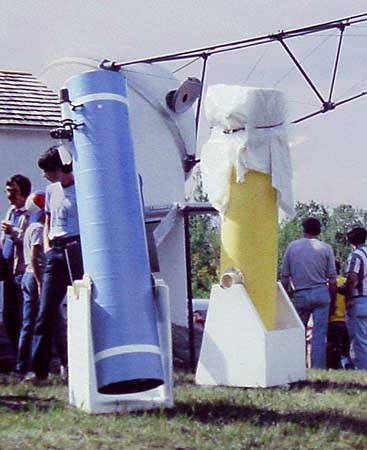 Dobsonians at Stellafane in 1983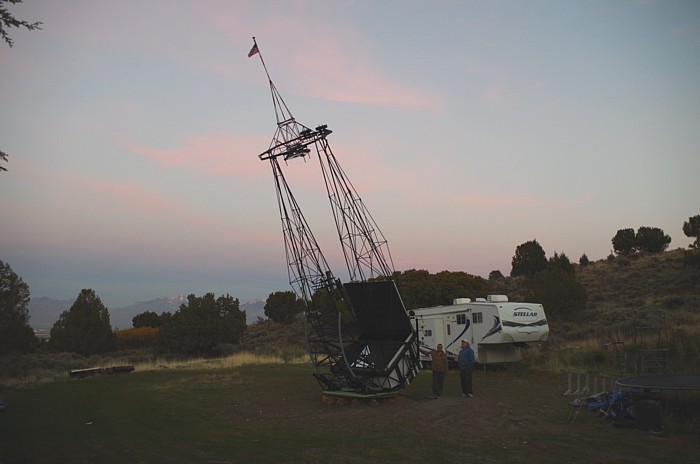 Mike Clements' 2013 70" monster (photo by Chuck Hards)
The prevailing wisdom before Dobson insinuated that heavy mirrors and heavy mounts were just a "fact of life" for larger scopes. While many innovators since Dobson improved his very basic design, that "bigger = exponentially heavier" mindset was permanently changed, allowing for not only larger homemade telescopes, but mass-produced monsters: Obsession and Webster telescopes sell apertures greater than the 24" giant the SFSA took to the Riverside Telescope Maker's Conference in the late 1970s, and Orion just released a computer-controlled 16" dobsonian for less than $4000 in 2013.
Ray Cash has as close to the original "perfected" Dob plans as you can find for free online for constructing a 6, 8, or 10" telescope here.
John Dobson and the Sidewalk Astronomers showed tens of thousands of city dwellers a view they'll never forget, promoting the heavens above in a time in which light pollution seems to have alienated the bulk of us from our sky. They have announced this year's International Sidewalk Astronomy Night (March 8th) will be dedicated in memory of John and in continuing his work.
Everyone should have the opportunity to know where they truly are. This was the driving goal of Dobson, and he took an incalculably big step in making that a reality.
RIP.
The Sidewalk Astronomer's Webpage can be found here.
***
The full Beginner's Buyer's Guide, our Comet Guide (featuring additional grab-and-go telescopes), and any other edition you're looking for can be found in the master index of all Spaced-Out Challenge threads
here
, but of course you can always inquire about binoculars, telescopes, and all the rest in the comments. As always, if you have astrophotography, product recommendations, or astronomy news you'd like to see on a future Spaced-Out Challenge, email me at theoneandonlyfinn (at) gmail.com, or tweet me
@conartcritic
.
Until next week, clear skies to you, keep looking up, and those of you blessed to have a telescope, please: share the view.


posted by CAC at
09:58 PM
|
Access Comments