« Mikhail Kalishnikov Expressed Remorse Over His Famously Lethal Creation Before His Death
Plus: Open Thread Link-o-Rama
|
Main
|
Top Headline Comments 1-14-14 »
January 13, 2014
Overnight open Thread (1-13-2014)
The New Misogyny: Questioning Gratuitous Lena Dunham Nudity on 'Girls'
Which is just what a reporter dared to do during a panel with 'Girls' producers at a Television Critics Association event.
"I don't get the purpose of all the nudity on the show. By you particularly. I feel like I'm walking into a trap where you say no one complains about the nudity on 'Game of Thrones,' but I get why they're doing it. They're doing it to be salacious. To titillate people. And your character is often naked at random times for no reason"

- TV critic, Tim Molloy, questioning Lena Dunham at TV Critics Association panel
And all hell broke loose. Executive producer Judd Apatow declared the very question offensively sexist and completely out of bounds:
"That was a very clumsily stated question that's offensive on it's face, and you should read it and discuss it with other people how you did that," Apatow said, speaking to the reporter who asked the question. "It's very offensive." "It's sexist and offensive, it's misogynistic," [Apatow] said.
And another producer Jenni Konner was still seething minutes later over the reporter's hate question:
"I literally was spacing out because I'm in such a rage spiral about that guy," she said pointing to the question-asker. "I was just looking at him looking at him and going into this rage [over] this idea that you would talk to a woman like that and accuse a woman of showing her body too much. The idea it just makes me sort of sick."
But then later during the discussions they admit that having Dunham nude so much was an deliberate artistic choice intended to normalize nudity as just another part of her character's life that could be used for comedic/dramatic effect without being salacious or sexy. And Dunham explained her frequent nudity this way:
It's because it's a realistic expression of what it's like to be alive, I think, and I totally get it. If you are not into me, that's your problem.
Okay granted the reporter could have asked his question in smoother way but wasn't he basically asking why there was so much non-titillating Lena Dunham nudity - which seemed to have been the exact intent of the writers and producers - and yet somehow that very question makes him an offensive misogynist bastard. Huh?
Oh and here's a recent pic of Lena Dunham. Given her age and current income this is probably the peak of her attractiveness. It's not that she's ugly - mostly she's a tiny bit weakly cute in a very average way. Which isn't a crime and just makes her average-ish. But I guess we're supposed to pretend she's a sex pot and swoon over her nudity or we're now misogynists or something.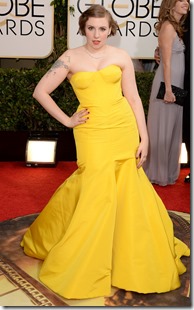 [Full disclosure: I've never seen an episode of Girls so maybe Lena Dunham nudity is a glorious beautiful thing. But I'm going with my instincts on this one]
Managing the sex lives of others is a never ending task for the progressive left. The latest rule: If you're dating a girl or a guy and want them to behave like one, that's so very hetero-normative of you i.e. bad.
"It's not possible to have a completely gender neutral date," writes therapist Andrew Smiler in a head-clutchingly asinine essay for the Good Men Project, a repository of painfully navel-gazing male-feminist apologetics that describes itself as "not so much a magazine as a social movement."
But first he issues a lengthy but likely incomplete apology/disclaimer for any PC rule he may have already broken.
"I'm trying to write this guide to apply across all genders, masculine, feminine, trans*, etc. If I've missed or something is very wrong, I have faith someone will let me know in the comments. I'm also writing based on my own American background and referring primarily to gender roles as they currently exist in the U.S. Depending on where you're from, you may have grown up with this approach or you may find it completely foreign."
And yes the * is apparently important. And here's some of his advice:
"Talking to someone, kissing and groping, and asking to see someone again (or not), requires a heart, a brain, a mouth, and the ability to communicate. Your genitalia-and your partner's genitalia-are only relevant if you prefer some types of genitalia over others."

"Although it can be awkward, I recommend having at least a little conversation about gender roles - especially as they apply to dating and sex - during the first date."

"Standards of attractiveness are closely connected to gender, so you might want to get all gendered up. Then again, "getting all gendered up" might be confusing if you're mostly not following the standard gender script."

"In any dating scenario, you'll need to decide if and how much sexual contact you want to have with this person at this time. Remember, guys are allowed to refuse, even if you've never heard one admit doing so."
Yes. Yes they are.
2.7 million Americans served in Vietnam, and 1 million of them were still alive as of the 2000 Census. 13.8 million claimed to be Vietnam veterans on that census. Several hundred Vietnam vets die every day, and it seems like the same number of wannabees bloom.
And then you have the fake missing arm scammers.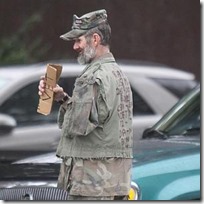 Don't always go together. But  just wait until Jenny McCarthy sees this graph.
We were out of firewood. Well, not out, exactly; I'm a fool, but not that big of one. There were still three cords sleeping in the back yard where we stacked them in August to dry. But there was no more in the house. We'd put three cords in the basement, and all but a few junks were gone in a puff of woodsmoke already. It will rain again tomorrow, and be miserable to be outside, and handling firewood in the rain is a penance not to be inflicted on the innocent. The time to get more was today. 

My son came out with me. He shows no enthusiasm, but does not complain. It's the mark of an adult, I think.

...My son, who is no longer a child, really, never flagged, never complained once. We spoke almost not at all, because there wasn't much to say. The work would whisper done when there wasn't any more of it. I thought to myself that I would not have been able to do it without him to help me. I wondered -- I very dearly wished -- he might say the same thing about me.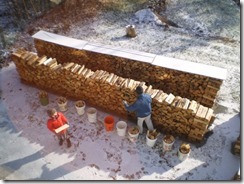 Part of Fast and Furious or perhaps another scam altogether.
The SWB-FIST [Southwest Border Field Intelligence Support Team] and ATF's Mexico Country Office (MCO) began reviewing the seizure data from this widely publicized incident, to include photographs of many of the seized weapons. An observation was made that two of the recovered Colt M16 rifles with attached 40mm grenade launchers were most likely counterfeit. Analysts noted that these weapons did not contain serial numbers (Colt serializes both the rifle and the launcher), nor did they bear signs of serial number obliteration. Additionally, the word "government" stamped above the magazine well was missing the letter "n," and Colt trademark symbols appeared to be crudely forged and placed inconsistently on the rifles with known Colt firearms' stamping. Furthermore, the selector switch appearing on the grenade launchers is not the same switch as that manufactured as part of a Colt M203 40mm grenade launcher . ..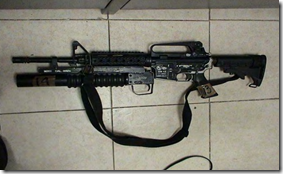 Well Finally - Octomom Charged With felony Welfare Fraud
She's been a grifter of one sort or another since 2000. Now maybe her children will end up in a decent home.
With picture. You know you want to click the link...come on do it...go with your feelings, Luke.
The Yahoo AoSHQ group. Bla bla bla.
And my twitter thang.
Tonight's post brought to you by wisdom from the mouths of fools: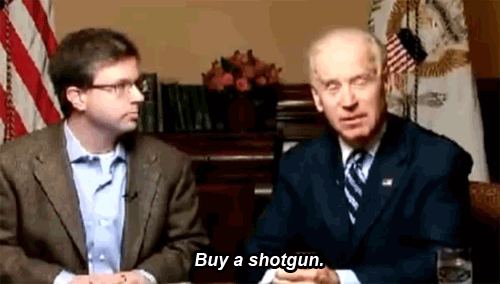 Notice: Posted by permission of AceCorp LLC. Please e-mail overnight open thread tips to maetenloch at gmail. Otherwise send tips to Ace.

posted by Maetenloch at
10:45 PM
|
Access Comments