« Chris Christie on BridgeGate: "What I've seen today for the first time is unacceptable. I am outraged and deeply saddened..."
|
Main
|
Japan's Bunny Cafés!!!
(Oh, and By the Way, A Woman Died Soon After Being Delayed By Traffic Snarls During Ambulance Transit) »
January 08, 2014
France: Proud, Paranoid, and Unfree
Interesting article by Theodore Darymple about the Dieudonné controversy in France.
What is that? Well, there's a comic. He's half-French, half-Cameroon by descent. His name is Dieudonné M'Bala M'Bala, but he is only known by his first name. ("God-Given," it means.)
This guy is literally in the French papers every day. Because, you see, he is accused of being Anti-Semitic, and brazenly so. And the anti-semitic flavored act he performs at his own theater in Paris is -- now I want you to sit down before I shock you with this -- quite popular in France.
Now, he claims he's not anti-semitic per se. He says he's "anti-systeme," against the controlling powers that run the system generally. You know, a populist, a rabble-rouser. But a lot of his "anti-systeme" stylings seem to be directed against the Jews.
For example -- this is what is the French papers constantly -- he and his legions of fans make a gesture called une quenelle, which is judged to be, as Darymple says, a forme frustre (incomplete or arrested form) of the Nazi salute.
This is Dieudonné doing the quenelle: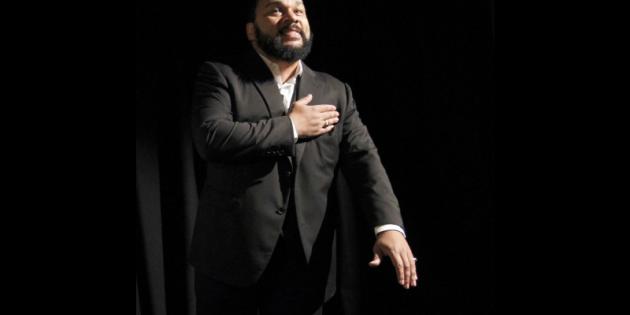 I mentioned the gesture being a forme frustre of the Nazi salute not to show off but because when I write a term I tend to remember it, and it's a useful term. And also, until Darymple described it this way, I could never understand how the gesture was supposed to resemble a Nazi salute.
But now I can see it -- if it's a forme fruste of the full Nazi salute, that means it's arrested before completion. And now I can see, the hand pointing down like that seems poised (as Barack Obama might say) to come up into the Sieg Heil position.
Among the other things he says which are perceived as anti-Jewish is his use of ananas -- pineapples -- as provocations. The reason an anana is considered anti-Jewish is that he's linked the anana to the Holocaust, referring to Jews as Shoahanas. Belittling the Shoah.
I think... I gotta confess, my French is not very good and I barely read this torrent of Dieudonné stories I see on Twitter every day.
People pay actual money to see this form of "comedy" in France...
No but this stupid pantomime code-gesture
(which he always does) is supposed to mean something
about always attacking the forces above us...
Please don't ask me why it means that
At any rate, the French Interior Minister, Vallis, wants to forbid him from performing in France. The PM is a socialist, and, as you might have guessed, the socialists are in favor of government control over speech. The right (or what passes for the right in France) finds the anti-freedom impulse to be alarming.
That background out of the way, I want to quote Darymple's general thoughts on "spontaneous order" (order arising from free market, capitalistic, individual-authored decisions) and the allegedly "rational order" dictated by the central superstate. (And in France, the state is indeed super-sized-- more than half of the GDP is due to government "production").
He notes that Dieudonnés coalition of the angry is made up of elements of the far right and far left.
What unites the Third-Worldists and the National Front is the desire to suppress the effects of whatever spontaneous order still exists in France and in the entire world. They share this desire with socialists of all stripes. And while it may be true that in a spontaneous order the vast majority do better in aggregate than they would do under a more centrally-organized (or supposedly 'rational') order, it cannot be denied that, in such a spontaneous order, some will do better, even much better, than others. A winner in an abstract aggregate may be a loser in a particular situation, and his status as loser will almost always be more real to him that his status as winner. He is then on the lookout for a scapegoat because a) we tend to assume that everything that happens in the human realm is the result of someone's intention and b) hatred is by far the strongest, longest-lasting, and most gratifying of all political emotions.

For those who both hate spontaneous order for the ill it has done them but who also believe that such an order cannot really exist because everything that happens does so because of someone's wish that it should, the fact that Jews should be so successful in France (and, of course, elsewhere in the western world), and the North Africans so comparatively unsuccessful, can only be explained on one hypothesis: conspiracy. To an age-old prejudice is added a reinforcing paranoia, and it is that M'Bala M'Bala both evokes and panders to. Here I must add that the structure of socialist economic thought is exactly the same as the structure of ant-Semitic economic thought: if anti-Semitism is the socialism of fools, socialism is the anti-Semitism of intellectuals.
I don't know what that means but I like it.
I've cut out the various bits about the illusion the statists are possessed by, believing they can order the world properly. I can't quote the whole thing, but I think it might be worth a full read.

Another Good Quote: Walrus Rex made me laugh:
Forty years ago when I was a foreign exchange student in France, a French professor told me that the situation in the Middle East is very complicated for them because the French are antisemitic and they don't like Arabs.
It's funny because it's true.

posted by Ace at
05:40 PM
|
Access Comments