« Overnight Open Thread (12-29-2013)
|
Main
|
Top Headline Comments 12-30-13 »
December 29, 2013
Spaced-Out Challenge: So You GOT a Telescope for Christmas?
We Politely Request That All Off-Topic or Political Comments Be Directed to the Thread Directly Below This One, Which Will Serve Officially as the Current "Active Conversation" Thread for All Discussions Not Related To This Topic.
note- ONT below]
Welcome again to the Spaced-Out Challenge. Whether you have a question about a scope, a new astronomical discovery you want to expand on, or just want to kick back and enjoy the cosmos above, come one come all on our weekly journey through space and time.
This week, we take another break from our Winter Sky Guide and focus entirely on the noobs: welcome to astronomy! I wanted to make a thread just for those of you who unwrapped that first telescope or pair of binoculars, itching to try them out. We'll also briefly discuss 2014's sole impressive meteor shower* coming up later this week.
Binocular Owners: First Timer Tips
Check the lenses and body of your binoculars the moment you open the box, and if anything appears fishy, contact the manufacturer immediately. Celestron, Nikon, Orion, and other reputable brands take pride in their instruments and warranty the optics for new equipment for at least a year. Give it a one-over and if everything looks great, they're ready for their first use.
Buy spare lens caps. This step is easy: measure the outer diameter of your lenses with a tape measurer, go on ebay, and buy the matching size. Why? Because you will lose your originals. It is just a fact of life for bino owners: you're going to run out to look at Jupiter or the moon, and one or both will inevitably land somewhere in the yard.
Go outside, grab a lawn chair, and enjoy.
Almost forgot: some binoculars, like the Celestron 15x70 SkyMasters, have a tendency to knock out of alignment. If the image fails to focus and stars fail to resolve into pinpoints, contact the manufacturer and request information about collimation. Some models are DIY for that, others are best sent back to the manufacturer.
New Telescope Owners
Assembling Your Telescope.
Check all of your parts. Any manufactured telescope worth its weight carries a one-year warranty (minimum) for parts so long as you don't chuck the thing into traffic, so if anything is broken out-of-the-box, don't sweat it. So long as you avoided a department store scope or a CVS nightmare, you're golden. Check all your parts for damages, scratches, etc. If a mirror or lens appears damaged, contact Orion/Meade/Celestron/etc immediately.
Next, and this goes against many a natural instinct: read the directions and follow them word for word. For those of you who got a telescope on an altitude-azimuth mount, the steps are quick and easy. For those of you who bought a telescope with an equatorial mount, follow the steps in the manual, and for more help, here's EyesOnTheSky.com David Fuller's excellent reference videos on aligning and using an EQ mount:

If you happened to have bought an Orion telescope, their youtube channel features dozens of videos explaining how to set up and use their equipment, so definitely check it out.
Setting Up and Testing Out Your Telescope
Align Your Finder
This should be a no-brainer, but your finder, be it a finderscope or a red-dot or a laser pointer, should be aligned so that your target is centered when you look in the eyepiece. The easiest way to do this is to read your manual for where your alignment knobs are on your particular finder, then aim your telescope at a bright pinpoint light source- a distant street light makes a fine alignment target- and adjust your finder until the object centered in your eyepiece is also centered in your finder. This step needs to be considered every time you plan to go observing: you will need it as a first timer, and even after hundreds of hours of observing, it's as essential as tying your shoes or wearing pants.
IF You Have a Reflector: Check Collimation
Collimation is an intriguing word that simply means "proper alignment of optics". Refractors and cassegrain telescopes typically do not require alignment, but reflectors do. Thankfully, your owner's manual will include a section on the topic. Collimation is best done indoors, or at least during daylight hours before you have started to observe. For a better guide on collimation in case your manual, this excellent tutorial from John Crilly of the Cloudy Nights forum, or if you prefer a visual, check out Orion Telescope's How-To on Collimation:

Tip from the comments below worth adhering to:

Pro tip for beginners. Don't take it apart. Don't even try. Period. Optics are sensitive, tricky, terribly unforgiving and fragile. Find an astronomy club and talk to someone there. Star watching folks are about the friendliest and most helpful people you could ever meet when it comes to astronomy stuff.
Posted by: pawn at December 29, 2013 10:10 PM (xxdkI)
In the event you suspect something more serious than alignment is wrong, consulting your local astronomy club is the best course of action.
Protect From the Dew: Make a Dew Shield!
Winter brings crisp, clear skies for many in North America, but it also brings the threat of dew or frost to your new instrument if you plan on a long observing session. You may recall from the light pollution thread a how-to on constructing a $5 light shield. Well, simply shorten it, and you have a cheap but effective dew shield to prevent condensation from building up on your lens or mirrors. Even if you live in an area of extremely low humidity, cooler winter nights can still cause problems, so plan accordingly.
Using Your Telescope
Grab a relaxing chair, keep your eyepieces organized and in a clear space, protect your night vision (again, see the light pollution thread for tips), and get ready for your first journey into deep space.
Start at Low Power
Always, always, always start with the lowest power when hunting your first few targets. First, after several views, you'll begin to recognize landmarks in the eyepiece and it will make star hopping faster with each session. Second, very high power eyepieces are great for examining details of planetary nebula, planets, and the moon- if the weather permits. The maximum practical magnification on average nights is just 150x. On very clear nights, larger telescopes can max out around 400x, and even larger dobsonians can get into the 600s. But for the most part, and for almost all beginners, you're going to get your best views at 150x magnifcation or lower.
Calculating magnification
Eyepiece magnification is rather simple: take the focal length of your telescope (see your manual) and divide that by the focal length of your eyepiece. If your scope has a 2000mm focal length, and you are using a 50mm eyepiece, the magnification is 40x.
Keep a Sketchbook or Log of Your Observations
You don't have to be a Leonardo to keep a useful guide for yourself of the objects you have seen: a small notepad and pencils can be utilized to keep track of your journey through the stars. A log can make repeated viewings rewarding, pushing yourself to fish out more and more details, allow you to compare the performance of different eyepieces and accessories, and reading an old one can show you just how far you've come. My log book from 2011 described the Orion Nebula as a winged smudge with no color reported, while my most recent observation of the same object with the same telescope revealed color- from my suburban porch!
Last and Most Important for Beginners: Explore!
This goes for the owners of binoculars or telescopes: take a swing around the sky without any targets and mind, and just take a look. You may find surprising targets you had struggled with a session before, or something entirely new- perhaps even a comet! My wife finds hunting down targets a chore, but delighted in taking the dob for a spin and landing on the Andromeda Galaxy for the first time. You may find strict follow-the-stars observing boring, and this hobby should be anything but.
Best Targets for Beginners
So, readers of the SOC, here's your assignment for the week (especially if you live in Southern California, which will have it's best nights for observing in four months tonight and tomorrow): take your new equipment for a test drive, and aim for at least one of these targets:
Venus

Venus shines brilliantly in the West during evening twilight and cannot be missed in either binos or a telescope: it's crescent is just barely discernible in the former, and beautiful in the latter.
Jupiter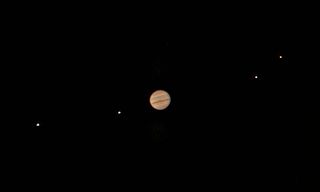 Jupiter, Io, Callisto, Ganymede and Europa by Jan Sandberg
Big, bright, and obvious, the King of the Planets is the brightest "star" in the sky after Venus sets in the west. You can't miss it, and it's four largest moons make a great sight in either binoculars or a telescope. In the latter, look for cloud bands and for its Great Red Spot, which traverses the planet's disk regularly.
Anything in Orion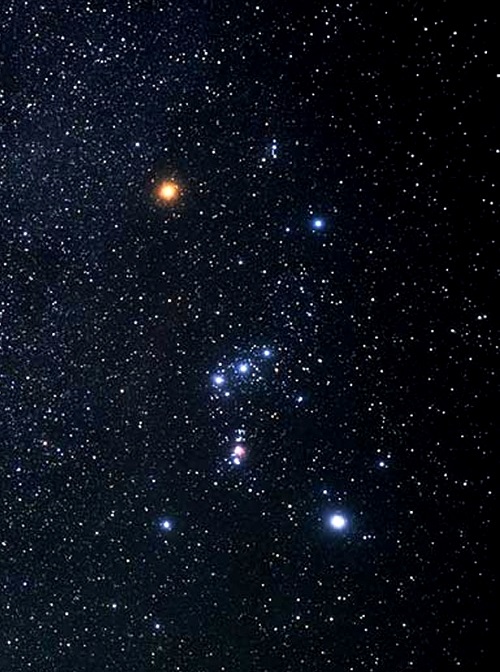 For charts and a complete breakdown of all the targets in this mighty Hunter, see our guide to Orion here. The can't-miss is clearly the Great Nebula, visible in either binos or your scope.
The Pleiades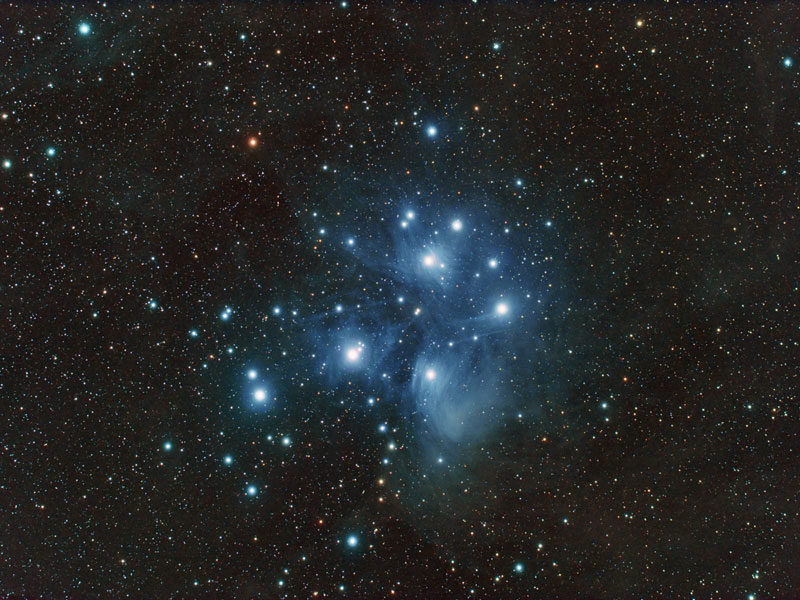 M45 by Antonio Fernandez-Sanchez
One of the few Messier objects that is bright enough to cut through the worst light pollution, The Pleiades, or Seven Sisters, are plainly visible as a smudge in city skies, resolving to a tight cluster in suburban skies, and are just stunning in a pair of binoculars or a small telescope.
***
The Best Meteor Shower of 2014: The Quadrantids are Here Jan 2 & 3
Unfortunately, bright moon phases will ruin virtually every other shower for 2014 (you'll have to wait a bit longer for a Perseid shower as great as this past year's), so Thursday and Friday early morning are your best chance to catch a few streaks for the entire year.
*Of course, there is always Saturday, May 24th. I'm still weary from ISON getting my hopes up, but some are forecasting a meteor storm, that one night only.
***
The full Beginner's Buyer's Guide, our Comet Guide (featuring additional grab-and-go telescopes), and any other edition you're looking for can be found in the master index of all Spaced-Out Challenge threads
here
, but of course you can always inquire about binoculars, telescopes, and all the rest in the comments. As always, if you have astrophotography, product recommendations, or astronomy news you'd like to see on a future Spaced-Out Challenge, email me at theoneandonlyfinn (at) gmail.com, or tweet me
@conartcritic
.
If you have any more questions about your new optics, feel free to ask below. Until next week, clear skies to you, and keep looking up!

posted by CAC at
09:43 PM
|
Access Comments