« Open Thread (reserved for politics) [CBD]
|
Main
|
Late Afternoon Football Open Thread - [Niedermeyer's Dead Horse] »
December 29, 2013
Food Thread: Paella: A Great Holiday Dish [CBD]
We Politely Request That All Off-Topic or Political Comments Be Directed to the Thread Directly Below This One, Which Will Serve Officially as the Current "Active Conversation" Thread for All Discussions Not Related To This Topic.

-- Sincerely, the Fascist MGMT
Maybe not for Spaniards, because they get to eat it a lot and probably get sick of it, but certainly here in America it is an uncommon dish, and one that works nicely for a large group. Just don't be fooled by the whole "one pot meal" thing. It's a fair amount of work, and it will trash your kitchen.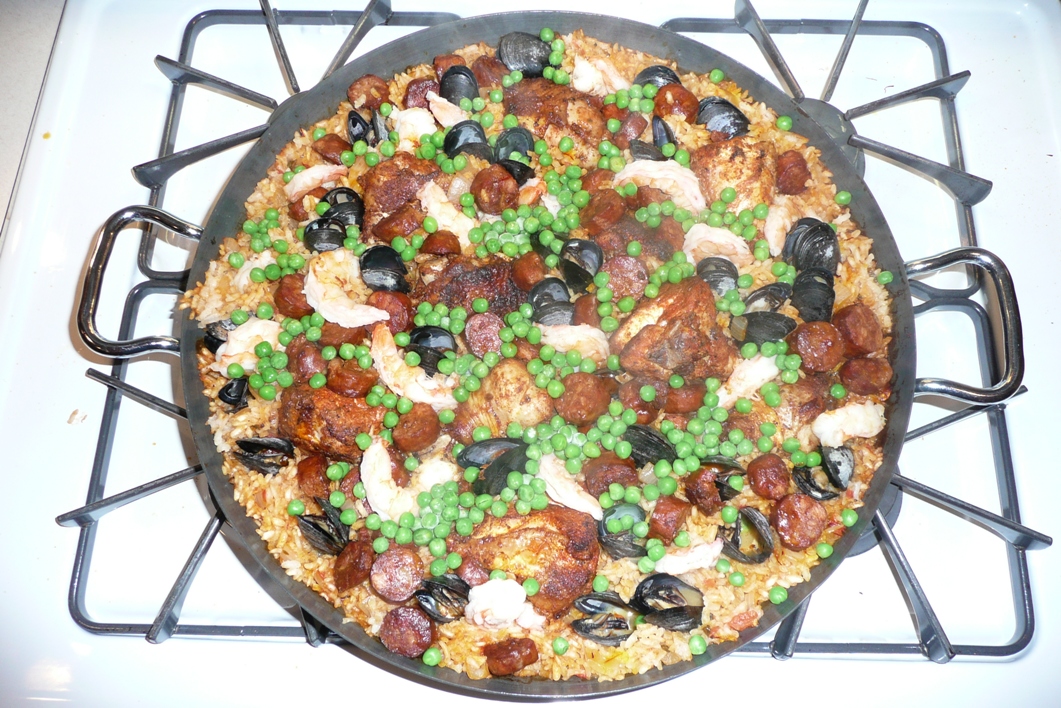 The nice thing is that there is no one true paella recipe. It's a regional dish in Spain (Valencia), but they put lots of different stuff in it depending on where you are and what you feel like eating, including snails. Yup; your plain old garden variety snail. The ones your kids shoot from their slingshots (or is that now frowned upon?). Luckily they also put Chorizo in, and that covers a multitude of culinary sins. To be fair, snails really don't taste like much, and most people who have eaten them enjoy the garlic, parsley and butter that the French drown their snails in.
The constant in all paella recipes is the rice; that is what holds everything together and what soaks up all the interesting flavors from the Chorizo and shrimp and chicken and mussels and whatever else you feel like eating. The traditional rice is Bomba, but I have used Italian Arborio varieties with great success, and they are easier to find and often less expensive.
Tyler Florence's recipe on The Food Network is an excellent place to start and, honestly, to end. All the other recipes available, and there are thousands, are just variations on a pretty basic, if time-consuming process.
One thing that is extremely important: the crunchy rice from the bottom of the pan that is created at the very end is the best part. It's called "socarrat," and it's glorious. If you figure out how to make this dish correctly, you will be left with a spectacularly crunchy, flavorful layer that should be hidden from all of your guests, and enjoyed at your leisure.

posted by Open Blogger at
04:15 PM
|
Access Comments