« Saturday Morning Open Thread
|
Main
|
College Football Who Can Keep Up? »
December 28, 2013
Lib Talk Radio: Dying? Or Maybe It Just Smells That Way [OregonMuse]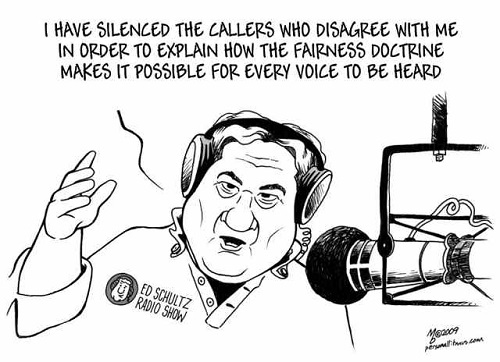 One of the moonbat left's counters to Rush Limbaugh, Air America, briefly fizzled, and is now gone. And now, happily, other lib talkers are also going the way of the dodo. According to this:
2014 will mark the beginning of a massive change for liberal talk radio across the country. In New York, WWRL 1600 AM will flip to Spanish-language music and talk, throwing Ed Schultz, Thom Hartmann, Randi Rhodes, and Alan Colmes off the air. In Los Angeles, KTLK 1150 will be dumping Stephanie Miller, Rhodes, Bill Press and David Cruz off the air in favor of Glenn Beck, Rush Limbaugh and Sean Hannity. In San Francisco, KNEW 960 will leave Miller, Hartmann, and Mike Malloy without a radio home in the market.
No doubt the progressives will complain that they're the victims of a conspiracy hostaed by eeeeeevil corporations to silence their courageous dissenting voices. My response is to point out that in a sane and just world, most of the lib talk guys would be handing out towels in men's restrooms. Also, that if the mainstream media had been doing its job, Rush Limbaugh wouldn't have one. They don't seem to understand this.
I have always wondered why liberals thought they could succeed in talk radio. It seems to me obvious that the main problem they would have to face is one of market saturation. Conservative talk radio has successfully branded itself as 'the other voice'. I remember the early days of Rush Limbaugh where he'd get callers thanking him profusely just for airing views that they long held but never heard voiced on any of the big media outlets. Some restaurants even set up 'Rush rooms' were they would pipe in Rush's show to customers who wanted to hear it.
But with liberal talk radio, none of this is necessary. If you want to hear liberal and progressive views, all you have to do is turn on your TV or pick up a newspaper. The problem is not hearing liberal views, the problem is, where can you go to hear something else? Even Fox News. Liberals don't understand when you try to explain to them that Fox News isn't really "conservative", it's just a mainstream media outlet that allows some conservatives to talk on it. It only sounds conservative because you get to hear, however briefly, something other than the all-pervasive kultursmog of the liberal left.
But getting back to market saturation, I had to laugh when Air America announced they were going to set up an outlet in the San Francisco market. I thought, did they even research this?. Not only does SF have the alphabet networks and NPR, there's also KPFA, a radio station across the Bay in Berkeley that has been the voice of the progressive left for over 60 years. KPFA shows are professionally produced and presented, while over on Air America, it was pretty much amateur hour all the way. So what exactly was Air America going to be providing that Bay Area radio listeners can't get in the other progressive outlets?
Another problem was that some of those Air America guys sounded like spittle-flecked rage monkeys. This couldn't have helped.
So lib talk radio is a miserable failure. It failed in San Francisco. It failed all over the place. Even the Air America station in my college-town-liberal home of Eugene, Oregon gave it up after only a year or two. I listened to it a couple of times, but the local NPR affiliate did a much better job of broadcasting progressive-left news and opinions.
It boils down to this: if I'm a lefty, what does lib radio have to offer that I can't already get on MSNBC? Other than no Chris Matthews, I mean.

posted by Open Blogger at
11:51 AM
|
Access Comments