« Good: Heroic Seeing-Eye Dog Saves Owner's Life From Speeding Subway Train
Bad: Government Says It Won't Pay for the Dog Anymore and He'll Have to Give It Up
Good: People Rally To Pay For The Dog For Him
|
Main
|
John McCain: The People of Fiji Are "Lovely, Gentle People, Even Though They Used to Eat Each Other" »
December 18, 2013
Oh My: Footie Pajama Guy Wasn't the "Gay Outreach" Effort of Obamacare's Minions.
This Is the Gay Outreach Effort.
Yeah... so here's what we've learned: When Obama's friends on the left want to advertise to gays, they do not do so with a great deal of subtlety.
They just put it right on out there.
The video is not entirely safe for work -- it's not pornographic, per se. It is, however, Super Gay, and I do mean "super" with a few extra s's.
If you play this at work, you can expect questions. Even if you work in Lady Gaga's publicity office, people are still going to say, "Dude, what I just saw on your computer was ridiculously gay."
The Gay Costume Party in JFK just emailed me to say, "Yeah... that's over the top."
The guy who sang "What, What, In the Butt?" just said, "I'm offended."
If you don't want to watch it, here's the best description I can muster: You know that Kate Upton Easter Bunny Ad? Yeah, it's like that,* except with Christmas, and Dudes. Just imagine that and you're on the right track.
It is hard to take the left seriously when it accuses the right in trafficking in easy, insulting stereotypes when it appears they do little but that themselves.
You can click on the link to go to Reason's article, and then decide once you're there if you want to row your boat into a category 5 Maelstrom of Gay.
Oh: The goofing on Footie Pajama Guy continues. Apparently Footie Pajama Guy first appeared in anti-Japanese WWII Army propaganda posters: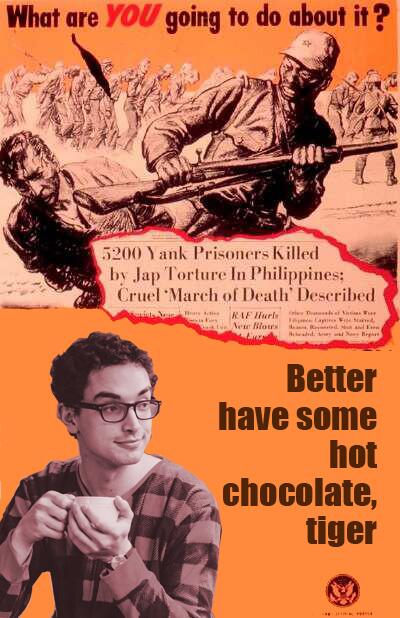 * So why is it that I'm not making fun of the Kate Upton Easter Bunny ad?
Because shut up that's why.
Actually, until this moment, I never even questioned what that ad was actually selling.
It turns out -- I think -- that it's not an ad at all. It's a "short film" by "Emily Weiss," whoever that is. Some kind of fashion maven.
I have never, until this moment, wondered what that ad was for, or why it was made. I think I just assumed it was for Carl's Junior (though I never wondered why there was no hamburger ever present).
I just enjoyed it, and accepted it, and knew the world was Good.
So it turns out it's not even an ad. It's Art -- that's what it is.