« Open Thread
|
Main
|
Tension mounts in the Ukraine »
December 01, 2013
Spaced-Out Challenge: Your Guide to the Winter Sky
[We Politely Request That All Off-Topic or Political Comments Be Directed to the Thread Directly Below This One, Which Will Serve Officially as the Current "Active Conversation" Thread for All Discussions Not Related To This Topic.
-- Sincerely, the Fascist MGMT]
Winter sky constellations over Tanner by Bill Ferris
Welcome again to the Spaced-Out Challenge. Whether you have a question about a scope, a new astronomical discovery you want to expand on, or just want to kick back and enjoy the cosmos above, come one come all on our weekly journey through space and time.
This week, we bid good riddance to ISON, catch the comet that had been living in ISON's shadow, and begin our tour of the Winter sky. Let's dive in.
A warning, I took a little liberty with margins for one image so it can be fully enjoyed. Several maps below are even larger, and have been linked up as pop-up images.

Comets: ISON Fizzles, Lovejoy Dazzles


-XKCD, "Oort Cloud"
Well, RIP to the little showboater that couldn't, Comet ISON, which skimmed too close and melted away during perihelion, leaving a trail of dust slowly spreading away into nothingness. Meanwhile, Comet Lovejoy, which was discussed here in a few earlier threads, continues to impress in binoculars and small telescopes. It is even visible as a faint fuzzy green spot to naked-eye observers in rural skies: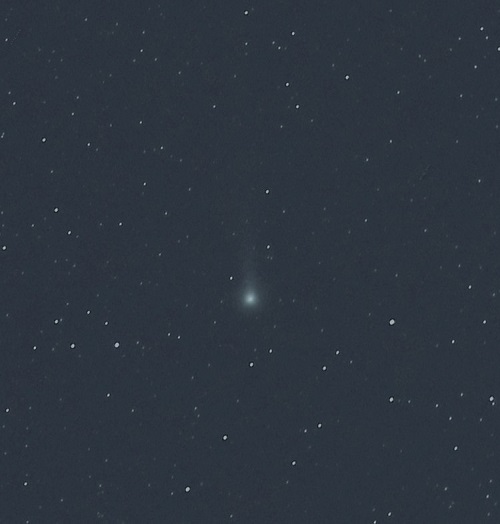 Approximate view through binoculars (image by Waiting for ISON blog)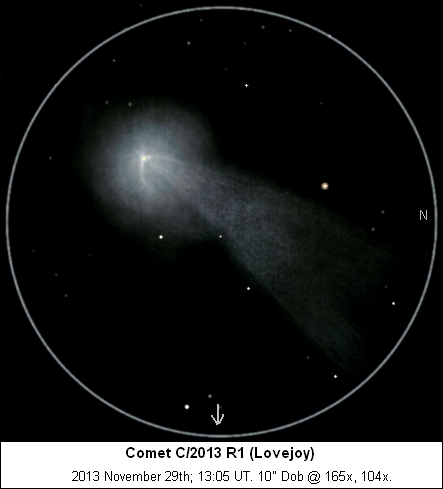 Amateur Wes Stone's sketch of Lovejoy through his 10" Newtonian
Over the next two weeks, the comet will blaze between Ursa Major (particularly just under the handle of the Big Dipper) and Bootes and whizzing above Corona Borealis, the Northern Crown. The comet starts this month around 4.8 magnitude and will fade to around 6 by New Year's Day. Arcturus is the closest bright star to position yourself as you start off: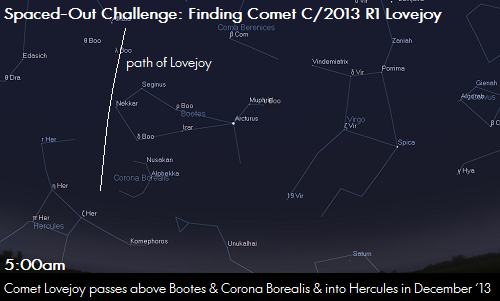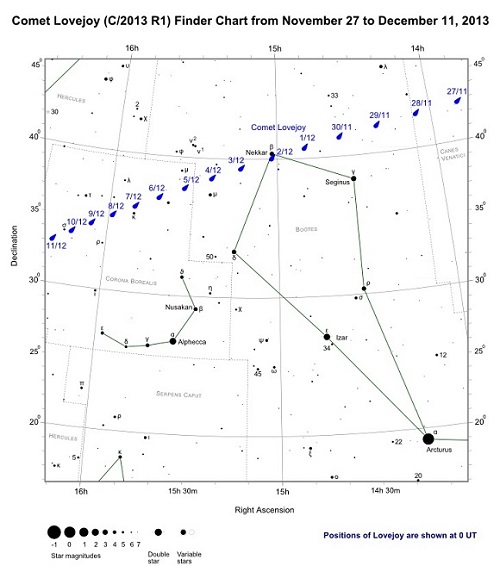 Map courtesy freestarcharts.com
You'll still need to set your alarm for early morning to catch it, but with a defined shape and shining brighter than it was projected to be, Lovejoy delivers. Tomorrow morning, it will be incredibly easy to catch, flying past the 3.5 magnitude star Nekkar.
The Beginner's Guide to the Winter Sky: an Overview
This will be a multi-thread guide designed for first-timers wishing to break in their new telescope or binoculars. All the large-map guides are set to show stars from a light-polluted area, so those of you lucky enough to live far from lights can expect a more crowded sky. You'll notice a few Fall favorites also stick around into the late evening, setting in the east after Midnight:
View image
(too large to post here)
This week, let's figure out how to get around, starting with the Hunter who dominates the cold nights, Orion: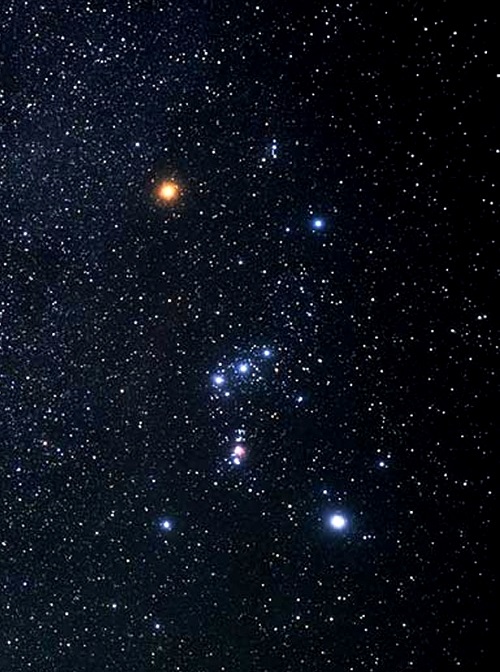 His shoulder will blow out when Betelgeuse does
Seven blazing stars flush out his shoulders, belt, and knees, with Iota Orionis and the Nebula blazing in his sword. These can be seen on any clear night anywhere, from the Santa Monica Pier to Coney Island, defying the brightest lights man can make. For those living in less-light polluted areas, his head, Messina, the brighter stars in his shield (Pi Orionis 1-5), and the brighter portions of his raised club (Chi Orionis) also pop into view.
Orion will get his own thread next week as we dive deeper, but for now, your challenge this week is to take a good look at the nebula blazing in his sword. Try to see if you can catch it as a hazy patch with your eye, and if not, let your eyes get dark-adapted, take a deep breath, and aim your scope or binoculars: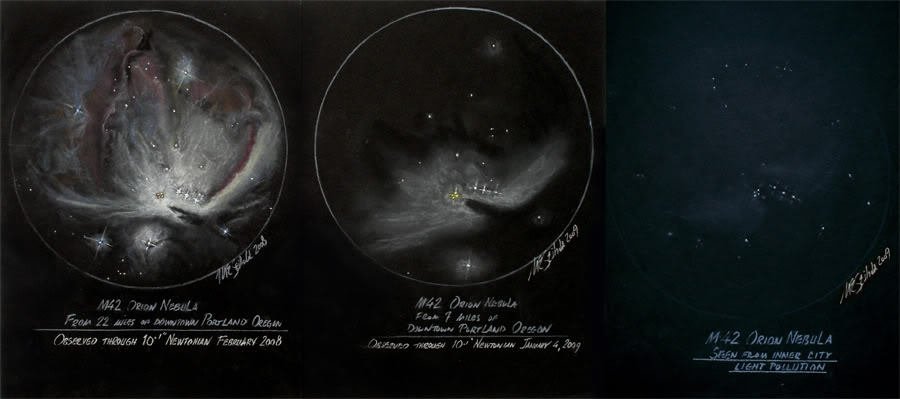 Comparison sketches from (R-L) inner city, suburban, and dark skies of the Orion Nebula by the unsurpassed artist Mark Seibold
In advance: you're welcome.
Using Orion to get around

View image
pop-out image
Tracing the belt stars from westernmost to easternmost and continuing straight across, you hit the extremely faint constellation Monoceros, the Unicorn. Arcing slightly with the belt, you hit the head of Canis Major, the Hunting Dog, with the brightest star in the night sky, Sirius, blazing in his chest. Aiming straight down from his easternmost belt star through the Nebula and Iota, you'll hit the very faint constellation Lepus, the hare. Starting at the westernmost belt star (Mintaka), drift south to fainter Eta (n) Orionis.
Jumping straight through and to Rigel's northwest, you will come across the brightest star in Eridanus (for those of us living north of Miami), Cursa. Hopping along the faint stars of Eridanus carries you back into the Celestial Sea we have been discussing through the fall. Passing through Orion from Saiph up through Bellatrix and continuing on, you'll run right into the blazing eye of Taurus, Aldebaran. Lastly, tracing a line from the easternmost belt star up through blazing Betelgeuse and continuing onwards, you enter the constellation of Gemini, the Twins.
Running 'round the Hexagon
Another way to work your way around the Winter sky is to trace out the Winter Hexagon, connecting the six brightest stars of the constellations Auriga, Taurus, Orion, Canis Major, Canis Minor, and Gemini: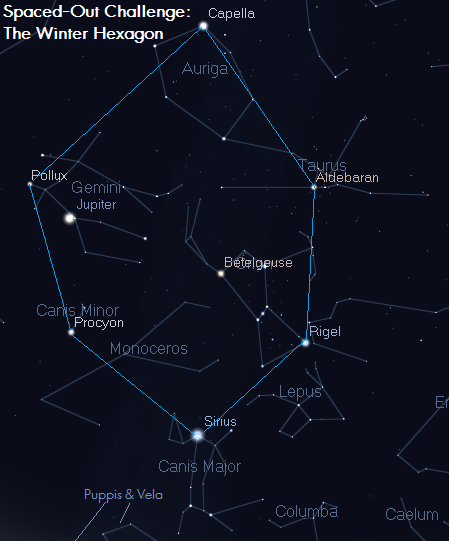 Most of the constellations of Gemini, Auriga, Canis Minor and Orion are contained within this Hexagon, Taurus is about half-in and half-out, and Canis Major, the southernmost of these major constellations, lies almost entirely to the hexagon's south.
As the winter sky contains far too many objects of interest to stuff into one post, we'll spend the next four weeks fleshing it all out, with plenty of beautiful targets delivering you and your family hours of enjoyment at the eyepiece.
Cyber Monday Buys
For those who have been holding out until Christmas to get that first scope or binoculars, wait no longer.
Several of the items listed in our Beginner's Buyers Guide are on sale (ex- the XT8 telescope is $10 off w/ free shipping, and the Shorty Barlow and the AstroGoggles mentioned in the light pollution thread are 50% off as well), and those that aren't are still great deals for their specs. If any of you have any last-minute questions before you click "add to cart", here's the thread to ask.
Woodland Hills Telescope & Binoculars currently has a sale on the very nice Vixen 70mm refractor (optical tube assembly only) for under a hundred bucks here; and for those looking for an all-in-one setup for starting astrophotography, WHT also has a nice package featuring a Canon 60Da DSLR, Celestron computerized VX mount, a Celestron 6" newtonian reflector, and all the adapters required for just $2400 here.
OpticsMart.com doesn't have too many items on sale beyond their normal discounts, but their line of modified Apertura dobs gives Orion's XT series a serious run for it's money, and they do feature one really nice deal tomorrow: an Explore Scientific 152mm doublet achromatic refractor and the Twilight 2 mount for under a thousand bucks. If you're looking to upgrade and you wish to stick with refractors, look no further.
One last recommendation, even though it isn't any special kind of sale. For those with tablets, iPhones, or PCs who want to reference the Spaced-Out Challenge without ruining your night vision, Sirius Astro Products sells "Red Eyes" film and cling that covers your screen without blocking what you're reading here.
***
The full Beginner's Buyer's Guide, our Comet Guide (featuring additional grab-and-go telescopes), and any other edition you're looking for can be found in the master index of all Spaced-Out Challenge threads
here
, but of course you can always inquire about binoculars, telescopes, and all the rest in the comments. As always, if you have astrophotography, product recommendations, or astronomy news you'd like to see on a future Spaced-Out Challenge, email me at theoneandonlyfinn (at) gmail.com, or tweet me
@conartcritic
.
Until then, clear skies and keep looking up!
Next week: Orion the Hunter, in part one of our four part tour of Winter wonders

posted by CAC at
06:25 PM
|
Access Comments