« 47,000 Away From Home
|
Main
|
Putin on short list for Time's Person of the Year »
November 30, 2013
Turkey Weekend College Football Saturday
I hope everyone got some pie yesterday. And if conditions are favorable, there is still some around today.
Oregon, Baylor. No longer stomping opponents with their offense, just hanging on now.
Top ten action today, all times EST:
(2) Florida State vs. Florida, noon (I miss watching this game with my cousins, two brothers who attended each school. There were fistfights)
(3) Ohio State vs. Michigan, also noon
Game of the day, (1) Alabama vs. (4) Auburn, 3:30pm. See histwah of the "Iron Bowl" in the sidebar. If you ever go to Birmingham check out the statue of Vulcan. And eat some grits.
(9) Baylor vs. TCU, 3:30pm. Bears trying to get back into a BCS game after gettin they asses kicked by Oklahoma State.
(6) Clemson vs. (10) South Carolina, 7pm
(8) Stanford vs. (25) Notre Dame, 7pm
(5) Mizzou vs. (21) Texas A&M, 7:45 pm. I miss the T-day matchup with Texas.
And a nod to Georgia and Georgia Tech, not top ten but both 7-4 and it'll be a good fight this afternoon at 3:30pm. I still remember Lewis Grizzard's joke about Ga. Tech.. "What time is the game?" "What time can y'all be here?"
Happy Thanksgiving weekend ya goofs.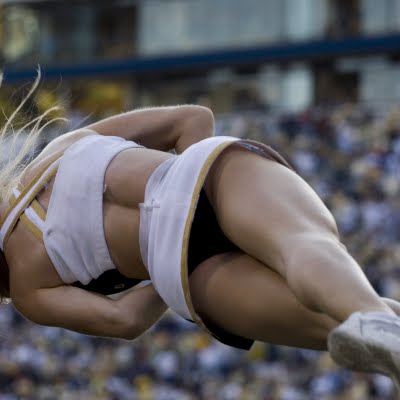 posted by Dave In Texas at
12:08 PM
|
Access Comments