« Michael "Piltdown" Mann melts down at HuffPo
|
Main
|
Delicious: The New York Times Ask Readers to Comment About Black Friday (Subtext: The Evils of Capitalism), and Their Commenters Hilariously One-Up Each Other in the Moral Preening Olympics »
November 29, 2013
Black Friday Stupid
The unions keep hammering away at Wal-Mart, with dozens of hired protestors at stores around the country. Their living wage today is a $50 gift card.
Redeemable at Wal-Mart, and other retailers.
In the past, the United Food and Commercial Workers and OUR Walmart, a subsidiary of UFCW, had offered $50 gift cards to anyone who showed up to protest. The National Labor Relations Board approved the practice in a memorandum this month.

Many anti-Walmart protests in the past have lacked actual Wal-Mart employees. At the protest on Friday, workers from other Wal-Mart locations were present, but none from the Ontario store.
I wonder who they are, if not actual Wal-Mart employees?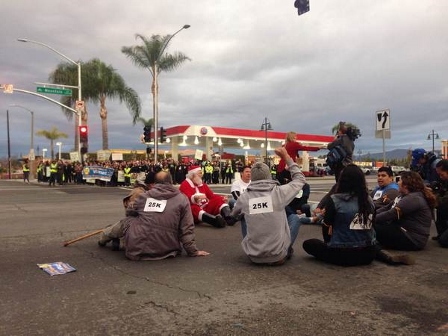 WHAT DO WE WANT? PIZZA! WHEN DO WE WANT IT? NOW!
Never mind the poor, who need and benefit from lower prices for goods and services.
The United Food and Commercial Workers have been after Bentonville for 20 years. They would prefer lines in the street to buy toilet paper than the status quo. Because, justice or something.


posted by Dave In Texas at
02:02 PM
|
Access Comments