« And Now, A Message From The White House & The Democratic Party Concerning Obamacare [OregonMuse]
|
Main
|
At Least Syria Is Happy »
November 24, 2013
Sunday Morning Book Thread 11-24-2013: The Nov. 22, 1963 Triptych [OregonMuse]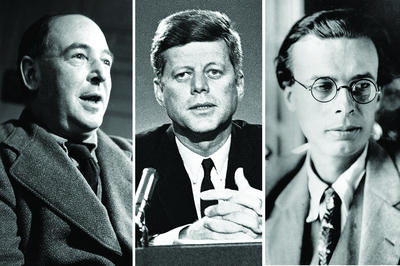 Good morning morons and moronettes and welcome to the award-winning AoSHQ's prestigious Sunday Morning Book Thread.
Oh No, Not More JFK Coverage
Hey, do you know what famous person died on Nov. 22, 1963? Well, C.S. Lewis, for one. I ask again, do you know what famous person died on Nov. 22, 1963? How about Aldous Huxley?
Huxley wrote a royal crap ton of stuff, stories, satire, and novels, and was one of the leading intellectuals of his day. His best known work is probably the dystopian novel Brave New World.
Lewis also wrote a royal crap ton of stuff, and perhaps best known for The Screwtape Letters, although I believe the best way to get to know him is by reading Mere Christianity or, my personal favorite, God In The Dock: Essays on Theology and Ethics. And of course, the Narnia Chronicles.
Kennedy "wrote" Profiles in Courage, and I use quotes because it is now known that he wrote PiC the same way that Barak Obama wrote his books, i.e. he didn't. Instead, PiC was mostly written by his lackey speechwriter Ted Sorensen, who admitted decades later that he very well paid by Kennedy for his ghost writing services. Because of his work, Kennedy was awarded a Pulitzer Prize.
The strange coincidence of these three men dying on the same day is the basis for the book Between Heaven and Hell: A Dialog Somewhere Beyond Death with John F. Kennedy, C. S. Lewis & Aldous Huxley by Peter Kreeft, who imagines a conversation between these men, each representing distinct worldviews, with Kennedy as a modern humanist, Lewis representing Christian theism and Huxley advocating Eastern pantheism.
I grabbed the "triptych" photo from this article, which also has a trivia quiz so you can test your knowledge on Lewis, Huxley and Kennedy.
And doesn't Huxley look like a complete nerd?

The Sunday Morning Book Thread Gets Results!
And by "gets results", I mean "causes PGiS to blow off work in order to read and futz around on the internet":
I read that book recommended by OregonMuse on yesterday's book thread, "Gone at 3:17." It was avery gripping book and I blew off doing useful things today because I wanted to finish it. It was an interesting read because it covered more than just the school explosion, it talked about the East Texas oil fields, the way the news story was covered, and the shocking lack of safety regulations in schools--many of those regulations were put into place after this tragedy.

Reading the book resulted in me spending time on the internet today looking at photos and then reading about other school fires and then watching a weird newsreel film by the Los Angeles Fire Department about "Our Obligation" in terms of keeping kids safe while at school...

Posted by: ParanoidGirlInSeattle
I knew nothing about the book when I posted it last week, other than it looked like it might be interesting. I'm glad it turned out not to be a dud.

Gone at 3:17: The Untold Story of the Worst School Disaster in American History is available on Amazon.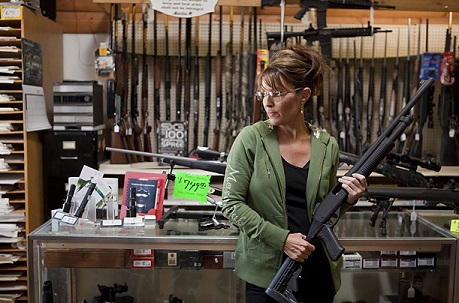 "Martin Bashir Said What?"

Oops, She Did It Again
Earlier this week, I thought I heard, way off in the distance, the pop-pop-pop sound of tiny liberal heads exploding. So I figured Sarah Palin must have said or done something to cause this. Sure enough, she has another book out, so I wasn't just hearing things. Good Tidings and Great Joy: Protecting the Heart of Christmas, is her new book, and in it, she
defends the importance of preserving Jesus Christ in Christmas—whether in public displays, school concerts, and pageants, or in our hearts—and delivers a sharp rebuke to today's society for the homogenization of the holiday season. Sharing personal memories from Palin Christmases past, she illustrates why she holds the celebration of Jesus Christ's Nativity so dear.
I have no idea if it's any good or not. My guess is that if you like Sarah Palin, you'll probably like the book, and vice versa. As for me, if she has something to say about public policy regarding the role of religion (specifically Christianity) in the public square, I'd be interested to hear it. On the other hand, I don't particularly care about her personal or family life. I read the introduction available on Amazon, and I wasn't impressed. The exaggeratedly kitschy/folksy writing style of the intro is very off-putting and makes me not want to read the rest of the book. But I have to say I take great enjoyment in the fact that Palin is a continual source of existential pain to liberals and progressives, and so despite whatever I might think about the book, I hope that it will turn out to be a raging shadenbonerrific best seller.
Also, you can have fun by reading the one-star Amazon reviews and seeing if there's any evidence that the reviewer actually read the book.

Moron Recommendation
From one of the morning threads this week:
I've been reading a wonderful book called The Reach of Rome by Alberto Angela. It's a journey through the Empire during the reign of Trajan, embodied in a single coin as it travels from the mint to Britannia and then as far away as India as it changes hands. The last third of the book seems rushed, as if the editor told Angela to cut things, but it's very well written, with characters (all drawn from actual archeological finds or ancient writings) so vivid you wish they would travel along with the coin instead of using it in commerce.

Highly recommended.

Posted by: Mary Poppins' Practically Perfect Piercing
The Reach of Rome: A Journey Through the Lands of the Ancient Empire, Following a Coin by Alberto Angela. Also available on Kindle. Thank you MP4 for the tip.
___________
Got an e-mail this week from Markham Pyle who asked me to plug a novel written by his business partner, so I will. Cross and Poppy: a village tale by GMW Wemyss, first in a series about a "cozy UK village slice of life" which, underneath the surface, ain't so quiet and aint so cozy, featuring "Trollopean clerics, comic peers with hidden depths, the villagers of a thousand cozy English novels … but in a very modern world: our own." So I think this means that if Anthony Trollope were alive today, he'd have written a book like this.
$3.99 on Kindle.

___________
So that's all for this week. As always, book thread tips, suggestions, rumors, threats, and insults may be sent to OregonMuse, Proprietor, AoSHQ Book Thread, at aoshqbookthread, followed by the 'at' sign, and then 'G' mail, and then dot cee oh emm.
What have you all been reading this week? Hopefully something good, because, as I keep saying, life is too short to be reading lousy books.

posted by Open Blogger at
10:52 AM
|
Access Comments