« Death Spiral Watch: Early Kentucky Enrollment Figures Show Young People Signing Up at Half the Rate Needed to Sustain Obamacare
|
Main
|
Top Headline Comments 11-21-13 »
November 20, 2013
Overnight Open Thread (11-20-2013)
The Last of the Doolittle Raiders
Militarily the 1942 raid was almost negligible but psychologically it was a huge blow to the Japanese sense of invulnerability as well as a giant boost to American morale.
Coming just a few months after Pearl harbor the raid showed that the US could still touch even the most cherished and protected areas of Japan. Of course the raid itself was high risk, primarily based on surprise and was a one-way trip for the crews who couldn't return to the carriers once they took off. Most flew another 8 hours after their bomb run and ended up crash landing or bailing out over China during the night. It's estimated that the Japanese killed 250,000 Chinese civilians during their attempt to find all the downed US airmen.
Doolittle and his crew, after parachuting into China, received assistance from Chinese soldiers and civilians as well as John Birch, an American missionary in China. As did the others who participated in the mission, Doolittle had to bail out but fortunately landed in a heap of dung (saving a previously injured ankle from breaking) in a paddy in China near Quzhou. Doolittle felt the raid had been a terrible failure because all the aircraft were lost, and he expected to be court-martialed on his return. He subsequently recommended Birch for intelligence work with Claire Chennault's Flying Tigers.

One crewman, Corporal Leland D. Faktor, flight engineer/gunner with Gray, was killed during his bailout attempt over China, the only man in that crew to be lost. Two crews (10 men) were missing.
Eventually all of the crewmen were accounted for including 3 who were captured and executed by the Japanese.
Today there are only four left and they were honored last week at the National Museum of the Air Force in Dayton, Ohio.
Last week, the few survivors still able - Doolittle's Crew #1 copilot, then-lieutenant Richard Cole; Crew 15 flight engineer, then-sergeant Ed Saylor who would retire as a Lt. Colonel, and Thirty Seconds Over Tokyo author Ted Lawson's Crew 7 "The Ruptured Duck" engineer/gunner then-sergeant David Thostaer, sipped brandy from a ceremonial bottle [of Hennessy cognac from 1896, the year of his birth] that Doolittle had sourced some sixty years ago. The tradition was that the last man standing would drink the bottle; in the 1940s no one expected four of the raid survivors to survive into their 90s. (The fourth, Crew 16 "Bat out of Hell" co-pilot then-2nd-Lt. Robert Hite, who was captured by the Japanese after the raid, was too unwell to attend; he participated from home).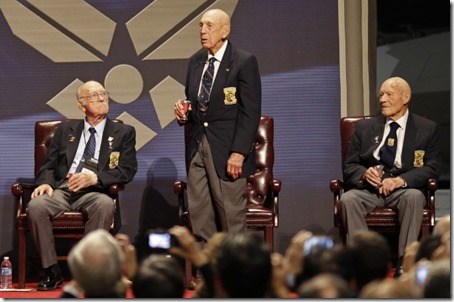 Here is a photo of Richard Cole (front right) posing with Doolittle and his crew before the mission and one of Robert Hite after his capture by the Japanese. He toasted his comrades remotely during the ceremony.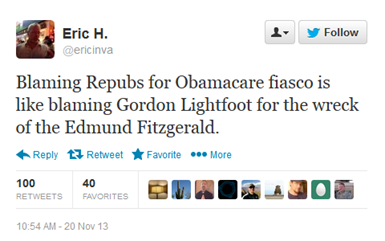 There's Dumb and Then There's Texas Feminist Dumb
So when will we stop the great antibiotic genocide?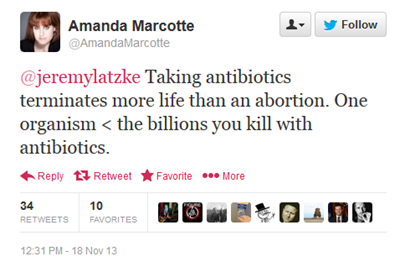 Canadian Nanny State: Mother fined $10 for not including crackers in kids' school lunch
Even though it was a healthy meal containing leftover homemade roast beef and potatoes, carrots, an orange and some milk.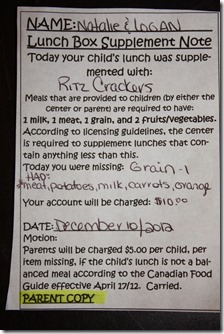 Also What Chinese Students Think of Typical American Foods
Apparently classic Southern fare does not sit well on the Chinese tongue - as opposed to say snake or fermented eggs.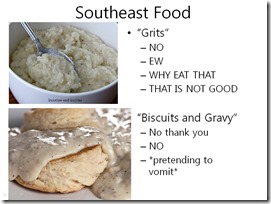 It's Easy Being a Psychic/Creepy Stalker in the Social Media Age
Because people are unclear on the concept of public posts on social media.
Life Lessons From George Costanza
Well if you're unhappy where your choices have taken you, maybe it is time for a little Opposite George.
Your Bodyclock and Pre-Stressing
There's evidence you can will yourself to wake on time, too. Sleep scientists at Germany's University of Lubeck asked 15 volunteers to sleep in their lab for three nights. One night, the group was told they'd be woken at 6 a.m., while on other nights the group was told they'd be woken at 9 a.m.

But the researchers lied-they woke the volunteers at 6 a.m anyway. And the results were startling. The days when sleepers were told they'd wake up early, their stress hormones increased at 4:30 a.m., as if they were anticipating an early morning. When the sleepers were told they'd wake up at 9 a.m., their stress hormones didn't increase -- and they woke up groggier. "Our bodies, in other words, note the time we hope to begin our day and gradually prepare us for consciousness," writes Jeff Howe at Psychology Today.
"narrow leather straps, drawn taut, so when he dances..." and video here.
ISIS Training Film #4155: Gun Safety
For all you Archer fans out there.
Teh Tweet!
Le AoSHQ groupe de Yahoo. Ooh la la!
Tonight's post brought to you by a Doolittle Raid B-25B bomber taking off on the morning of April 18th 1942: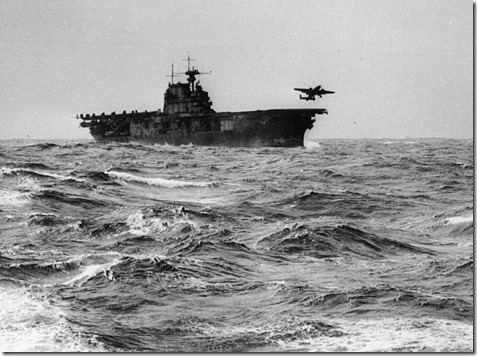 Notice: Posted by permission of AceCorp LLC. Please e-mail overnight open thread tips to maetenloch at gmail. Otherwise send tips and donations to Ace via his ACA account.

posted by Maetenloch at
09:20 PM
|
Access Comments