« Open Thread
|
Main
|
Nancy Pelosi Pretty Much Proves She Has No Idea What's In Obamcare »
November 17, 2013
Spaced-Out Challenge: You WILL See ISON*
[We Politely Request That All Off-Topic or Political Comments Be Directed to the Thread Directly Below This One, Which Will Serve Officially as the Current "Active Conversation" Thread for All Discussions Not Related To This Topic.
-- Sincerely, the Fascist MGMT]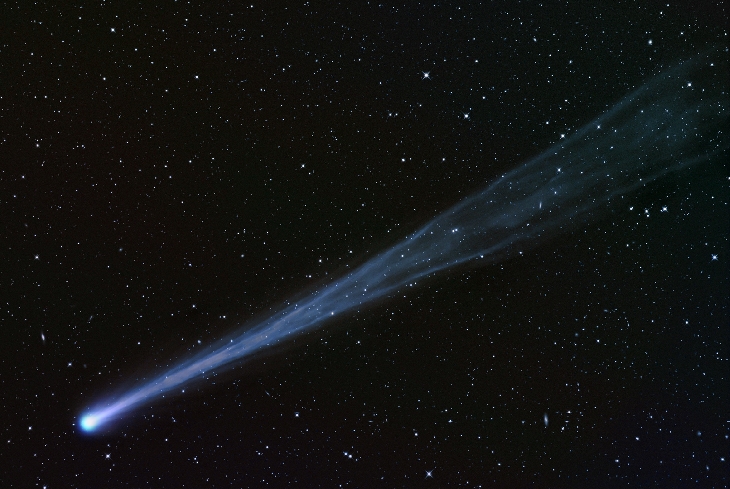 Waldermar Skorupa snapped this fantastic shot of ISON's growing tail yesterday
Welcome again to the Spaced-Out Challenge. Whether you have a question about a scope, a new astronomical discovery you want to expand on, or just want to kick back and enjoy the cosmos above, come one come all on our weekly journey through space and time.
Comet ISON continues to brighten, and is now within range of good binoculars and small telescopes from anywhere in the United States (including light-blighted cities) with a clear view of the eastern horizon. As we have no idea what will happen on November 28th, when it tempts fate in it's closest approach to the sun, this week might be your last chance to catch this astoundingly beautiful visitor.
The comet has been changing it's appearance daily, growing multiple tails, exhibiting a bow shock, and transitioning to bright blue-green in the eyepiece since last Sunday. Residents of darker skies rejoice: it is now well within naked eye range, but you'll have to wake up early to catch it wherever you may be (and remember you are fighting against a nearly-full moon, so patience is required). Let me show you.
*Let's get through a few disclaimers first: these charts, created by Stellarium, approximate the comet's magnitude but it's apparent brightness will range on your latitude and sky conditions. As it races towards the sun and begins fighting the morning twilight (not to mention a near-full moon brightening the sky), it's increasing brightness (so far) keeps it visible for dedicated observers. If it experiences any additional outbursts, it could very well brighten enough to resist the brightened sky for even residents in suburbia to catch it with averted vision.
That all said, so long as you can get a view of the eastern horizon, whether urban, suburban or rural, you will see it with at least a pair of binoculars if you follow these simplified charts. The moon will start slimming tomorrow, and it's influence on the sky will wane by Saturday, but that is when ISON is positioned in the worst twilight of this week as well, so choose your date wisely. Anywho, set your alarm and dive in:
Comet ISON Finder Charts 11/18 through 11/23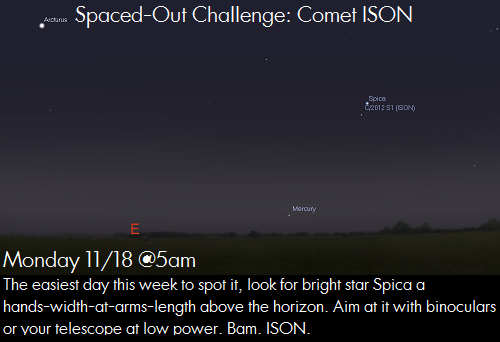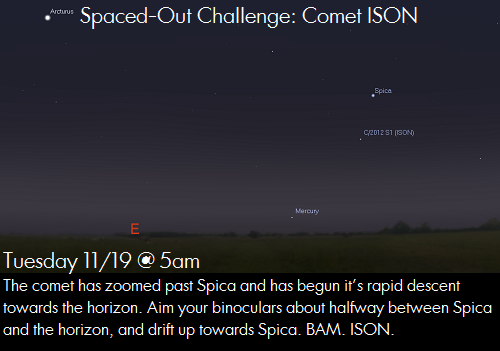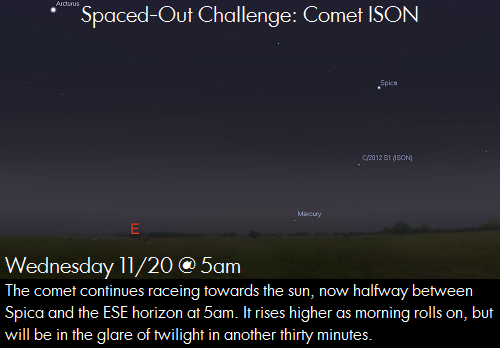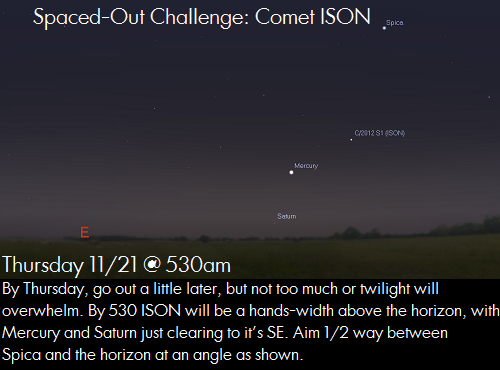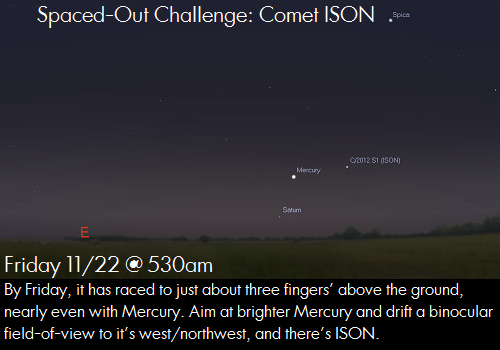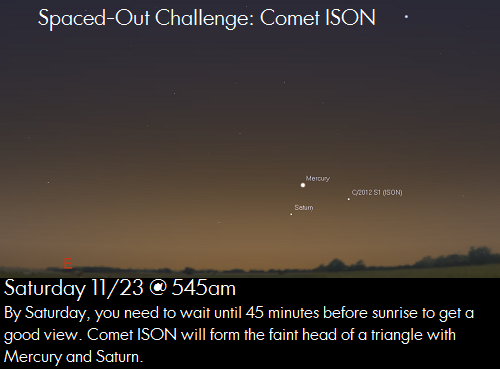 With the moon washing out the Leonid meteor shower and most of your major deep sky objects this week, there's really not much to discuss in terms of targets. But Comet ISON continues to wow, so what else could you need?
Share your observations!
Morons and 'ettes who have successfully spotted it, what equipment did you use, and how did it appear? I've seen some scattershot observations in other threads, so it would be interesting to get your report here.
Latest images of ISON
As beautiful as the images we saw last week were, the latest batch knock them out of the park: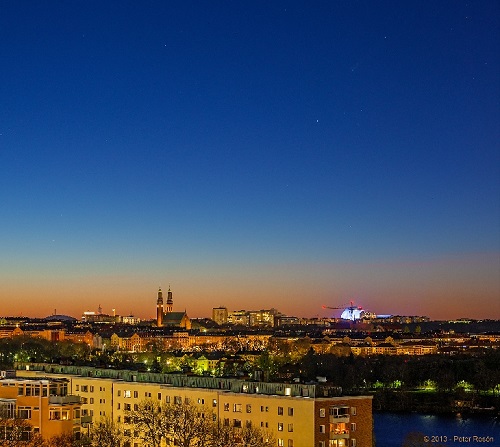 Peter Rosén captures ISON faintly above the bright skyline of Stockholm this morning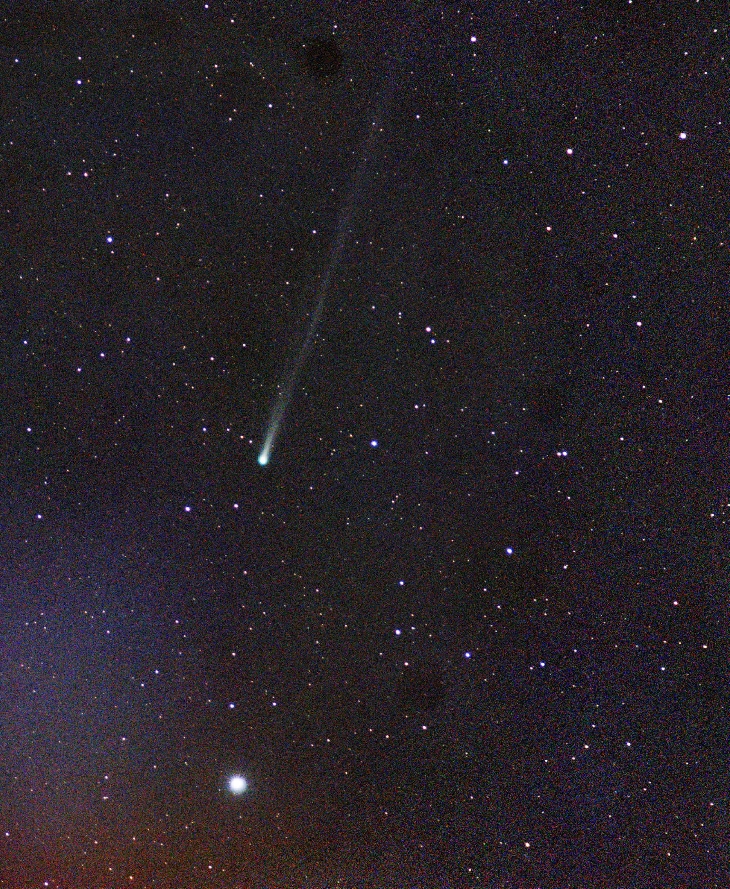 Jan Curtis snapped this just 10 miles south of Santa Fe this morning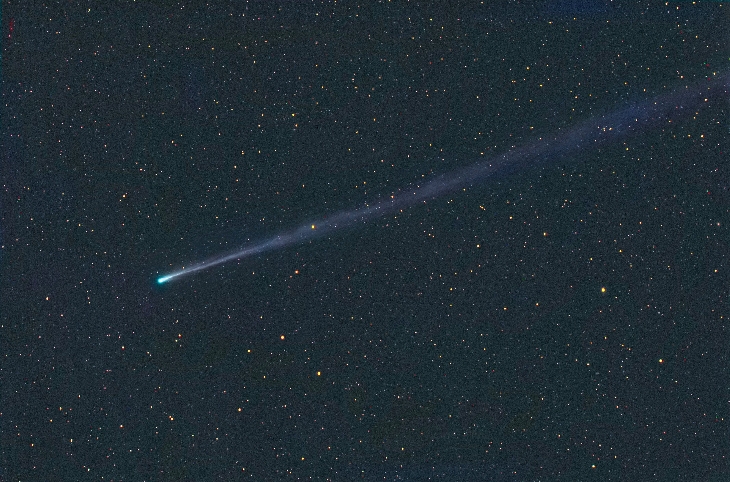 Image by Michael Jäger showing ISON's astounding tail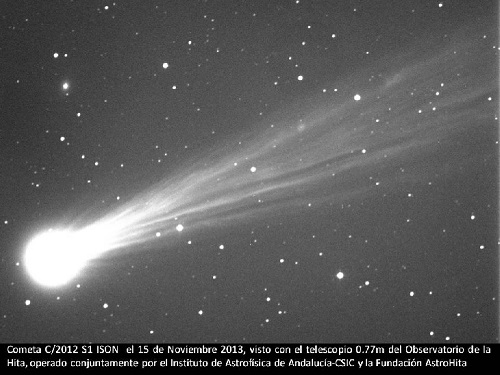 Image by the IAA-CSIC/AstroHita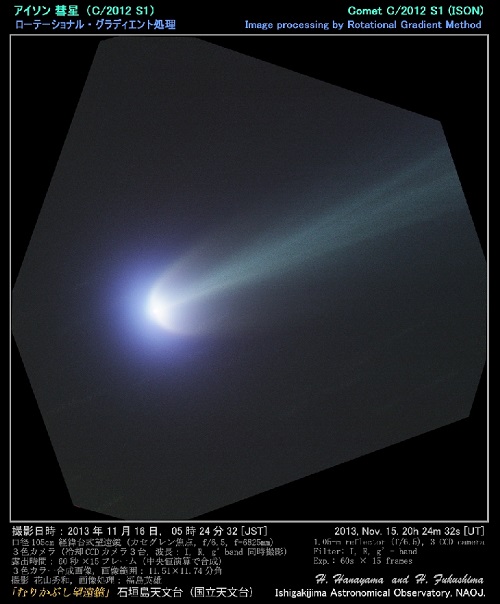 Image by Hidekazu Hanayama and Hideo Fukushima of the Ishigakijima Astronomical Observatory
Lastly, my favorite out of the most recent batch. Jerry Lodriguss' image has been posted on twitter heavily, but it can't get enough attention. Look at that tail. Look. At. That. Tail: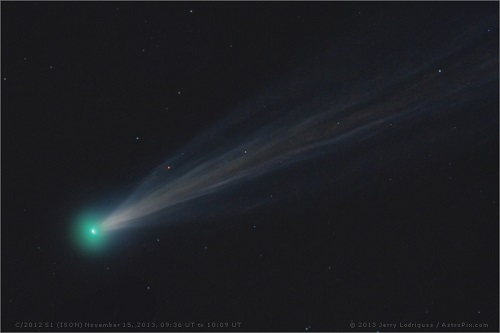 Image by Jerry Lodriguss
SpaceWeather.com has dozens more images, rolling in at a good pace now from all over the world.
Bonus Double Comet Fly-By Goodness
Both Comets ISON and Encke will fly by the planet Mercury tomorrow through Tuesday, and NASA's MESSENGER spacecraft is on it like a fat man on donuts:

***
The full Beginner's Buyer's Guide, our Comet Guide (featuring additional grab-and-go telescopes), and any other edition you're looking for can be found in the master index of all Spaced-Out Challenge threads
here
, but of course you can always inquire about binoculars, telescopes, and all the rest in the comments. As always, if you have astrophotography, product recommendations, or astronomy news you'd like to see on a future Spaced-Out Challenge, email me at theoneandonlyfinn (at) gmail.com, or tweet me
@conartcritic
.
Until then, clear skies and keep looking up!

posted by CAC at
06:33 PM
|
Access Comments