« The End of Obamaism Open Thread
|
Main
|
Saturday Morning Open Thread »
November 15, 2013
Overnight Open Thread (15 Nov 2013)
You know, when more people have signed a petition to build the Death Star than your precious healthcare boondongle, you might want to just stop what you're doing.

The petition, which received 34,435 signatures, demolished health care in signups, which was starkly lower at a mere 26,794. That's a difference of 7,641.

In response to the Death Star petition, the White House actually took the time to write out a lengthy response entitled "This Isn't the Petition You're Looking For." The 500-word response included such ironic statements as, "Why would we spend countless taxpayer dollars on a Death Star with a fundamental flaw…?" Take out "Death Star" and insert "health care law," and you have something the President should have been asking himself several years ago. Except that his health care law has more than just "a" fundamental flaw.
Haunted House?
Ever wonder if someone died in the house you live/lived in? Well, someone has started up a website (for a fee) to let you know if someone has. Even with new construction, there could've been a death in the house. A house a few houses down from me was new construction and no one had lived in it but I soon found out that the builder of the house, being so distraught over the real estate implosion, hung himself in the house. I don't know if the people that did buy it ever found out.
Crazy Landings
h/t rd brewer
h/t
Guess The Movies
Paying Full Price
5 things you should never pay full price for. My Dad taught me that everything is negotiable and never pay full price for anything.
Leonid Shower
Peak Leonid shower this weekend. Viewing possibilities don't look so good for a lot of the country though.
Ice Building and Fire Codes
Seems a bit silly. Sweden's Ice Hotel told to get fire alarms.
What would you do?
Alright morons. The love of your life makes you take a lie detector test every time you go out to check that you have been faithful. And screens your email. Your phone. Everything. Is that cool? Yes? No? I denounce myself but I sure as hell wouldn't do it for this lady. For Kate Upton? In a heartbeat.
Somewhat related. tmi3rd sends in this very disturbing link of the 38 most unexplainable images on the web. Is that Helen Thomas in the first pic?
Dog Video
Tonight's ONT brought to you by: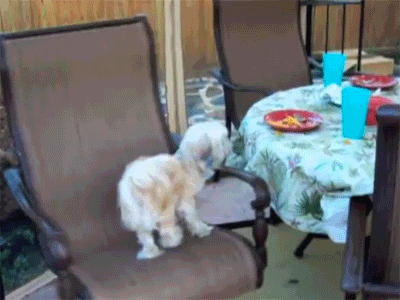 Notice: Posted by permission of AceCorp LLC. Please e-mail overnight open thread tips to maet or CDR M. Otherwise send tips to Ace.

posted by CDR M at
10:24 PM
|
Access Comments