« Sun. Morning Open Before The Book Thread Thread [OregonMuse]
|
Main
|
The socialized medicine you paid for but never got »
November 03, 2013
Sunday Morning Book Thread 11-03-2013: Anatine Amusements [OregonMuse]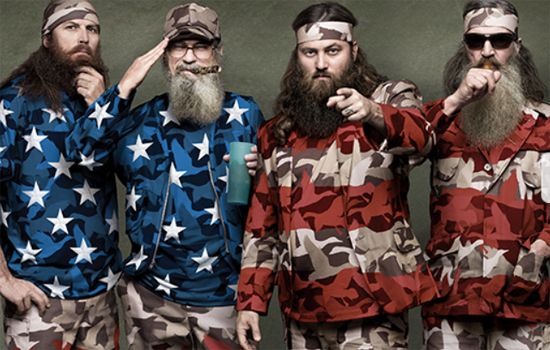 A Happy Family
Good morning morons and moronettes and welcome to AoSHQ's prestigious Sunday Morning Book Thread.

If It Walks Like A Duck
I've become a big fan of the reality TV series Duck Dynasty, which airs on A&E. Unlike the harder-edged TV shows I watch, DD is light-hearted, funny, and, what I like best, it is a very conservative show featuring some very conservative men and women and the conservative values come through very strongly. Each episode concludes with the entire family all together at the table saying grace over the evening meal, while Willie, the main DD character and CEO of the company, narrates the lesson to be learned from the episode. It's cheesy and sappy and corny and I enjoy it very much.
The Robertson clan has put together quite a successful merchandising business based around the show, including not only their signature duck calls, but also DVDs, clothing, condiments, coffee mugs, posters, and, of course, books.
In last week's book thread, moronette mama winger tipped me on the upcoming publication of Miss Kay's Duck Commander Kitchen: Faith, Family, and Food--Bringing Our Home to Your Table , which I wish I had known about a couple of weeks ago so I could have included it in the cookbook thread. Which should go well with their original cookbook, The Commander's Kitchen.
Do an Amazon book search for 'Duck Dynasty' and you'll get a ton of stuff. Like, for example, Si-cology 1: Tales and Wisdom from Duck Dynasty's Favorite Uncle. Or Happy, Happy, Happy: My Life and Legacy as the Duck Commander by family patriarch Phil Robertson.
I like the show and all, but I don't know if I like it enough to buy any of the books, or merchandise.
However...
I watched some interviews on Youtube with the DD cast and was pleasantly surprised to discover that they are serious Christians, and some of them even have ministerial training. This gets muted somewhat in the show, but comes through very strongly in the interviews. So along these lines there's Faith in the Duck Blind by Jase Robertson and The Duck Commander Devotional by Alan Robertson, the one brother who is not on the show.
Here's something funny: The 'Duck Dynasty' search on Amazon will bring up Uncle Si's Secret, a mystery novel about a completely different, and completely fictional, Uncle Si, and has nothing whatsoever to do with Duck Dynasty. So a number of one-star reviews are complaints from purchasers who didn't read the blurb and who are angry because they thought they were getting a Duck Dynasty book.
Lost Manuscript Found
American author Pearl S. Buck (d. 1973), the daughter of American missionaries, spent most of her life prior to 1934 in China. Over the course of her life, she wrote over 100 books, including over 40 novels, her most famous being The Good Earth, published in 1931. She won the Nobel Prize in Literature in 1938.
40 years after her death, another Buck novel has been discovered. According to the author's son, after his mother died, someone took two manuscripts of The Eternal Wonder, one typewritten, one handwritten, from her house. Both were found in a storage unit in Texas, the son gained possession of them, and the book was published just last week.
The Amazon reviews appear to be somewhat mixed.

Book Map
Moron commenter Jakeman (Twitter: @DrFreelance) points me to this cute streep map made up from the titles of over 600 classic and maybe not-so-classic books from English literature.
There's also a TV map available, too.

Attention Military History Buffs: Freebie
My brother has alerted me to Panzer Warfare on the Eastern Front, by Hans Schaufler, which is now available in a Kindle edition for $0.

Book Giveaway
Mark Huffman e-mailed me to announce that he has set up a book giveaway on goodreads.com for his book Antediluvian. Throughout the month of November, you can enter to win one of 20 signed copies.

Books That Look Like They Might Be Interesting
Killing Jesus: A History by Bill O'Reilly and Martin Dugard is an account that
traces the events leading up to the execution of one of the most influential men in history — Jesus of Nazareth — examining Jesus' life and recounting the seismic political and historical events that made his death inevitable.
Also, Miracles and Massacres: True and Untold Stories of the Making of America by Glenn Beck. From Amazon:
Thomas Edison was a bad guy— and bad guys usually lose in the end.

World War II radio host "Tokyo Rose" was branded as a traitor by the U.S. government and served time in prison. In reality, she was a hero to many.

Twenty U.S. soldiers received medals of honor at the Battle of Wounded Knee—yet this wasn't a battle at all; it was a massacre.

Paul Revere's midnight ride was nothing compared to the ride made by a guy named Jack whom you've probably never heard of.

The things you've never learned about our past will shock you. The reason why gun control is so important to government elites can be found in a story about Athens that no one dares teach. Not the city in ancient Greece, but the one in 1946 Tennessee. The power of an individual who trusts his gut can be found in the story of the man who stopped the twentieth hijacker from being part of 9/11. And a lesson on what happens when an all-powerful president is in need of positive headlines is revealed in a story about eight saboteurs who invaded America during World War II.
___________

So that's all for this week. As always, book thread tips, suggestions, rumors, threats, and insults may be sent to OregonMuse, Proprietor, AoSHQ Book Thread, at aoshqbookthread, followed by the 'at' sign, and then 'G' mail, and then dot cee oh emm.
What have you all been reading this week? Hopefully something good, because, as I keep saying, life is too short to be reading lousy books.


posted by Open Blogger at
11:20 AM
|
Access Comments