« Spending time among the flora and fauna . . .
|
Main
|
Thursday Morning Open Thread »
October 23, 2013
Overnight Open Thread (10-23-2013)
A conspiracy of beer, brauten, buses, and busyness has brought the ONT to this lowly state. I blame society and the French.
Redskins - The New Gay Marriage
How an issue no one even talked about suddenly became the new PC litmus test.
I checked our archives to see when our own blogging about the anti-"Redskins" movement began. Could be that this subject, which has been percolating for ages, reached full boil on the left a long time ago, but if it did, we missed it. The first notice we took of it was Erika's post in March about a small group of congressional Democrats trying to do something legislatively about it. (They're still trying, by the way.) A few weeks later there was something about the D.C. City Council wanting to do something about it. Then Redskins owner Dan Snyder made his big blunder: He told USA Today, "We'll never change the name. It's that simple. NEVER — you can use caps." That was him essentially daring the left to try to force him by engineering new "enlightened" ground rules on "Redskins" usage for the media and political class. A few months later, "Slate" dropped the word; Rachel Maddow followed suit and then, inevitably, Obama was asked about it and tepidly endorsed changing the name. And so now, with record speed, here's O'D in the highest self-righteous dudgeon towards people who hold a position that virtually no one gave a wet fart about six months ago. To me, that's the worst part of the whole anti-Redskins phenomenon. It's not opposing the term itself that's annoying; that's defensible. It's not even getting indignant with people who don't see a problem with using it. It's the sanctimony coupled with the faddishness of the whole thing. How dare Dan Snyder disagree with something that the left didn't care about five minutes ago? How dare he?
Also The Soft Bigotry of High Cheekbones
Open a command window and type in 'tracert 216.81.59.173'. Give it about 20 seconds.
The Vaunted Canadian Health System Now Has Its Own Death Panel and Death Panel Lawyers
TSA Airport Security Checks Now Start While You're at Home
Le Outrage: Days after Hollande sternly told the U.S. to stop spying on its allies, Le Monde disclosed that France has its own large program of data collection, which sweeps up nearly all the data transmissions that come in and out of France
Such sweet, sweet high grade European hypocrisy.
Oreos Just as Addictive as Cocaine: Bad Science
Note that this implies that cocaine is just as addictive as Oreos which pretty much bullshit.
Denver Planning to Make the Smell of Marijuana Illegal
Oh Goody: Experian Sold Social Security Numbers To ID Theft Service
Possible Diabetes Vaccine Breakthrough
Halloween Costumes For Your Boobies
If your boss has a vivid imagination, this may be NSFW.
The AoSHQ group. Uh huh.
Le Tweet!
Tonight's post brought to you by niche genres: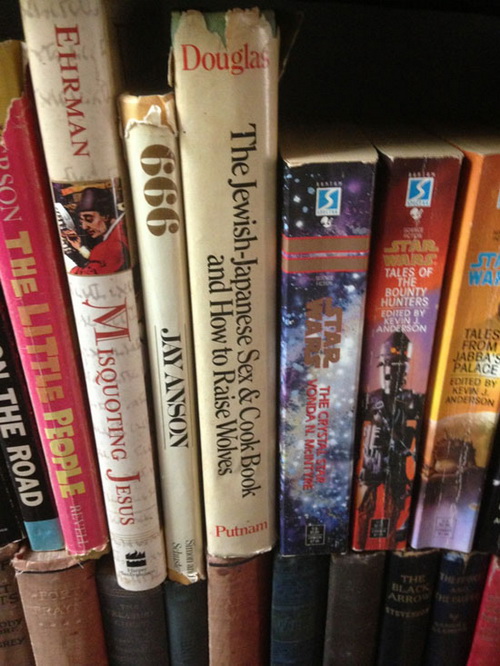 Notice: Posted by permission of AceCorp LLC. Please e-mail overnight open thread tips to maetenloch at gmail. Otherwise send tips to Ace.

posted by Maetenloch at
10:01 PM
|
Access Comments