« Deal? Maybe. Maybe Not.
|
Main
|
Father Fined 500 Euros for Spanking His Son by French Court »
October 14, 2013
The Root Cause of Obamacare's Exchange Woes
Here's the short version:
Now here's the long version from Avik Roy at Forbes: Obamacare's Website Is Crashing Because It Doesn't Want You To Know How Costly Its Plans Are
Comparable private-sector e-commerce sites, like eHealthInsurance.com, allow you to shop for plans and compare prices simply by entering your age and your ZIP code. After you've selected a plan you like, you fill out an on-line application. That substantially winnows down the number of people who rely on the site for network-intensive tasks.
But Obamacare can't do that because the sticker shock from seeing the gross premium without the offsetting amount of subsidies (read money stolen from taxpayers to pay for this crap) they qualify for would send everyone running.
Instead of creating a simulation where people could answer a few questions and get an estimate of the subsidy, which would have been comparatively easy, the Obamacare exchanges try (and fail) to go through the entire enrollee qualification process on the fly.
And even when people do manage to create an account, there's another issue:
But even before the exchanges opened for enrollment there were reports that the subsidy calculator was not working correctly. That still seems to be the case. Cigna is so uncertain about the subsidy calculator in the federal exchange that it has issued an official warning to brokers not to attempt to enroll anyone who might qualify for subsidies until November ...
So the thing that caused the day one and ongoing debacle doesn't even work? Hmmm ... let's see if we can spot the problem.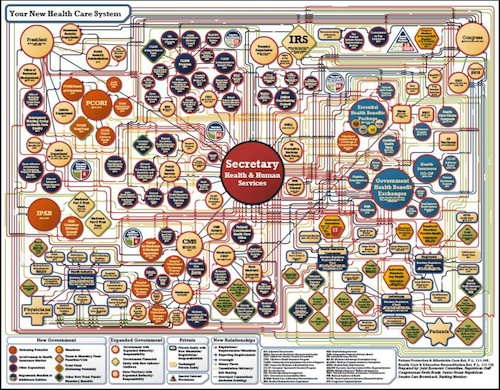 I'm betting it's the interfaces, isn't it? It's always the damned interfaces.
And in further cheery Obamacare wagers, I'm also betting the Venn diagram of the people who are trying to enroll on day one and the people just dying to game the system looks like this: O
But fear not, the Obamacare exchange debacle will soon appear at the top of the search results for "the perfect is the enemy of the good". So we've got that going for us.

posted by Andy at
06:20 PM
|
Access Comments