« Open Thread
|
Main
|
Overnight Open Thread (10-13-2013) »
October 13, 2013
Spaced-Out Challenge: Eyeing Andromeda & Comet ISON Cometh
[We Politely Request That All Off-Topic or Political Comments Be Directed to the Thread Directly Below This One, Which Will Serve Officially as the Current "Active Conversation" Thread for All Discussions Not Related To This Topic.
-- Sincerely, the Fascist MGMT]

Image by Brian McGaffney, Nutwood Observatory (10/12)
Welcome again to the Spaced-Out Challenge. Whether you have a question about a scope, a new astronomical discovery you want to expand on, or just want to kick back and enjoy the cosmos above, come one come all on our weekly journey through space and time.
This week, I'll show you how to take advantage of the beautiful rendezvous of Mars with Regulus to find brightening Comet ISON in a small amateur telescope this week; and better introduce you newbies to the most famous damsel in distress, Andromeda.
Chasing Comet ISON
Now at magnitude 10 and brightening, ISON is well within range of even small amateur telescopes, with visual sightings confirmed in telescopes as small as 70mm in aperture. Using HeavensAbove, I generated the following star charts (stars depicted are down to magnitude 14, so don't expect to see all of those in your scope). These are for fields of view just 2 degrees wide, so bright star Regulus won't appear in any of them. Just aim for Mars and drift north/north east until your eyepiece view roughly matches the chart on the given day.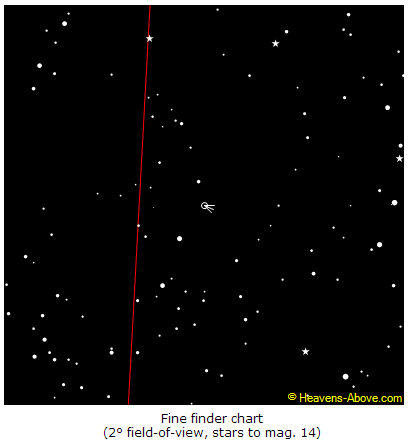 Monday: Mars and Regulus form a close double, with ISON just over a degree to Mars' NE.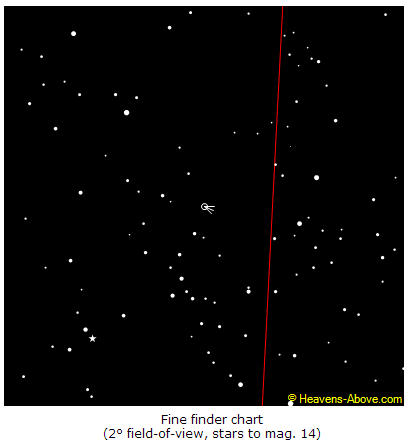 Tuesday: Mars and Regulus remain doubled, with ISON drifting closer towards Mars.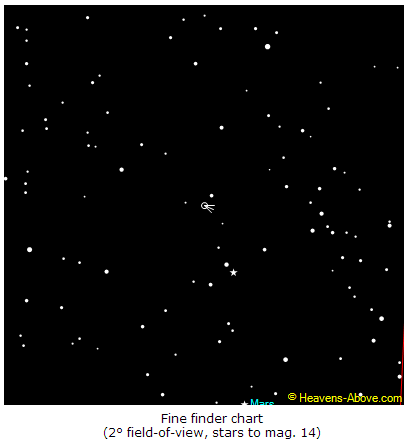 Wednesday: Mars and Regulus begin seperating, but ISON drifts closer towards Mars from our perspective, now under a degree to it's N/NE. A wide-field eyepiece should capture both.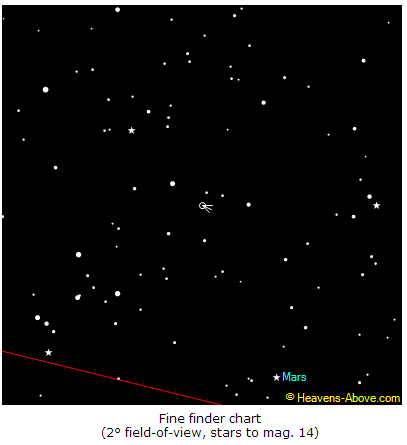 Thursday: As Mars drifts past Regulus, ISON continues it's close proximity to Mars.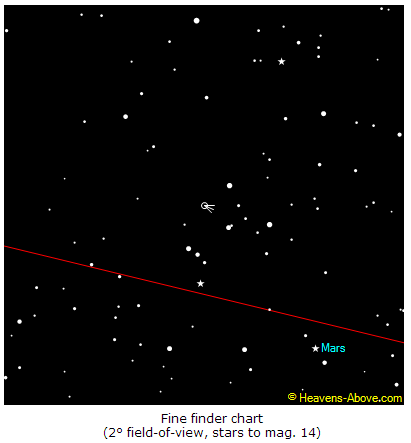 Friday: Mars has seperated further from Regulus, but now ISON may begin to be effected by the star's glare. The three are still within a 3 degree FOV.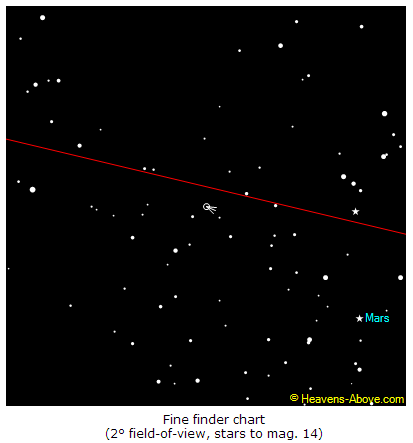 Saturday: Mars and ISON begin seperating, but remain in close proximity.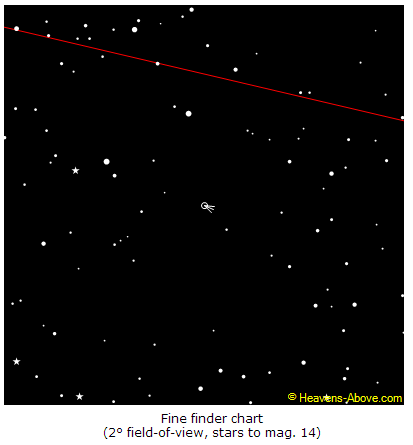 Sunday: More of the same, by this point Comet ISON should be well under magnitude 10.
Through wide-field low power, the faint greenish smudge of the comet's coma will appear just a degree northeast of Mars tomorrow morning and Wednesday morning. Simply aim for the star-planet double, center Mars in your eyepiece, then drift north and east until you spot the smudge.
The consensus among visual observers is it appears as a severely out-of-focus greenish star in small aperture and poor atmospheric conditions. The larger your instrument, the brighter the coma will appear and you may even catch it's tail. Despite some concern about the comet dissolving, current observations are more reassuring.
***
Andromeda, the Chained Princess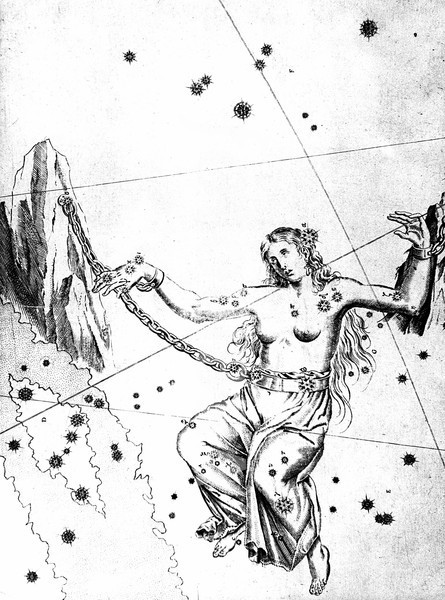 Andromeda from Johannes Bayer's Uranometria
Regular readers of the SOC are at least familiar with the three brightest stars in the Chained Princess which form an arc out of the Great Square and towards Perseus, her rescuer: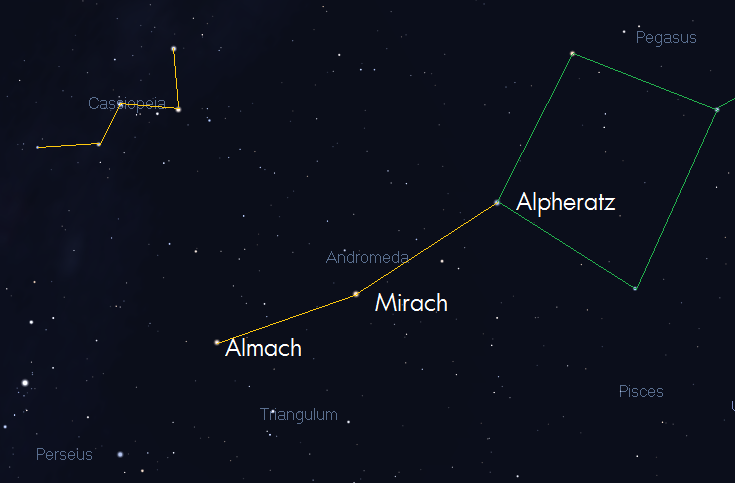 However, the constellation is much larger than this bright arc alone implies, covering a huge swath of sky between Cassiopeia, Perseus, Pegasus and Lacerta: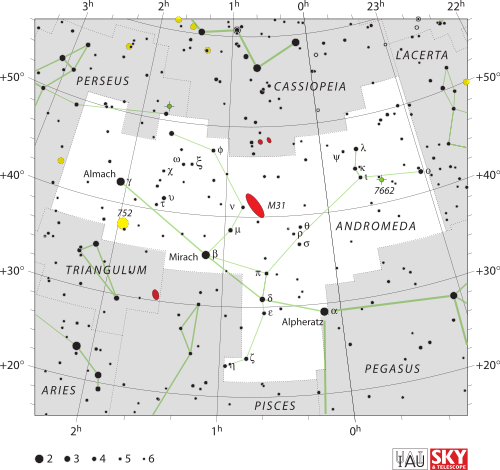 Map by IAU/S&T (Roger Sinnott & Rick Fienberg)
Beyond the bright three stars forming her head, back, and right leg, an arc of fainter stars forms her left leg, while another traces her left breast, arm and chain to the rocky outcropping from which she is to be sacrificed to Cetus, the sea monster.
Andromeda has many gems for amateurs. For owners of binoculars, the reddish star Beta Andromedae (Mirach) and the glorious galaxy M31 stand out. For small telescopes, the beautiful orange-blue double Gamma Andromedae (Almach) can be added to that list. But for owners of slightly larger scopes, say of 3" aperture and above, there are two sights that are challenging but worth it. Let's go deeper.
Mirach's Ghost (NGC 404)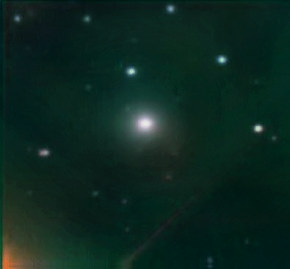 Image by Odd Trondal
An easy object to center on thanks to it's close proximity to the bright star Mirach, the glare of said star makes it a challenge to observe. Visual observations are actually more successful than photographic attempts, but in either case, persistence will yield a tantalizing galaxy not even a star-hop away. Simply aim at Mirach, crank up your power, and start hunting: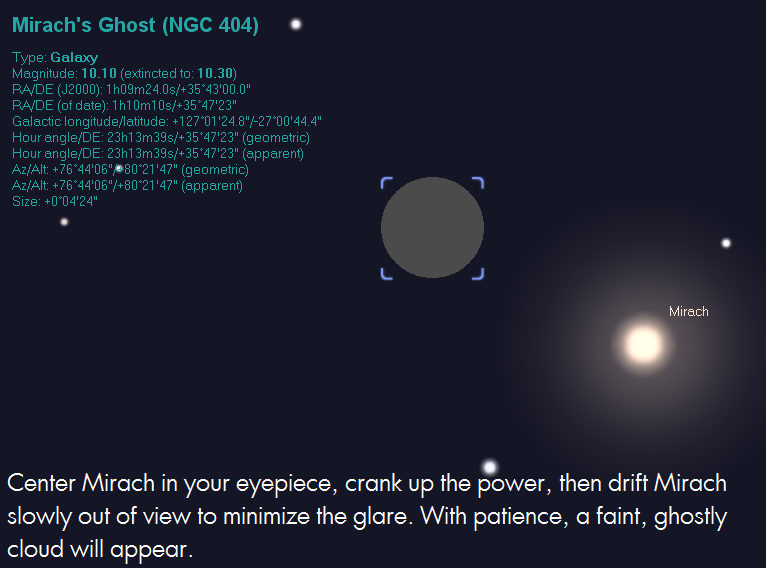 The Blue Snowball (NGC 7662)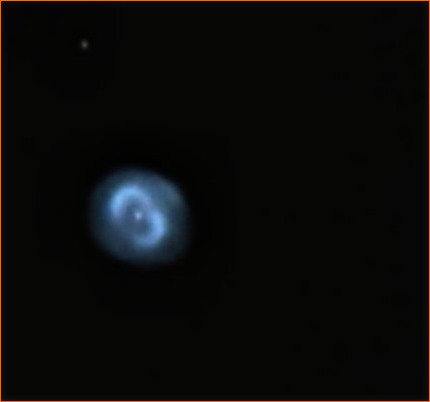 A beautiful planetary nebula that lives up to its name, this blue-green gem can be found in the chain-rock part of the constellation. A challenge for larger instruments is to catch the varying 12-16 magnitude white dwarf. Blinking and averted vision seems to bring out other fainter detail within the nebula. Here's where to aim your scope: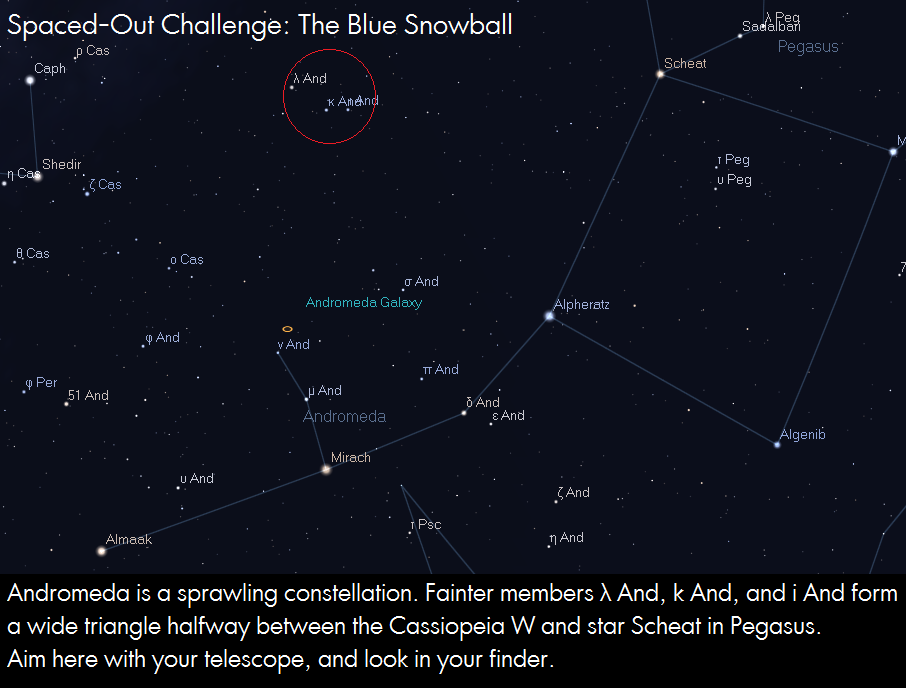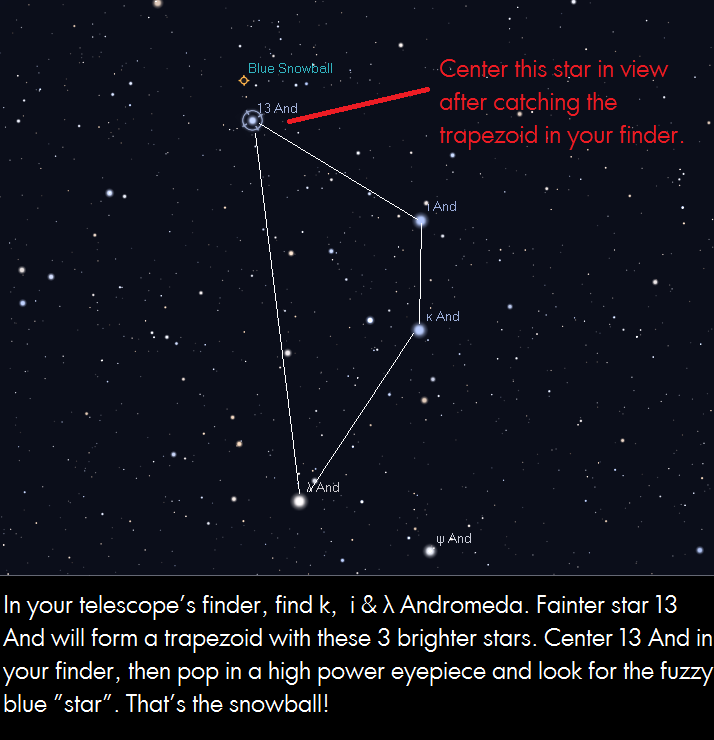 Note: if you have a nebula filter and are having trouble catching the snowball, use it when you hop to And 13. It will dim the stars but enhance the planetary nebula. Remove the filter once you've zeroed in to enjoy the natural color.
****
With Christmas and Comet ISON both around the corner, it's never been a better time to get a telescope. The Beginner's Buyer's Guide can be found in the master index of all Spaced-Out Challenge threads here, but of course you can always inquire about binoculars, telescopes, and all the rest in the comments. As always, if you have astrophotography, product recommendations, or astronomy news you'd like to see on a future Spaced-Out Challenge, email me at theonandonlyfinn (at) gmail.com. Until next week, clear skies and keep looking up!

posted by CAC at
08:05 PM
|
Access Comments