« Spite House Open Thread
|
Main
|
Top Headline Comments 10-10-13 »
October 09, 2013
Overnight Open Thread (10-9-2013)
More From Vaclav Havel's 1978 Essay, "The Power of the Powerless"
In which he lays out what it means to be a 'dissident', how to live 'within the truth' and ways to resist a totalitarian system even when you have no power at all.
In 1974, when I was employed in a brewery, my immediate superior was a certain S, a person well versed in the art of making beer. He was proud of his profession and he wanted our brewery to brew good beer. He spent almost all his time at work, continually thinking up improvements, and he frequently made the rest of us feel uncomfortable because he assumed that we loved brewing as much as he did. In the midst of the slovenly indifference to work that socialism encourages, a more constructive worker would be difficult to imagine.

The brewery itself was managed by people who understood their work less and were less fond of it, but who were politically more influential. They were bringing the brewery to ruin and not only did they fail to react to any of S's suggestions, but they actually became increasingly hostile toward him and tried in every way to thwart his efforts to do a good job. Eventually the situation became so bad that S felt compelled to write a lengthy letter to the managers superior, in which he attempted to analyze the brewery's difficulties. He explained why it was the worst in the district and pointed to those responsible.

His voice might have been heard. The manager, who was politically powerful but otherwise ignorant of beer, a man who loathed workers and was given to intrigue, might have been replaced and conditions in the brewery might have been improved on the basis of S's suggestions. Had this happened, it would have been a perfect example of small-scale work in action. Unfortunately, the precise opposite occurred: the manager of the brewery, who was a member of the Communist Party's district committee, had friends in higher places and he saw to it that the situation was resolved in his favor. S's analysis was described as a "defamatory document" and S himself was labeled a "political saboteur." He was thrown out of the brewery and shifted to another one where he was given a job requiring no skill. Here the notion of small-scale work had come up against the wall of the post-totalitarian system. By speaking the truth, S had stepped out of line, broken the rules, cast himself out, and he ended up as a sub-citizen, stigmatized as an enemy. He could now say anything he wanted, but he could never, as a matter of principle, expect to be heard. He had become the "dissident" of the Eastern Bohemian Brewery.

I think this is a model case which, from another point of view, illustrates what I have already said in the preceding section: you do not become a "dissident" just because you decide one day to take up this most unusual career. You are thrown into it by your personal sense of responsibility, combined with a complex set of external circumstances. You are cast out of the existing structures and placed in a position of conflict with them. It begins as an attempt to do your work well, and ends with being branded an enemy of society. This is why our situation is not comparable to the Austro-Hungarian Empire, when the Czech nation, in the worst period of Bachs absolutism, had only one real "dissident," Karel Havlνček , who was imprisoned in Brixen. Today, if we are not to be snobbish about it, we must admit that "dissidents" can be found on every street corner.
And his essay secretly passed from hand to hand eventually helped lead to the rise of Solidarity in Poland and contributed to the crumbling of apparent internal support for other Eastern Bloc governments.
This essay reached us in the Ursus factory in 1979 at a point when we felt we were at the end of the road...we had been speaking on the shop floor, talking to people, participating in public meetings, trying to speak the truth about the factory, the country, and politics. There came a moment when people thought that we were crazy. Why were we doing this? Why were we taking such risks? Not seeing any immediate and tangible results, we began to doubt the purposefulness of what we were doing...Then came the essay by Havel. Reading it gave us the theoretical underpinnings for our activity. It maintained our spirits; we did not give up, and a year later - in August 1980 - it became clear that the party apparatus and the factory management were afraid of us. We mattered. And the rank and file saw us as leaders of the movement...[5]

   -- Zbigniew Bujak, Solidarity activist, recalling the effect that Havel's essay had upon the leaders of Poland's nascent Solidarity movement
Despite the Shutdown The Military is Still Getting the Equipment It Needs
Which in the case of the Utah National Guard includes a $47, 174 mechanical bull. Of course this is a mil-spec mechanical bull to replace the previous one that got broken.
And I for one do not want our boys going into a combat rodeo without having the finest training possible on hi-tech mechanical bulls. Our freedom may ride on this.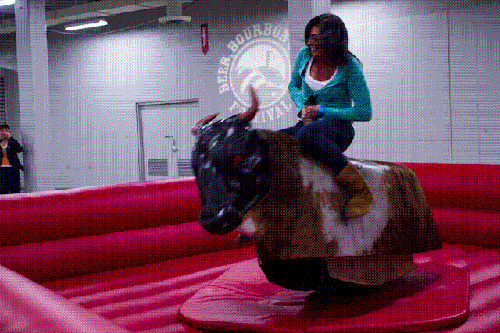 Liberal Journalist: Hey Let's Junk This Whole Separation of Powers Thing
Funny how it's only a problem when it interferes with Democrat presidents getting their way. Like why should some 100-year old piece of paper get in the way of progress man?
It's hard to discuss these issues calmly, given that the Constitution and the Federalist Papers have taken on a Holy Scripture-like role in American political debate. One does not debate if they're right, but only the proper way to interpret them on a given matter, which is then presumed to be correct.

...But it's not just that Madison's system is unnecessary. It's potentially dangerous. Scholars of comparative politics have shown that presidential systems with a separation of executive and legislative functions, like America's, are considerably more likely to collapse into dictatorship than are parliamentary systems where the executive and legislative branches are merged. That's because there are competing branches of government able to claim democratic legitimacy and steer the ship of state at the same time - and when they disagree profoundly, there's no real mechanism for resolving the dispute.
His suggestion: a dictatorship - but of course a benevolent, elected one:
Max Weber, in conversation with Gen. Erich Ludendorff, advanced my personal favorite theory of democracy: "In a democracy the people choose a leader in whom they trust. Then the chosen leader says, 'Now shut up and obey me.' " People and party are then no longer free to interfere in his business. .Later the people can sit in judgment. If the leader has made mistakes - to the gallows with him!"

Hanging leaders rather than failing to reelect them seems a mite harsh, but the overall idea here is exactly right. For a government to be truly accountable to the people, it needs to actually control the circumstances over which the people will judge it. ...If voters expect their leaders to deliver favorable economic outcomes, then those leaders should actually be able to control favorable economic outcomes
One of the morons mentioned this in the comments earlier in the week.
In the early 1980s, transit officials in Washington couldn't figure out why traffic on the Beltway would grind to a near halt every day around the exact same time. The usual explanations didn't fit.

Then it was discovered that a single driver was to blame. Every day on his drive to work, this commuter would plant himself in the left lane and set his cruise control to 55 mph, the posted speed limit, forcing those behind him to merge right. You can imagine the effects.

To his credit, this driver came forward in a letter to the editor of the Washington Post. The man's name was John O. Nestor. He explained that the left lane was great; less traffic, less merging - why not ride it into work every day? Besides, he wrote, "Why should I inconvenience myself for someone who wants to speed?"

He achieved immortality by being transformed into a Dickensian-sounding verb: "Nestoring," defined as an absolute adherence to the rules, regardless of the larger consequences.
18 People You Didn't Know Were Engineers
And 22 More People You Didn't Know Were Engineers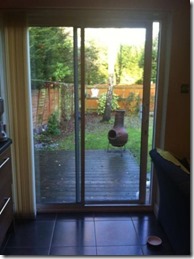 There is a place in the US where all radio broadcasting including cell phones and WiFi is banned. It's in Eastern West Virginia and known as the National Radio Quiet Zone.
So if you truly want to disconnect, this is the place to go.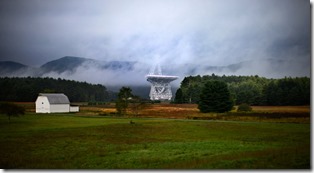 Four Changes to English So Subtle We Hardly Noticed They Started Happening
1. Shift from "they started to walk" to "they started walking"

There are a number of verbs that can take a complement with another verb in either the "-ing" form or the "to" form: "They liked painting/to paint;" "We tried leaving/to leave;" "He didn't bother calling/to call." Both of these constructions are still used, and they have both been used for a long time. But there has been a steady shift over time from the "to" to the "-ing" complement. "Start" and "begin" saw a big increase in the "-ing" complement until leveling out in the 1940s, while emotion verbs like "like," "love," "hate," and "fear" saw their proportion of "-ing" complements start to rise in the 1950s and 60s. Not all verbs have participated in the shift: "stand," "intend," and "cease" went the "to" way.
Also A list of British words not widely used in the United States
Teh Tweet!
Le AoSHQ groupe de Yahoo. Ooh la la!
Yahoo group. That is all.
Tonight's post brought to you by Mike Stone, James Coburn, Chuck Norris & Bruce Lee (circa 1969):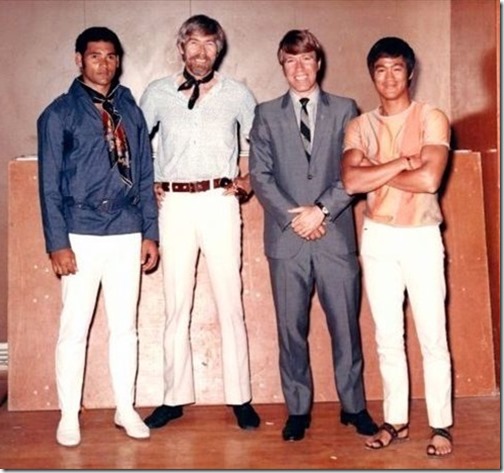 In the late 60s karate seemed to be the odd connection between a lot of celebrities including Tom Jones, Elvis, Steve McQueen and Kareem Abdul Jabbar.
Notice: Posted by permission of AceCorp LLC. Please e-mail overnight open thread tips to maetenloch at gmail. Otherwise send tips to Ace.

posted by Maetenloch at
10:44 PM
|
Access Comments