« Islamist militants wipe out college dorm in Nigeria while students slept
|
Main
|
Ace in his Garage Band Days/Greatest Covers of All Time [CBD] »
September 29, 2013
Spaced-Out Challenge: Delightful Doubles, Pegasus, and a Great App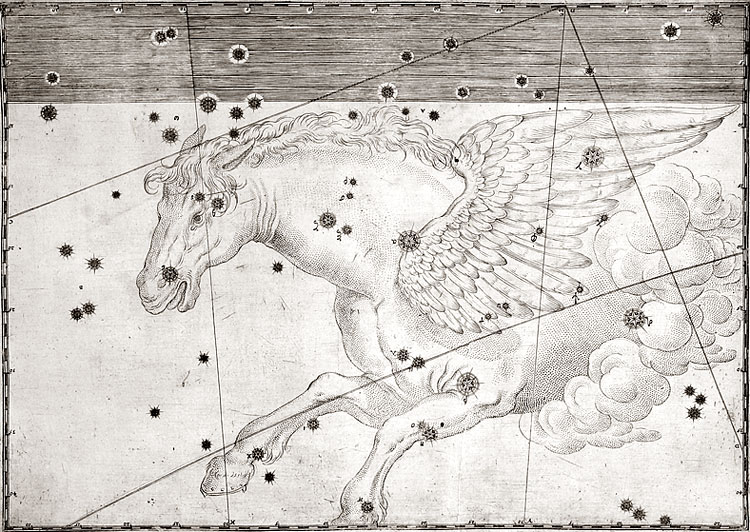 Pegasus from Johann Bayer's Uranometria (1603)
Two gorgeous double stars and the "Oats of Pegasus" await us in this week's edition of the Spaced-Out Challenge, building off last week's introduction of the Fall sky. We will also discuss a great app that is helping to create a more accurate map of sky darkness across the world. Let's dive in, shall we?
Overview of Targets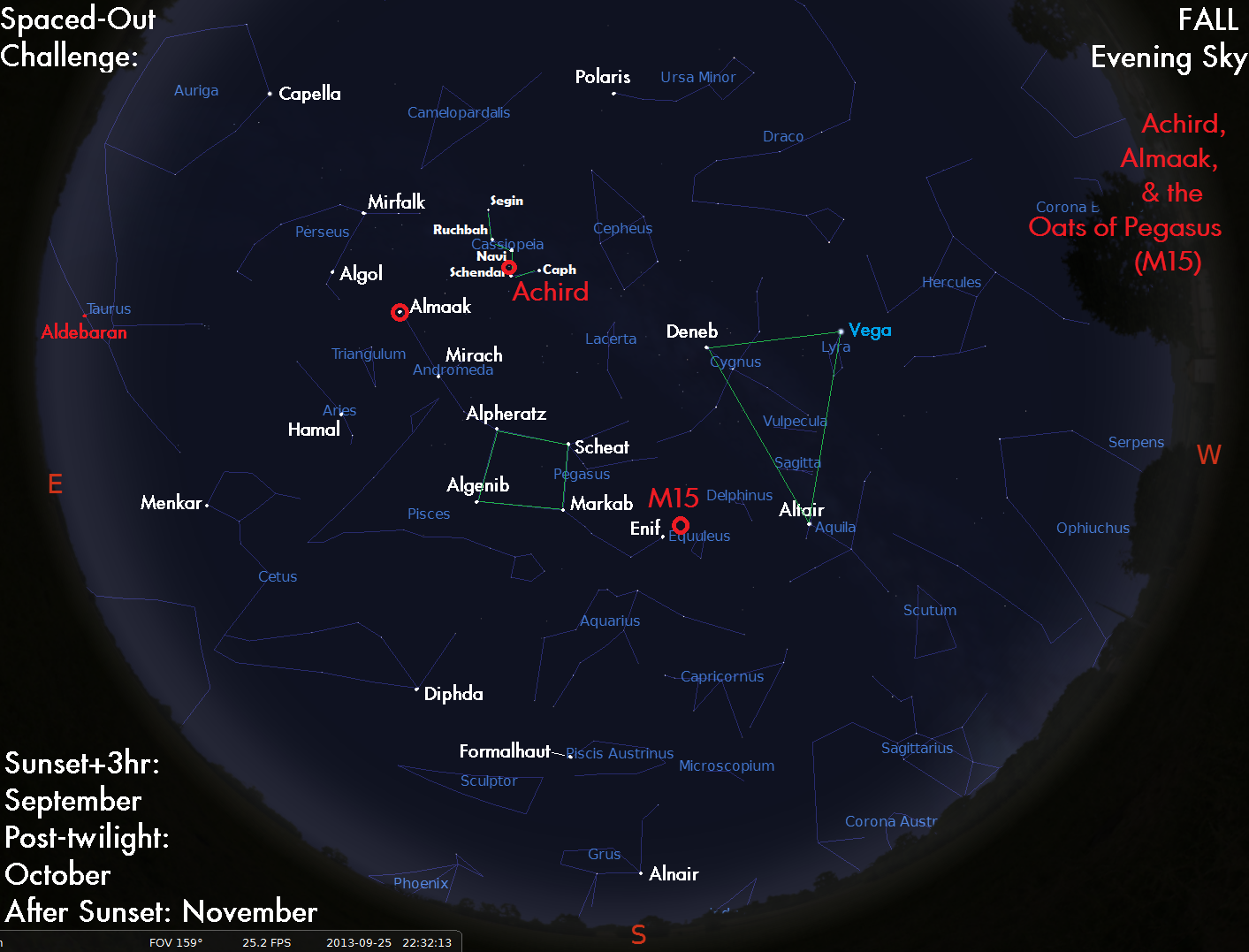 Using last week's sky map of just the brightest stars as our initial guide, our three targets have been highlighted. Almaak is the already labeled, third brightest star in Andromeda, and the easiest of the three already easy targets. Achird is the oddball star barely pixeled in the overview map (but much easier to spot with your own eye than implied) within the W of Cassiopeia. The Oats of Pegasus, better known as the globular cluster M15, is just a short hop from Enif.
Almaak: the Albireo of Autumn
Gamma Andromedae imaged by Art Cole w/ his iPhone
This beautiful yellow-blue double is a bit closer together than the real Albireo in Cygnus (still visible, though beginning to approach the western horizon now) but still stuns through a small telescope. To find it, simply hop along the arc of three bright stars making up the main body of Andromeda to it's endpoint bright star, and aim your telescope there. Even a small one will tease out this beautiful pair.
Achird: the Christmas-is-Coming Double
Eta Cassiopeiae by Gabriele Vanin
As Fall unfolds, the Christmas shopping season is already under layaway. A reminder hangs above our heads: Achird, better known as Eta Cassiopeiae, is that odd "sixth" star in the bright W of Cassiopeia close to Schendar: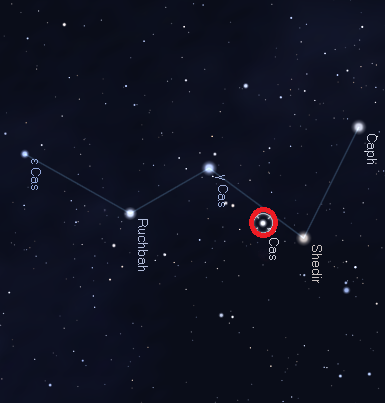 As a fairly close double, you'll want to really crank up your magnification to split it, but it is doable in a scope of at least 3" aperture. The primary star is yellow but some observers report a greenish tint, with it's fainter companion a ghostly red in small aperture instruments and strikingly so in a dobsonian.
Pegasus and his Oats
The Great Winged Horse, Pegasus dominates our fall sky, with the main body/wings represented by the large "Great Square", his nose by Enif, and a few fainter stars filling out his front legs and neck: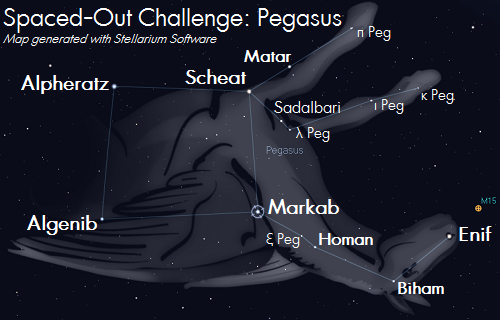 From a dark sky spot, you may notice a faint fuzzy spot just a few degrees away from Enif. That is this week's final target, the "Oats" of Pegasus, more commonly called Messier 15: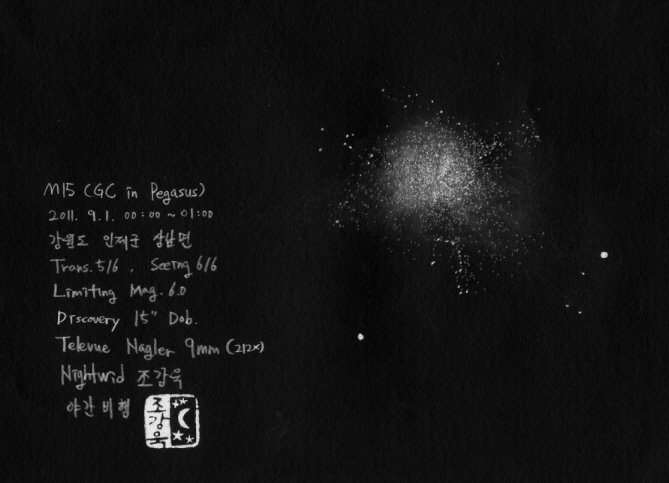 sketch by Cho Kang Uk
Messier 15 is one of the oldest globular clusters in our galaxy, estimated at 12 billion years, with a collapsed "core" perhaps influenced by a central black hole. In binoculars, its fuzziness teases some granularity, but in telescopes, it begins to really shine, with large Dobsonians resolving its outer regions into individual stars. Finding it requires just a short hop from Biham to Enif, then a hop again half that distance in the same direction. Catching it with your naked eye is one of the indicators of a truly dark site, so if you can, you are the envy of many an amateur.
Other Nearby Targets
Using the index at the end of this post, you can hunt down a plethora of targets from earlier editions of the SOC these darker fall evenings: the Andromeda Galaxy, the clusters of Perseus and Cassiopeia, and the nebulae of Cygnus are all just a few short hops away. For those of you with larger instruments itching for a tougher challenge, check out the October issue of Sky and Telescope for a guide to hunting down Sirius B.
The Dark Sky Meter App for iPhone
Last week, I asked readers to count the stars in Cygnus to see how dark their skies are, but along came something that blows that old-school method away. This past week I've been driving all over my town and nearby cities taking quick midnight measurements with the IDA's Dark Sky Meter. The app, with pretty fantastic accuracy, is a point-and-shoot using your camera that estimates the Sky Quality and Naked Eye Limiting Magnitude of your given locale. Data you submit is used to generate a newer, more accurate gauge of light pollution across the world: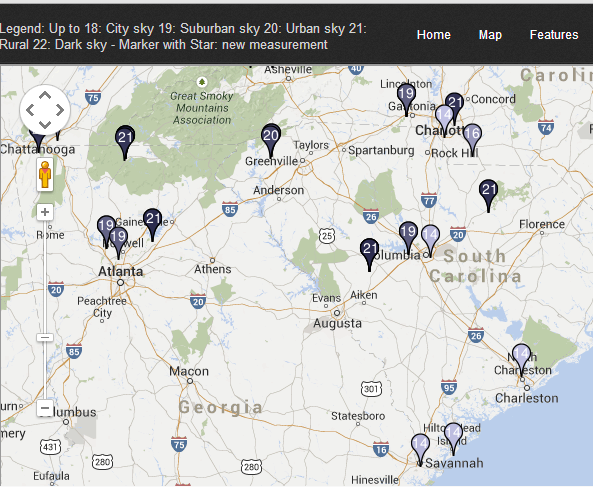 screencap of the current map for Georgia & South Carolina
Remember the color-coded map that makes most urban areas appear as gigantic white and red blotches? Based on my observations with the app, the skies range greatly within these zones: from my office in Fontana, a bright reading of SQM 17.53 and limiting magnitude of just 4.82 improves a whole magnitude with a drive just 15 minutes NW into the northern end of neighboring Rancho Cucamonga.
The more data inputs, the better the map will get and the easier it will be for all of us to find darker skies, some much closer than we may have initially thought. The suburbs, rural SouthWest, and South badly need more data inputs, and I encourage all readers of the weekly astronomy post to download this, take a few measurements this week, and help make the new map a reality!
I used the app to find the darkest spot in my town and snapped this crude image of the Great Hunter with my iPhone last night, so it really helps scouting locales for astrophotography and local observing: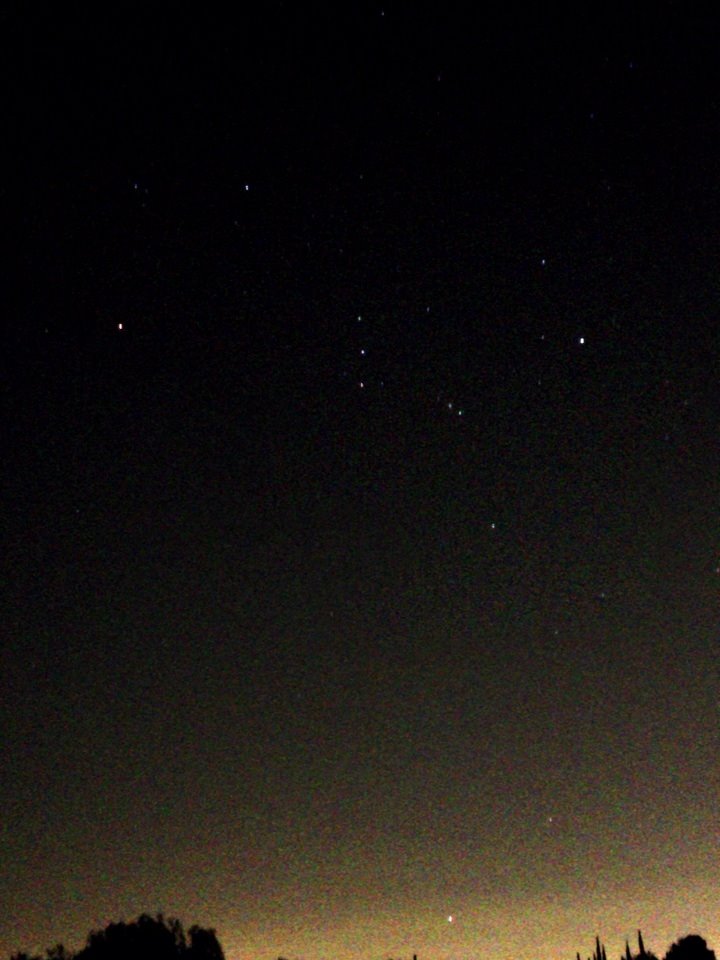 That wraps up this week's edition of the Spaced-Out Challenge. The index of all earlier editions, including the guide to the Milky Way, the beginner's buyer guide, and urban observing tips can be found here. Be sure to hit up Ace's Amazon store for all your astronomy needs, clear skies to you and keep looking up!
@conartcritic
For submissions of astrophotography, product recommendations, and tips, please email me at theoneandonlyfinn (at) gmail.com

posted by CAC at
05:13 PM
|
Access Comments