« Monday Night Football Thread
|
Main
|
Top Headline Comments 9-17-13 »
September 16, 2013
Overnight Open Thread (9-16-2013)
There Is No Pravda in Правда - 2013 Edition
From a recent Pravda editorial on John Kerry and Syria:
Moral: President Obama does not have a leg to stand on in his neo-conservative elitist dream to take Syria by force and install a US-friendly regime to give the USA control over the country's resources before the upcoming attacks against Lebanon and Iran.
Wait - Syria has resources and Obama's a neo-conservative? Eh forget it - they're rolling.
But if an attack on Iran really is on the Syrian menu, then consider me open to suasion. Cause I've been nursing a 30+ year grudge against those Persian bastards.
PJ O'Rourke on Brave Sir Obama Throughout History
Pontius Barack Pilate Obama,
Matthew 27:24

When he saw that he could prevail nothing, but that rather a tumult was made, he took water, and washed his hands before the multitude, saying, "I am innocent of the blood of these just persons, but I'll ask the Senate back in Rome for authority to do something-or-other, although it may have to wait until after Good Friday."
John Barack Fitzgerald
Kennedy Obama

Let every nation know, whether it wishes us well or ill-and since we're not engaged in nation-building, every nation should wish us well-that we shall pay any price if it's not too high, bear any burden unless it's burdensome, meet any hardship unless it's hard, support any friend if we have any, oppose any foe-although no nation should think of us as a foe because we're not that kind of country anymore-to assure the survival and success of liberty, unless it's a holiday weekend.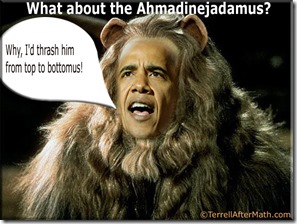 I used to think he was merely foolish and misguided (but sincere), but after enough of his assholery including today's anti-gun screed it's clear he's just a nasty piece of work in a human suit.
And here's some of his ugly little Twitter droppings from today: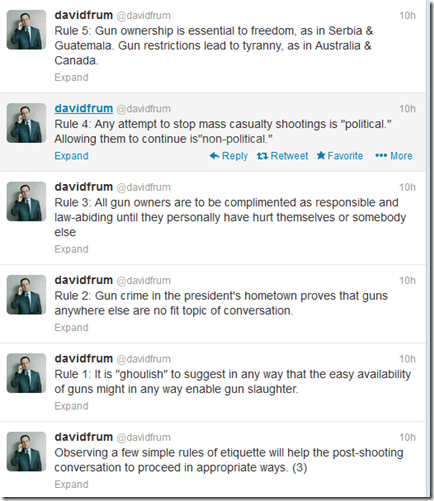 Eh. At this point if it came down to Frum vs. fire, I'd say let fire have its chance.
Miss California on How To Deal With the Syrian Situation
And her answer is about as coherent as Obama's Syria policy.
But in her defense she's probably only given it maybe 8 seconds thought tops and still had to worry about the talent portion of the pageant. I'm not sure what Obama's excuse is.
Heh: The NYT Times Finally Discovers Voter Fraud
And of course it involves a local Tuscaloosa, AL school board election, U of Alabama sororities and fraternities, and whole lotta white people and Republican-types.
The turmoil began some weeks earlier. It raised the specter of the Machine, a secret society representing a league of select and almost exclusively white fraternities and sororities, which has been around for a century or more. Once a breeding ground for state political leaders, the Machine (it has long been known by that nickname) today maintains a solid hold on student government through an effective, and critics say coercive, brand of old-fashioned organization politics.

But the Machine's apparent involvement in an August school board election, a rare appearance in municipal politics, has prompted a lawsuit, accusations of voter fraud and an outcry that in many ways primed the campus for the larger storm over inclusion and tradition that is now taking place.

...The numbers bear out their influence. Of the 369 voters registered in the district this year, 269 registered during one week in mid-August, and 94 percent of those newly registered voters were 21 or younger. Mr. Kirby won the race by 416 to 329 votes.

His opponent, Kelly Horwitz, filed suit this month, claiming that many of the voters were ineligible, including 11 unrelated people who listed the same residence - a small, single-family house near the football stadium.
Keep in mind that the total number of votes in the entire election is barely the turnout of a even single Chicago cemetery.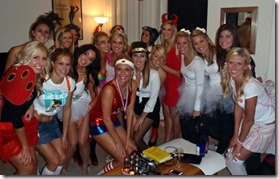 Obamacare Wants to Know About Your Sex Life
He who pays gets to pry:
'Are you sexually active? If so, with one partner, multiple partners or same-sex partners?"

Be ready to answer those questions and more the next time you go to the doctor, whether it's the dermatologist or the cardiologist and no matter if the questions are unrelated to why you're seeking medical help. And you can thank the Obama health law.

"This is nasty business," says New York cardiologist Dr. Adam Budzikowski. He called the sex questions "insensitive, stupid and very intrusive." He couldn't think of an occasion when a cardiologist would need such information - but he knows he'll be pushed to ask for it.

The president's "reforms" aim to turn doctors into government agents, pressuring them financially to ask questions they consider inappropriate and unnecessary, and to violate their Hippocratic Oath to keep patients' records confidential.

Embarrassing though it may be, you confide things to a doctor you wouldn't tell anyone else. But this is entirely different.

Doctors and hospitals who don't comply with the federal government's electronic-health-records requirements forgo incentive payments now; starting in 2015, they'll face financial penalties from Medicare and Medicaid. The Department of Health and Human Services has already paid out over $12.7 billion for these incentives.
My opinion has always been that it you ask an out-of-bounds intrusive question, then you have no right to expect a truthful answer. So from me you'll get a lie, a boastful over-the-top exaggeration, or a gratuitous maternal insult or worse depending on whatever is most convenient/satisfying for me at the moment.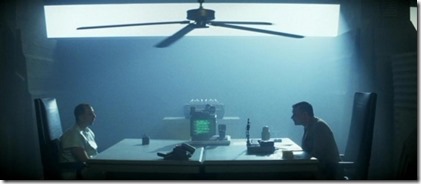 Palin Sued For Posting This Photo on Facebook
Well it is copyrighted by the North Jersey Media Group (NJMG) so they are due royalties for use of it but the fact that they filed suit within two days of the 9/11 posting suggests this is more of a dick move on their part than an legitimate attempt to get revenue.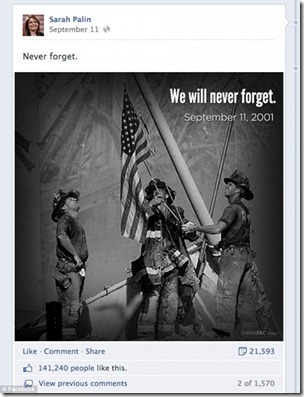 It's been years since I've seen one of his ads but I can still it hear it playing in my head. Back when I lived in LA it was common among what Ace would call the New Class to mock Cal as just a dumb hick who got lucky - but in reality he was anything but - and he didn't mind if he got mocked so as long as you bought a car from one of his dealerships.
Cal Worthington died Sunday at the age of 92.  If the name doesn't ring a bell, you (a) never lived in Southern California; (b) don't watch car dealer commercials on TV, (c) never worked in sales, or (d) all the above. 

Mr. Worthington was the Los Angeles-area car dealer whose angular features, cowboy suit and ubiquitous "Dog Spot" (an animal that was never a canine) graced thousands of commercials over a career more than 50 years.  The Television Advertising Bureau described him as the "greatest car pitchman" in the history of the medium, and it's hard to disagree...

Most advertising "pros" recoil at the Worthington model; by their standards, he did almost everything wrong.  In an era that favored smooth-talking announcers, Cal looked and sounded like your uncle from Oklahoma (where he was born and grew up during the Dust Bowl).  His spots weren't particularly artistic, but they certainly caught your attention.  There was Cal, doing a headstand on the hood of a car, promising to "stand on my head, 'til my ears turn red" (to sell a vehicle).  The background music was a jingle that was lifted from "If You're Happy and You Know It," with a home-spun chorus telling viewers to "Go see Cal/Go see Cal/Go See Cal" about every three seconds.  Incidentally, the jingle had 26 stanzas, for those keeping score at home.  Worthington wrote it himself.

...In passing, Cal Worthington will be largely remembered for those thousands of TV commercials that made him a cultural icon.  But that does him something of a disservice; Worthington belonged to that same generation of Americans that included men like Ray Kroc and Sam Walton; businessmen who were salesmen at heart, that knew what their customers wanted and sold the hell out of their product line.  Selling, as practiced by a Walton, Kroc or Worthington, is an art.  But unfortunately, it's a dying art; today's generation seems less interested in closing the deal if it can't be done on-line.
The Yahoo AoSHQ group. Bla bla bla.
And my twitter thang.
Tonight's post brought to you by the Second Amendment - AP Edition: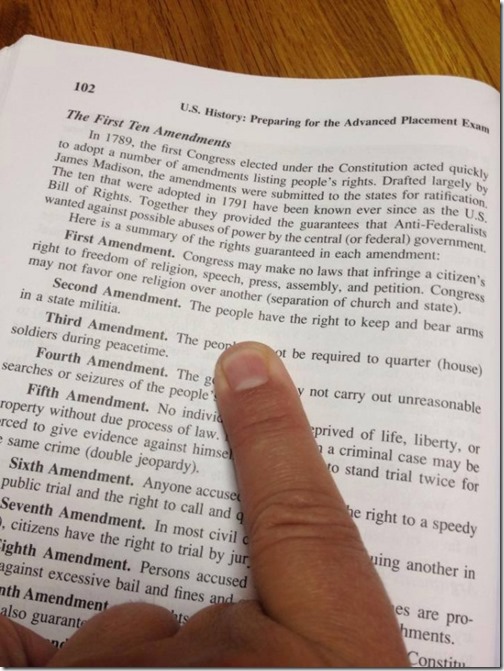 Notice: Posted by permission of AceCorp LLC. Please e-mail overnight open thread tips to maetenloch at gmail. Otherwise send tips to Ace.

posted by Maetenloch at
10:29 PM
|
Access Comments