« 9/11 Open Thread
|
Main
|
Top Headline Comments 9-12-13 »
September 11, 2013
Overnight Open Thread (9-11-2013)
Dan McLaughlin on 9/11: On Tuesday They Tried to Kill Me
His essay written just days after the attacks.
On Tuesday, they tried to kill me.

I am ordinarily at my desk between 7:30 and 8:30 in the morning, in my office on the 54th floor of one of the World Trade Center's towers. Tuesday, I was running late - I stopped to vote in the primary election for mayor, an election that has now been postponed indefinitely. Thank God for petty partisan politics.

...I stopped in a few bars, calling to say I was OK, but I still didn't feel safe, and I kept moving north. In one bar I saw the south tower collapse, and had a sick feeling in my stomach, which increased exponentially when I saw Tower Number One, with my office in it and (so far as I knew) many of the people I work with as well, cave in. Official business hours start at 9:30, but I started reeling off in my head all the lawyers who get in early in the morning, and have for years. I thought of the guy who cleans the coffee machines, someone I barely speak to but see every day, who has to be in at that hour. I was still nervous, and decided not to think about anything but getting out alive.
There's a scene that comes to mind, and I'm placing it in the Lord of the Rings because that's where I remember it, but feel free to let me know if I've mangled it or made it up. Frodo the hobbit has lived all his life in the Shire, where the world of hobbits (short, human-like creatures) revolves around hospitality and particular etiquette and family snobbery and all the silliest little things, silly at least in comparison to the great and dangerous adventure he finds himself embarked on. Aragorn, one of the Men, has been patrolling the area around the Shire for years, warding off invading creatures of all varieties of evil. Frodo asks Aragorn, eventually, whether he isn't frustrated with and contemptuous of hobbits and the small, simple concerns that dominate their existence, when such dangers are all at hand. Aragorn responds that, to the contrary, it is the simpleness and even the pettiness of the hobbits that makes the task worthwhile, because it's proof that he has done his job - kept them so safe and insulated from the horrors all around them that they see no irony, no embarrassment in concerning themselves with such trivial things in such a hazardous world. It has often struck me that you could ask no better description of the role of law enforcement and the military, keeping us so safe that we may while our days on the ups and downs of made-up games.
I think this has been covered here before but just in case it hasn't.
The day after the Sept. 11 terrorist attacks, Steve Buscemi, who worked as a firefighter from 1980-1984, showed up at his old fire station, Engine Company No. 55 in the Little Italy section of New York.

For the next week he worked 12-hour shifts, digging through the rubble trying to find the bodies of missing firefighters, all the while refusing to do interviews or have his picture taken.

"It was a privilege to be able to do it," the 45-year-old actor said. "It was great to connect with the firehouse I used to work with and with some of the guys I worked alongside. And it was enormously helpful for me because while I was working, I didn't really think about it as much, feel it as much.

"It wasn't until I stopped that I really felt the full impact of what had happened. It would have been much harder for me to get through it if I hadn't been able to do that."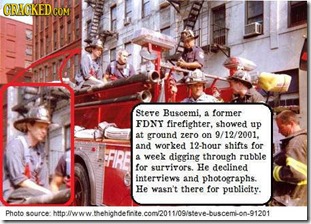 Yokels in the Mist: Tales from the Heartland
In which a NYT writer journeys into deepest, darkest fly-over America and experiences the natives' unique cultures and practices.
I've made my way through Latin America, the Mediterranean, Scandinavia and southern China. But a spin through the middle of my own country was every bit as, well, exotic.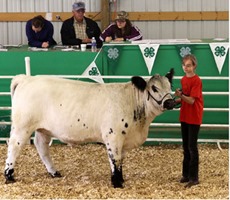 "When people, especially publicly, correct others' mistakes, a lot of that has to do with signaling to other people," says Robert Kurzban, a psychology professor at the University of Pennsylvania whose work focuses on the nature of evolved cognitive adaptations for social life. "People are trying to signal their expertise, because being able to identify mistakes indicates that you know more about something than the person who committed the error."
The Video That Killed Billy Squier's Career
I remember seeing this and just going WTF?
Teach Someone How to Beat a Polygraph, Go to Jail
Prosecutors, who had asked for almost two years in prison, said Dixon crossed the line between free speech protected under the First Amendment and criminal conduct when he told some clients to conceal what he taught them while undergoing government polygraphs. Although Dixon appears to be the first charged publicly, others offering similar instruction say they fear they might be next. 'I've been worried about that, and the more this comes about, the more worried I am,' said Doug Williams, a former police polygraphist in Oklahoma who claims to be able to teach people to beat what he now considers a 'scam' test."
Teh Tweet!
Le AoSHQ groupe de Yahoo. Ooh la la!
Yahoo group. That is all.
Tonight's post brought to you by Executive Cobloggers:

Notice: Posted by permission of AceCorp LLC. Please e-mail overnight open thread tips to maetenloch at gmail. Otherwise send tips to Ace.

posted by Maetenloch at
08:41 PM
|
Access Comments