« MNF Thread
|
Main
|
Top Headline Comments 9-10-13 »
September 09, 2013
Overnight Open Thread (9-9-2013)
Hirsute Hipsters and Modern Shaving
Razor sales are falling and P&G blames hipsters. And the Chinese.
Procter & Gamble (PG), which rules the category with Mach-3-maker Gillette, said its razor sales are falling in developed markets. This followed yesterday's announcement by Energizer (ENR) that unit sales of its Schick men's razors have dropped 10 percent in the past year-a literal decimation.

Energizer blames the sales slide on aggressive promotions, specifically P&G's. Meanwhile, P&G focused on its gains abroad and glossed over its losses in major markets. Euromonitor points to another culprit: "the vogue for stubble" and a "growing acceptance of the unshaven look in the workplace." In other words: hairy dudes. And this is one market where China may not save the day; Euromonitor claims Chinese men are relatively "nonhairy."
But Stephen Green points out it's also the sheer cost of cartridges.
I'll tell you what's really killing them, and that's $4 razor cartridges. If you're a kid in your 20s, stuck living at home because of Obamanomics, you'll save money wherever you can - and there's a good chance your boss at your McJob doesn't care if you have stubble or not. The worst part for manufacturers is, how they gonna get those kids back on the cartridge farm, once they've seen hairy Par-ee?

I haven't shaved with a disposable in years, and it was the price (and the promise of a better shave) that chased me away. I used to go through two Fusion cartridges each and every week, for a total annual bill of almost $420 on blades alone. But if you're willing to take a few extra minutes in the morning, and a few weeks to learn a new skill, you can save a bundle by switching to old-school double edge safety razors.
And that there's a cheaper way:
...I love Merkur's Futur razor and can't recommend it highly enough. It's adjustable, so you teach yourself to shave on the safest setting, and dial it up as you get better at it. After about a year, I got mine dialed up to 5 - it goes up to 6. The 5 setting provides such a close, fast shave, that 6 frankly scares me. Maybe 6 is what you use if you ever find yourself trapped in the jungle without a machete.

Anyway, buying the best of the best products was about $200 up front to get in, then annual expenses of about $100 or so a year. You could easily spend just half of that, if you really wanted to save the money.
Swayed by the same logic about 5 years ago I bought a Merkur razor and razor accessories and switched over. But sadly my experience wasn't as happy as Stephen's: even after a few months no matter how careful I was I still was getting nicks and cuts if I went any faster than glacial.
It was a nicer shave but I finally decided that my time, convenience, and still relatively unscarred face was worth the extra money for Mach 3 cartridges which just worked. So as awesome as old-school safety razors can be there's also a reason that the disposable razor cartridges still remain popular.
Oh and any one want to buy a pre-owned Merkur razor with low miles on it?
If You Use Private Transportation, You're a Bad Person
At least according to Allison Bendikt's logic.
Allow me to make a modest proposal: If you live in a city with a public transit system and you use private companies like Yellow Cabs or Uber to get around town, you're a bad person.

Not bad like rapist bad. But bad like ruining-one-of-our-nation's-most-essential-institutions-in-order-to-get-what's-best-for-yourself bad. So, you know, pretty bad.

...There are a lot of reasons why bad people use private transportation. Yes, some do it because they can't be bothered to learn the rail and bus lines. But many go because they have to get somewhere in a hurry or can't wait 20 minutes for a train to come. Some have personal issues like claustrophobia. But those compelling reasons are exactly why we should all opt-in, not out, for some reason.
We all must sacrifice to make state-run enterprises better. And if you don't, you're bad.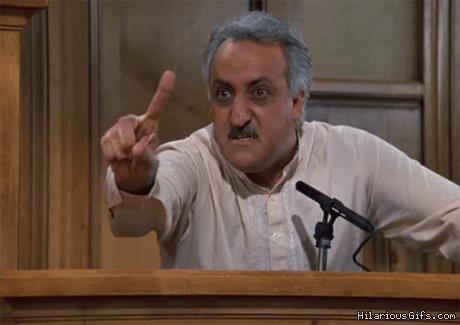 It's always interesting to see who gets to watch which games which I assume has been optimized by the networks for maximum viewership. But I still have to wonder if Austin was really all that interested in New England and Buffalo.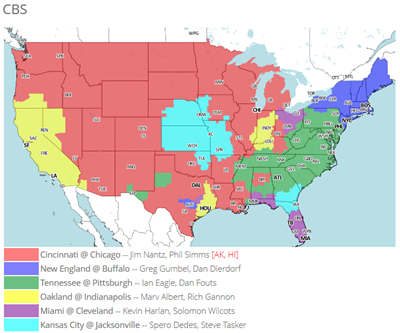 Good News: Americans Are Breeding Again
The sharp decline in the country's fertility rate during the economic downturn has come to an end, federal data show, as an improving economy encouraged Americans to resume having babies.

The number of babies born in the United States in 2012 remained flat, the first time in five years that the number did not significantly decline, according to the National Center for Health Statistics.

The leveling off capped a 9 percent decline in the fertility rate from 2007 to 2011, a drop that demographers say began after the recession took hold and Americans started feeling less secure about their economic circumstances.
But even with this recovery American women are still only having 1.9 babies on average over their lifetimes which means we still have to rely on immigration to make up the difference. But that still makes us the horny tribbles of the developed world.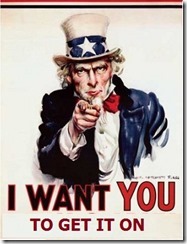 Filmed Police Are Polite Police
Earlier this year, a 12-month study by Cambridge University researchers revealed that when the city of Rialto, California, required its cops to wear cameras, the number of complaints filed against officers fell by 88 percentand the use of force by officers dropped by almost 60 percent. Watched cops are polite cops.
And as Jonathon Last points out filming may also have a politening effect on citizens being filmed as well. Having watched decades of Cops episodes I think having all cops wearing cameras full time would be good overall for the police. It would discourage the abusive cops and protect the honest ones.
Plus it's always nice to be able to show investigators and the press that an 'unprovoked' pepper spraying was preceded by 10 minutes of non-cooperation and general jackassery.
Would It Be Wrong to Cure Down's Syndrome?
Well the authoress of this post says yes:
Here's the thing -- I'm an "everything happens for a reason and things are meant to be" type of person. And when it comes to babies, I firmly believe that you get the child you are supposed to have -- and you love that baby unconditionally no matter what.
Because repairing a heart defect or a cleft palate would be going against fate or something. And Instapundit responds thusly:
Yeah, I'm more of an "everything happens for a reason - and sometimes the reason is you're stupid and make bad decisions" kind of person, and not curing your kid of a debilitating genetic defect if you can is one of those bad decisions.
Well When You Put It That Way...
It doesn't sound nearly as appealing.

Well Madonna is Against Attacking Syria
Apparently she wasn't kidnapped after all since she posted this on Instagram. Of course she managed to fuck up the phrase for fucks sake but hey she's an artist.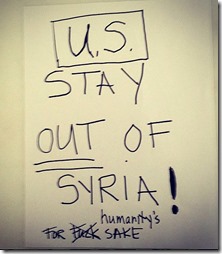 The Yahoo AoSHQ group. Bla bla bla.
And my twitter thang.
Tonight's post brought to you by this is a coup!!: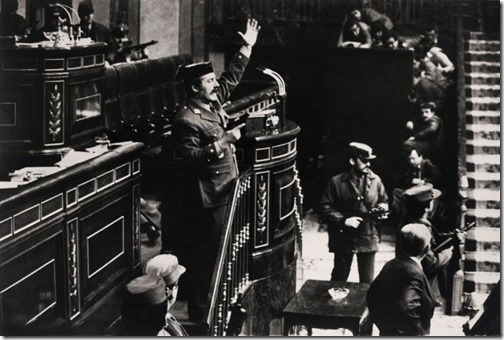 Notice: Posted by permission of AceCorp LLC. Please e-mail overnight open thread tips to maetenloch at gmail. Otherwise send tips to Ace.

posted by Maetenloch at
10:34 PM
|
Access Comments