« Alan Grayson (Moonbat-FL): even congress isn't privy to Obama's supposed Syria intel details
|
Main
|
Is the United Nations "racist"? Apparently so. »
September 05, 2013
Overnight Open Thread (9-5-2013)
Quote of the Day I: Unspeakable Truths
There are facts that were once known, sometimes generally known, that are now known to but a few.   Some of this information loss is caused by changes in occupational patterns -  farmers automatically know something about heritability, clerks and workers in dark satanic mills, not so much.

But mostly these facts are unpleasant, at least to some ears.  People who mention such facts are punished - generally in terms of their careers, not being invited to parties, etc.  That's enough to cause a 10 or 20-fold drop in visibility, which ought to tell you something about how brave people are. Many people assume that everyone is secretly aware of those unpleasant facts, but that is not the case.  A generation that has grown up never hearing those facts will be almost entirely unaware of them, in part because their personal life experiences don't impinge on those patterns much. This means that they can and sometimes do make serious mistakes that those 'secretly aware' types never would.

...Someone I know at TAC opined that everyone knows this stuff, and talking about it is just mean.  I think he is mistaken: you have to state important facts every so often, or nobody knows them anymore.
Political correctness is mostly about making uncomfortable facts unspeakable.
And Is It Wrong That This Thought Occurs to Me About Once a Week?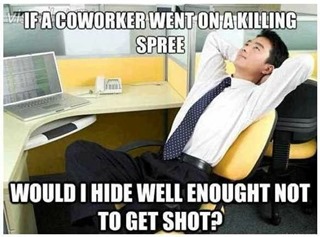 Plus via the Ewok courtesy of @bert_huggins: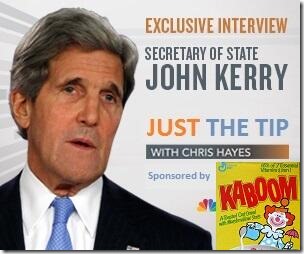 We're talking 1948 now. I'm back in the Pentagon and I get notice from the chief of staff, Carl Spaatz, the first chief of staff of the air force. When we got to General Spaatz's office, General Doolittle was there, and a colonel named Dave Shillen. Spaatz said, "Gentlemen, I just got word from the president he wants us to go over to his office immediately." On the way over, Doolittle and Spaatz were doing some talking; I wasn't saying very much. When we got out of the car we were escorted right quick to the Oval Office. There was a black man there who always took care of Truman's needs and he said, "General Spaatz, will you please be facing the desk?" And now, facing the desk, Spaatz is on the right, Doolittle and Shillen. Of course, militarily speaking, that's the correct order: because Spaatz is senior, Doolittle has to sit to his left.

Then I was taken by this man and put in the chair that was right beside the president's desk, beside his left hand. Anyway, we got a cup of coffee and we got most of it consumed when Truman walked in and everybody stood on their feet. He said, "Sit down, please," and he had a big smile on his face and he said, "General Spaatz, I want to congratulate you on being first chief of the air force," because it was no longer the air corps. Spaatz said, "Thank you, sir, it's a great honor and I appreciate it." And he said to Doolittle: "That was a magnificent thing you pulled flying off of that carrier," and Doolittle said, "All in a day's work, Mr President." And he looked at Dave Shillen and said, "Colonel Shillen, I want to congratulate you on having the foresight to recognize the potential in aerial refueling. We're gonna need it bad some day." And he said thank you very much.

Then he looked at me for 10 seconds and he didn't say anything. And when he finally did, he said, "What do you think?" I said, "Mr President, I think I did what I was told." He slapped his hand on the table and said: "You're damn right you did, and I'm the guy who sent you. If anybody gives you a hard time about it, refer them to me."

Studs Terkel: Anybody ever give you a hard time?

Paul Tibbets: Nobody gave me a hard time.
Related: What Happened to the Fourth Manhattan Project Bomb?
They were working on the Thin Man, The Gadget, Little Boy and Fat Man. The last two were dropped on Japan and the Gadget was tested at Alamogordo. So whatever happened to the Thin Man?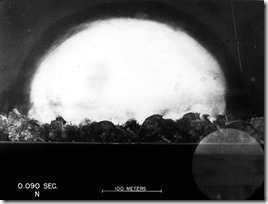 Cult-itecture: Appreciating The Compounds Of Reclusive Communities
Waco, Texas, the Divine Lorraine, and Jonestown were radically different, yet each existed within a similar American terrain-rapidly globalizing, urbanizing, and increasingly fearful. Made from material odds and ends, their leaders sought sites that were neither here nor there: an abandoned hotel, an unused ranch, a barren desert, or a cheap tract of land in a faraway country. They chose land that no one else wanted and no one had time to visit. Both distinct and stubborn, the architecture of the American cult becomes a way to understand them.

...Online one can easily find directions to Rajneeshpuram, Spahn Ranch, the Divine Lorraine, and even Jonestown. Or, even more strangely, travel accounts. One man says about his visit to Jonestown, Guyana "There's nothing left but an old tractor, a turned over van, and a mass grave".
I remember hearing about the Rajneeshpuram in Oregon in the 80s but had no idea that it was completely abandoned in 1986.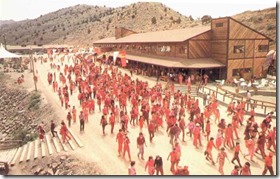 Why the Chinese and Russians Aren't Our Strategic Partners in Space
Somehow I doubt this is intended for Russian satellites:
China's military recently launched three small satellites into orbit as part of Beijing's covert anti-satellite warfare program, according to a U.S. official.

The three satellites, launched July 20 by a Long March-4C launcher, were later detected conducting unusual maneuvers in space indicating the Chinese are preparing to conduct space warfare against satellites, said the official who is familiar with intelligence reports about the satellites.

One of the satellites was equipped with an extension arm capable of attacking orbiting satellites that currently are vulnerable to both kinetic and electronic disruption.
And then the Russkies may say nyet rockets for you:
Russia's Security Council is reportedly considering a ban on supplying the US with powerful RD-180 rocket engines for military communications satellites as Russia focuses on building its own new space launch center, Vostochny, in the Far East.

A ban on the rockets supply to the US heavy booster, Atlas V, which delivers weighty military communications satellites and deep space exploration vehicles into orbit, could impact NASA's space programs - not just military satellite launches.
Ah smart diplomacy...good times, good times.
Just Another Day in Afghanistan
KABUL - Afghan security forces have arrested eight policemen for accidentally killing six children when firing a rocket into a river to catch fish, officials said Wednesday.

The incident took place last Friday in the Doshi district of the northern province of Baghlan when policemen on the bank of a river fired a rocket-propelled grenade into the water.

"The rocket went astray and hit a place where children were playing, killing six and wounding two others," the interior ministry said in a statement.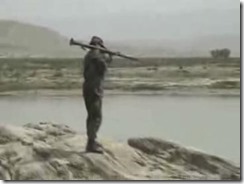 Tough Times For the Z-Man: Wife Gives Him a Peruvian Holiday
Shellie Zimmerman's attorney says his client is preparing to file for divorce. He did not say the papers have been filed yet.

In the unfiled papers ... Shellie says wants custody of Oso, a 2-year-old, 120 lb Rottweiler, and Leroy, an 8-year-old, 20 lb "Heinz 57" -- aka a mutt.

Just last month, Shellie told ABC she was thinking about splitting from George now that the Trayvon trial was over -- and that they'd been having problems since before the shooting.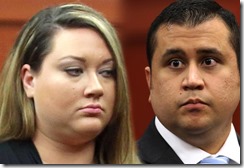 1 Million Livestock Escape from Chinese Farm
Trust me you don't wanna know.
How Come There's No Ammo As Explained by Hornady
And for the humor-impaired, yes this is parody.
Well Finally: Amazon Will Offer Discounted Ebooks If You Buy the Paper Version
Or even give you the ebook version for free. For a lot of books the ebook form is just fine but there are quite a few that I want an actual physical copy of as well as an electronic version that I can access anywhere.
Cops Break Up "Out of Control Sex Party" At Masonic Temple
Man those Shriners sure know how to party.
Cops in Battle Creek, Mich. said they broke up something of an orgy early Sunday morning at a Masonic Temple. Sources told us the first officer to walk inside, was shocked to find a couple performing a lewd sex act, along with drugs, multiple nude women and men videotaping it all behind these closed doors. Cops made "multiple arrests" though reports on the story don't make clear what, if any, charges were filed against party attendees.
But before you rush out to join - it turns out that this little shindig may not have involved any freemasons at all:
A temple spokesperson told WWMT that an outside group ponied up $900 to host a "dance party" at the temple that night.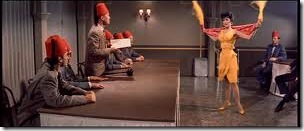 The group thingy. And the middle class.
And my Twitter spew. For the children.
Tonight's post brought to you by still kinda hawt: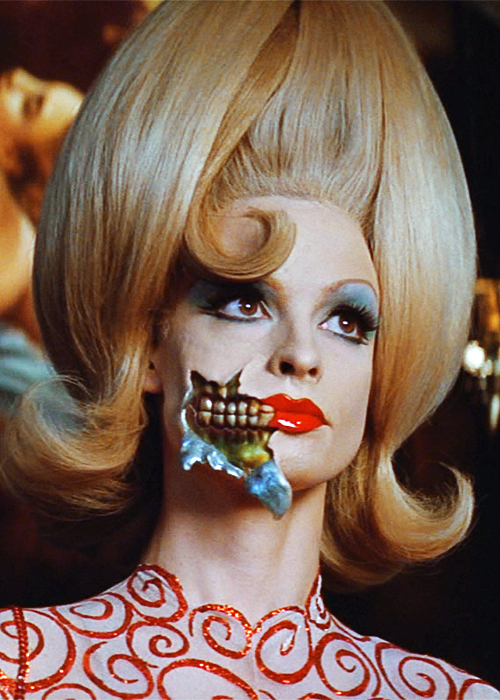 Notice: Posted by permission of AceCorp LLC. Please e-mail overnight open thread tips plus $1 for S&H to maetenloch at gmail. Otherwise send your scraps to BizarroAce. Void in WI and ID. Do not taunt happy-fun ball.

posted by Maetenloch at
10:49 PM
|
Access Comments