« Now BuzzFeed is Trolling the Left: What if Mitt Romney Was Right About Everything?
|
Main
|
Where Are All the Celebrity Peace Theorists Now?
Why Is Bruce Springsteen, the Muttering Bard of Asbury Park, Suddenly So Quiet? »
September 05, 2013
Oh Dear: Chris Christie is a Lifelong Dallas Cowboys Fan
Yeah I knew people like this. People not from Dallas or Texas who nevertheless got on the "America's Team" bandwagon because their souls were rotten.
Oh he's not kidding. Two NFL franchises play in NJ, the state he governs, and three quarters of the Eagles live in Cherry Hill, NJ, but he's a True-White Cowboys fan.
Christie told a group of elementary students in June that when he was a kid, he was a big fan of then-quarterback Roger Staubach. But there was another reason he didn't root for his home team.

"My father was a Giants fan and I used to remember watching him when I was eight, nine years old and every Sunday he would watch the Giants and yell at the TV set," the governor said. "I used to think to myself why would I want to root for a team that makes you angry?"
And how's that working out for you, You Monster?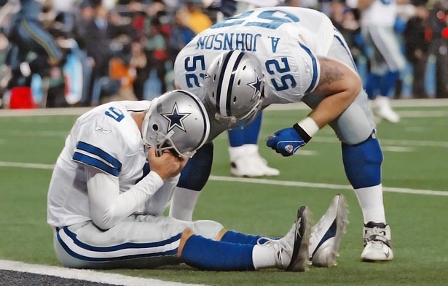 Tony Romo's late season Win/Loss percentage clocks in at around 0.448, just south of Kaboom's "45% is good enough" mantra.
I heard one time in college Tony Romo tried to throw a game but it got intercepted.
Tony Romo makes Danny White look like Gary Hogaboom.

posted by Ace at
03:09 PM
|
Access Comments