« Thomas Friedman: I'm a Silly Softhead and You Should Ignore Me
|
Main
|
No Matter How Hard We Run, We Can Never Escape Our Childhood Breakfast Cereals »
September 04, 2013
Senate Foreign Relations Committee Rushes Through War Vote With Not Even a Day Of Consideration; So Far, Not a Lot of Votes for War in the House
You know what's even more anti-constitutional than a president who makes mockery of Congress' power to declare war?
A Congress which makes mockery of Congress' power to declare war.
I'm glad the Foreign Relations Committee took, what, seriously?, six total hours to consider the question of embarking the nation on the path to war? We have to exclude lunch breaks, bathroom breaks, and McCain's Poker Jones, of course.
And weren't they scheduled for a closed-door classified briefing? And they did all this, plus visit their mistresses, in one day?
Could they at least pretend to be thinking about important matters?
Nah, let's ignore rules that provide for a minimum period for contemplation so we can just get to the fait accompli. We know no one is bothering to think about this, or look at the facts, or ask critical questions; perhaps we should praise them for not insulting our intelligence any further by going through the pantomime of pretense that they are doing such things.
So far, in the house, the bushes are not yet overflowing with warberries. So far, it's 46 in favor, 169 against.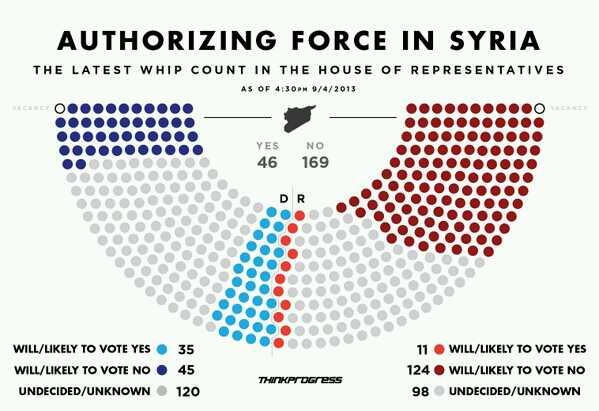 Let's listen to Allah because he bothers to read this crap:
Of the 169 nays, 124 come from the GOP and 45 come from liberal Democrats. The obvious strategy here for undecided Dems, then, is to sit back and wait to see if Republicans can produce 49 more nays on their own to defeat the measure. There are 98 undecided GOPers, so if they split exactly in half then the resolution is dead and Democratic fencesitters can go ahead and vote yes en masse. That way they can say they had Obama's back while not fearing too much backlash from the anti-war remnants of their base for supporting a measure that ended up dying anyway. What's truly worrisome for O here is that, even on the Democratic side, there's slightly more early opposition than there is support (just 35 votes). That means he won't be able to scapegoat the GOP for blocking the resolution if the House torpedoes it.
Does Obama really care? No seriously, let's think about it. Obama is a Gestural President. He doesn't necessarily want to do things; he wants to be credited as Thinking Good Thoughts About Things.
I don't know if Obama gives a crap if this passes or not. If it doesn't pass he could do the whole, "I was spoilin' for a fight but my pussy buddies held me back, man."
In fact, now that I read to the end of that piece, there's a possibility that Obama may be looking to get... rejected by just the House, so he can frame them for inaction?
I don't really understand that part. That Obama just wants the Senate to vote yes and the House to not vote at all? What?
I suppose if the AUMF is going to fail, they'd want to "voluntarily withdraw it for future consideration," to let Assad know that there might be more than one vote, so he'd better cool it with the gas.
Over on Breitbart, I floated the stupidest Conspiracy Theory I'd ever heard. And I know it must be the stupidest, because it issued forth from the bountiful cornucopia of dumb that is Joe Biden's bottomless, tireless, relentless, pitiless moronmouth.

[Drew: I corrected the name of the committee in the headline]

posted by Ace at
06:27 PM
|
Access Comments