« Gun Thread (9-1-13)
|
Main
|
Media Reviews of Obama's Syrian Performance Not So Glowing »
September 01, 2013
Sunday Morning Book Thread 09-01-2013: Summer's Almost Gone [OregonMuse]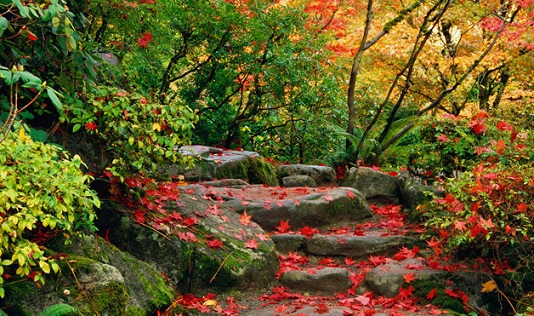 The Beginning of Fall Is Always Tinged With Sadness

Good morning morons and moronettes and welcome to AoSHQ's stately and prestigious Sunday Morning Book Thread.
More YA
Last week, moron commenter "Laurie David's Cervix" put me some Scholastic Book Club nostalgia:
Recall the teacher passing out the monthly order sheet, then that great day when the boxes arrived in class and you could pick-up your stack of new books.
I'm sure a lot of us have fond memories of this. You could sometimes pick up some pretty good books. LDC also provided a link to Scholastic Book Club Covers of the 60's and 70's.
Lots of good memories there.
_____-...-_____

I would like to recommend British YA author John Christopher, some of whose books are still in print, particular his "Tripod" sci-fi trilogy, which really ought to be made into movies. I'd bet they'd make a crap ton of money. They started a Tripods TV mini-series in the early 80s, but it was never completed.
The underlying values of these books are exactly what we would want: honesty, courage, friendship, integrity, doing the right thing under difficult circumstanced (I guess that's courage, isn't it?), perseverance, loyalty, etc. I read an interview with Christopher a few years ago, he's an old man now, sounded very conservative.
His other sci-fi books are good, too, but out of print. Your local public library is probably the best place to find them.

Out On the Patio In the Fall At Casa de Muse*

* No, not really.
(I removed the tiny letters. I wonder why people are having trouble with it? I did not miss any close tags and it looks fine on both IE and FF on my computer. That is, the 'No, not really' was small, but everything else was normal sized.)
It Was A Dark And Stormy Night
Here are some of my favorites from the 2013 winners of the The Bulwer-Lytton Fiction Contest (Where "WWW" means "Wretched Writers Welcome").
What? You say you don't know about the The Bulwer-Lytton Fiction Contest? Well then, go to this link right this very minute and acquaint yourself with this annual, tongue-in-cheek exercise in excrementally bad writing. Go ahead, we can wait.
OK, let's get going. First, the grand-prize winner:
She strutted into my office wearing a dress that clung to her like Saran Wrap to a sloppily butchered pork knuckle, bone and sinew jutting and lurching asymmetrically beneath its folds, the tightness exaggerating the granularity of the suet and causing what little palatable meat there was to sweat, its transparency the thief of imagination.
— Chris Wieloch, Brookfield, WI
Some of the other winners:
The dame was stacked, both conventionally and in that she was the third of five bodies piled against the wall, the wall's earth tones reminding me of Grandmother's house, which figured since it was her house, she having stacked the bodies there after poisoning them, so I studied the bodies as I munched on Grandmother's ginger snaps and felt a twinge in my stomach.
— Kenneth Bennight, San Antonio, TX
It was such a beautiful night; the bright moonlight illuminated the sky, the thick clouds floated leisurely by just above the silhouette of tall, majestic trees, and I was viewing it all from the front row seat of the bullet hole in my car trunk.
— Tonya Lavel, Barbados, West Indies
This was going to be a science fiction novel until I realized that you actually have to know some real science for it to work well, so I changed it to a fantasy novel instead, because that way I can just make up the rules as I go, unhampered by the laws of physics or chemistry, as if you knew what they were anyway.
— Thor F. Carden, Madison, TN
Count Glandula's castle flickered with eerie lights, where the immortal villain slaked his evil thirst in the dungeons with innocent victims – two moldy old peasants because the virtuous maidens had all been taken by the hot teenaged vampires down the road whose breath wasn't so icky.
— Janine Beacham, Busselton, WA, Australia
I need to stop here, otherwise I'd just cut and paste the whole thing. There are tons more at the link, so go there and read them all. And if you try to copy and paste individual winners from that page, you will be prevented from doing so in an unusual way, one that I had never seen before.

Moron Recommendations
Here's one that rickl recommended in last week's SMBT. Being lazy, I'll just let him tell you about it:
It's entitled Ignition! An Informal History of Liquid Rocket Propellants by John D. Clark, and was published in 1971. The author was a chemist who was heavily involved in the field throughout the 50s and 60s. The book is out of print, and used copies are scarce and very expensive. But here it is in PDF form: http://library.sciencemadness.org/library/books/ignition.pdf

Now you might think that a book about the history of rocket fuel would be dry and technical, and you would be half right. It is heavily laden with chemistry and discussions of chemical compounds and reactions.

But here's the thing: Clark was also an avid science fiction buff, and he could write. The book is written in a lighthearted, almost humorous style, chock full of anecdotes. Which is no mean feat, considering that the subject matter concerns scientists and engineers trying very hard not to blow themselves to kingdom come.
So I downloaded the pdf file, and you know what, rickl nailed it: Ignition is an absolute hoot, maybe a bit dry in some parts, but definitely not boring. Clark definitely knew how to write.
Note: on my Windows 7 computer, the freebie Adobe reader couldn't really handle the pdf file, I don't know why. Lots of long delays and freeze-ups during page loading. So after an hour of trying to make it work, I said the hell with it and switched over to the Foxit PDF reader, and that worked fine.
_____-...-_____

Veteran AoSHQ commenter eman has a zombie book recommendation, 100 Days in Deadland by Rachel Aukes. He says it's based on Dante's Inferno. I bought it, only now I can't read it. This is because the author says she tried to match the structure of the original Inferno (34 cantos, 9 rings of hell), and it's been too many years since I've read it, so now I'm going to have to reacquaint myself with Dante before I read the zombiefied reboot. So, which translation should I read this time? I think maybe this one would be the best.
_____-...-_____

Moron lurker and aspiring author Joe Courtemanche e-mailed this week to recommend the YA novel Failstate and Failstate: Legends by John W. Otte. These novels have a teen-aged superhero as the main character who, in his "normal" identity, must struggle with the things most teenaged boys have to contend with: family, school, faith, and the possibility of maybe a bit of romance.
Joe also recommends Swimming Through Clouds by Rajdeep Paulus. This is the Amazon description:
When high school cell phone disruption forces a classroom ban, the words on a Post-it note spark a sticky romance between two unlikely friends. Transfer student Talia Vanderbilt has one goal at her new school: to blend in with the walls. Lagan Desai, basketball captain and mathlete, would do just about anything to befriend the new girl. One Post-it note at a time, Lagan persuades Talia to peel back her heart, slowly revealing her treasure chest of pain — an absent mother, a bedridden brother, and an abusive father. In a world where hurt is inevitable, the two teens search for a safe place to weather the storms of life. Together.
Over forty reviews on Amazon, and not one under 4 stars. Yeah, I know Amazon reviews tend to skew high, but the complete lack of negatives is noteworthy.
_____-...-_____

At The Other McCain blog, Wombat-socho provides an introduction to military sci-fi novels. But my question is, isn't pretty much everything in this genre just footnotes to Starship Troopers?
_____-...-_____
Finally, nothing to do with books, but here is an appropriate autumn song:
Eva Cassidy died from melanoma in 1996. She was 33 years old.
_____-...-_____
So that's all for this week. As always, book thread tips, suggestions, rumors, threats, and insults may be sent to OregonMuse, Proprietor, AoSHQ Book Thread, at YOURPANTSaoshqbookthread, followed by the 'at' sign, and then 'G' mail, and then dot cee oh emm. But don't forget to remove YOURPANTS, otherwise I won't get your e-mail.
What have you all been reading this week? Hopefully something good, because, as I keep saying, life is too short to be reading lousy books.


posted by Open Blogger at
11:20 AM
|
Access Comments