« Female Artist Does Something No Previous Female Artist Has Done Before: Creates Huge Vagina Art Installation
|
Main
|
Overnight Open Thread (31 Aug 2013) »
August 31, 2013
Quick Update on Molly Karasik, The Woman the Washington Post Humiliated By Publishing Her Idiotic Babblings In Order to Troll for Outrage-Clicks
Someone pointed out to me her website-- she quit being a lawyer in order to become a painter.
If you don't remember Molly, she embarrassed herself by fulminating at the Washington Post that statutory rape by teachers of minor children was no big deal and no one dies so why are you being such big meanies about Love, anyway?
Below, most of her page explaining her Art.
At various points in the text, I will intersperse a picture of one of her actual, real, honest-to-goodness paintings.
In 1998 I walked away from a "successful" career as a litigator in order to paint.
Also walked away from a "successful" understanding of the proper use of quotations marks.
Nah I get it, whatever, she's trying to say that's what "Society" deems "successful."
But I sorta don't think she was that successful at it, or even that "successful."
I work at my Dupont Circle home/studio in Washington, D.C., in the company of three cats and, on occasion, the elusive and multi-talented EMT, musician and environmentalist, Bob Fener. I am largely self-taught, although I have studied with several very gifted Washington area artists including Annette Polan (portraiture), Patrick Kirwin (realism and illusion), and Mary del Popolo (color).

Like most artists, I paint because I have to; the paintings are lined up inside my head demanding to be realized.

"Demanding to be Realized,"
an acrylic by Molly Karasik
The Spanish poet Federico Garcia Lorca reportedly said that there are three elements favoring the divine spark of inspiration: demonic irrationality, proximity to nature, and an awareness of death.

"Demonic Irrationality and an Awareness of Death,"
available as a quality lithograph from the artist Molly Karasik
For me, the magic of painting is to enter a realm unbound by everyday rules and conventions...

"A World Unbound By Reason and Rule of Man,"
mixed medium of acrylics and cat toys, Molly Karasik
... yet inspired by the mystery and beauty of nature. My painting is informed by the nostalgia and even absurdity of the moment - the consciousness that all existence is flux.

"Consciousness in Flux, with Siamese Cat,"
also available in Tabby or Manx
...

Artists are told that they must paint as if they had an eternity, and also as if each day were their last.

"On This Day of My Death I Unmask My Soul,"
aka "The Specter of Death Glanced Backwards and Licked Its Back,"
by Molly Karasik, now available at Pet Depot
Somewhere in the tension between those poles, there is a state of enchantment where the artist, if she is fortunate, is allowed to briefly visit, and maybe even hike around a bit and have a snack.

"Meow-Snacks? Give Meow-Me Tender Vittles Meow-Please,"
Molly Karasik, Professional Artist and Summer of Love Casualty
Okay, I omitted a part in there where she cops to finding inspiration in "the grace of a cat." No really? I wouldn't have known unless you told me.
In fairness, if you check her site, she is, and I can't believe I'm going to say this, not entirely untalented.
I wanted her to be much much worse than she actually is.
So, I guess she made a "successful" career change from something she wasn't suited for, law and thinking, and something she was, cat paintings.
So maybe stop writing Wa Po op-eds, Ms. Karasik, and stick to your strengths.

Update: The Lost Masterworks of Molly Karasik. Below, a masterpiece hitherto-believed to be lost, originally banned in 19 countries when it first exploded onto the art scene.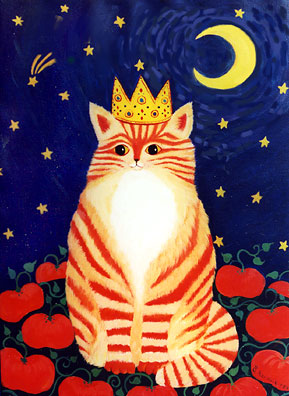 "Mr. Whiskers' Halloween PumpkinPalooza,"
call for reasonable rates for all your cat holiday painting needs
Thank to rickl for unearthing that treasure.

Update: Besty Karasik's Experimental Period. After wowing the world with her paintings of cats, flowers, cats, and pumpkins, Molly Karasik entered a period of florid, phantasmagorical experimentation which continues to baffle, shock, and delight the world.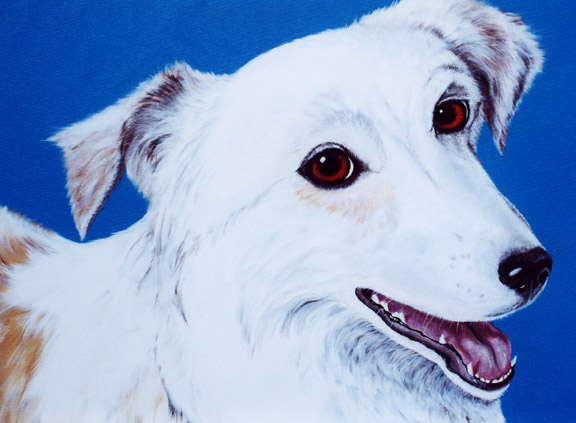 "The Torment of the Soul,
Caught Between the Scylla of Tennis Ball
and the Charybdis of Walkies,"
from Molly Karasik's "Hound Period"
Again, thanks to rickl, who is sort of the Indiana Jones of lost Karasik Masters.

posted by Ace at
07:24 PM
|
Access Comments