« Breitbart News Staff Now Covering For the Ailing Gateway Pundit, Jim Hoft
|
Main
|
Preznit Transparency McBombypants not so transparent »
August 30, 2013
Top Ten Interesting Things About Robin Thicke and His Song "Blurred Lines," With a Special Focus on the Various Sexual, Cultural, Legal, and Racial Controversies It Has Spawned
Trust me, this is all more interesting than you're probably thinking right now.
Robin Thicke is the son of Alan Thicke, which makes him irredeemably Canadian. Despite this pathetic joke of a backstory, he currently has America's #1 single, and it is the longest-surviving #1 on the charts for two years. It's currently the number-two selling record of 2013, with five million copies sold, and will easily beat the number one selling record, which only has sold 5.7 million copies. As "Blurred Lines" is not yet even beginning its fall down the charts, it will definitely sell 6 million and probably 8.
In addition, it's the number one song in half the countries around the globe, and where it's not number one, it tends to be in the top 5.
Here now some interesting things about the song, which you can mention at dinner parties or with music-oriented youths who attempt to rob you at gunpoint.

#10. It has that property of a timeless classic, that, the moment you hear it, you think you've heard it before.
The old rule is that big hits sound like you've always known the song, whereas songs that will never chart require learning them and getting to know them.
Robin Thicke's immediately-catchy Blurred Lines sounds like a song you've known and loved your whole life.
There's a very good reason for that: It is a song you've known and loved your whole life. It's a straight-up rip-off Marvin Gaye's "Got to Give It Up."
But Robin Thicke has a good excuse for this: He never heard Marvin Gaye's "Got to Give It Up" before, so he can't have plagiarized it.
Oh wait, that's not his defense.
During an interview with GQ magazine in May about his career and the making of "Blurred Lines," Thicke said, "one of my favorite songs of all time was Marvin Gaye's 'Got to Give It Up.' I was like, 'Damn, we should make something like that, something with that groove.' "
Well I'm sure they worked really hard to make sure it wasn't just a clone of Got to Give It Up.
"Then he started playing a little something and we literally wrote the song in about a half hour and recorded it. The whole thing was done in a couple hours."
Yeah, you know why you were able to write that song in 30 minutes? That's right, because it was already written. You weren't creating it, you were remembering it.
And that kind of speeds the process of creation along!
Thicke is now suing Gaye's estate to have the song declared "starkly different" than Got to Give It Up. We'll talk about that later, because it's boring and you'll stop reading if I write about that.
So for now I'll just assure you that despite a Rich Kid White Man ripping off a Beloved Black Icon, yet again, both races are treating this controversy with all the delicacy we've come to expect.
#9. The Internet Has Exploded With Crazy Racial Hatred over the Thieving Allegation. Like I said: All the delicacy we've come to expect.
I IMMEDIATELY RECOGNIZED THE SONG AS MARVIN'S BACKBEAT/ DRUMKIT/ MELODY……UM JUST SHOCKED THAT HE AINT GET THE SAMPLE CLEARANCE. WOW. I JUST HATE TO SEE ALL THE GREATS DIE BROKE AND ALL THE FAKES CASH IN. TRUE ARTISTS PLEASE DON'T FORGET TO HANDLE YOUR BIZ OR ELSE CRAKKKERS WILL GET YOU.
Some are taking a Wait and See Attitude, though:
LEAVE IT TO THE WHITE MAN ALWAYS STEALING SOMETHING FROM THE BLK PEOPLE. YOU ALL WANT TO DEFEND HIM BECAUSE HE'S WHITE BUT LET IT BE A BLACK MAN WHO STOLE A SONG YOU ALL BE HATING WITHOUT REASON. HE STOLE THE SONG A MUSICIAN CAN ARRANGE A SONG JUST BY ONE OR 5 BARS SO DON'T ACT STUPID. HE KNOWS AND THE FAMILY ISN'T BROKE NOT BY A LONG SHOT. SO TALK WHAT YOU ALL WHITE FOLK KNOW. AND THE FAMILY GOING TO WIN TRUST AND BELIEVE THAT. MARVIN GAY'S LABLE IS BEHIND THE FAMILY STUPIDS. NOW RESEARCH THAT.
And White People are of course lining up to swear that Blurred Lines sounds nothing like Got to Give It Up with all the passion and intensity of Robin Thicke's lawyers.
And also accusing all black people of being thieves themselves.
How about the "black man" start paying royalties to the white man that invented every single instrument, all the sound and recording equipment, ALL the video equipment and the legal system that allows all races to profit from copyright and distribution of music.

P.S. Stop stealing (downloading) music via the internet...you know you do!
By the way there was no long-stewing argument that built to that exchange. That just happened, straight out of the gate.
But let's all take a deep breath: While Robin Thicke may have ripped off a single Marvin Gaye song, it's not as if he dug up Marvin Gaye's corpse, raped it, videotaped himself raping Marvin Gaye's corpse, and then sold that rape-tape to the world and became a millionaire.
#8. Robin Thicke Dug Up Marivn Gaye's Corpse, Raped It, Videotaped Himself Raping Marvin Gaye's Corpse, And Then Sold That Rape-Tape to the World and Became a Millionaire.
This is where I start to see the Caps-Lock Black Panthers' point.
Because this is not the first time.
Compare Marvin Gaye's After the Dance...
with "Robin Thicke's" Love After War.
Pretty close. But at least it was just those two times.
#7. It Wasn't Just Those Two Times.
Okay, now compare Marvin Gaye's Trouble Man...
...with "Robin Thicke's" Million Dollar Baby.
Dude!!!
You. Must. Stop!!! Dude, you're like going wild on this poor man. You're making us look bad. They finally stopped complaining about Elvis (Caveat: They have not stopped complaining about Elvis) and now you're bringing that whole business into the light again.
Now, even though Robin Thicke is taking more of the black man's hard-earned money than a waffle and chicken franchise, at least we have a more clean-cut, socially-acceptable sort of style of R&B music, one that isn't drenched in pro-sex messaging.
#6. Robin Thicke's Actual Uncensored Video For the Song Contains More Hardcore Nudity Than Hustler's Beaver Hunt.
Okay. Yeah, I was talking about this video before, which is Glorious in its exploitation of the female body.
I have to warn you: This is NSFW. You may be thinking of "nudity" in videos as consisting of a barely-glimpsed edge of a nipple shot through a gauze lens and rendered in a high-contrast black-and-white.
Oh that's not how Robin Thicke does nudity. Oh no. Oh no no no no no. No, for Robin Thicke, nudity consists of perfect lighting and women with incredible breasts jiggling around for almost every second of the 4:00+ running time of the song.
That's how he rolls.
So here's your warning: This video is both Not Safe For Work and also a bit of a must.
That red/brunette, huh? Mesmerizing.
Okay, so sure, he did a very sexually-charged song with tons of nudity. And sure, this will have a coarsening effect on our society. Because, you see, YouTube initially banned the video but now has relented and now plays it.
That means that Robin Thicke bought himself an epic worldwide hit for the cost of paying two attractive women and one spellbinding one to run around with their t*ts out for half a day. What does that cost? I don't know, $10,000?
For $10,000 you can now buy yourself a hit that will make you $10 million. Think we'll see more of this now that the floodgates are not just opened but ripped off their hinges and swept ten miles down the river?
That said, while there's a lot of sexual charge in the song, at least it's not promoting a truly anti-social view of sexuality.
#5. The Song Has Been Plausibly Charged By Feminists As Glorifying Rape.
Usually Feminists make up things to bother themselves with, maybe to distract them from their simpering feminized boyfriends.
But not here. Although I don't think that this guy deliberately wrote a pro-date-rape song, there is definitely a case to be made that the way the words read -- and the way they'll be interpreted -- kind of makes date-rape seem like a part of the male-female dynamic.
Here's the case against the song: Every lyric in it is a hard-charging pick-up line for a girl. "You wanna hug me/Hm, what rhymes with 'hug me'?" He keeps noting she's a good girl, but he's gonna break that down.
He will have you tonight. That's not in question.
Later he offers her some "Jamaican" in order to make her more... well, I guess the term I'm looking for is "more rapable."
And then there's the title: Blurred Lines. Some take this to mean a blurry line between consent and non-consent.
Here's Cyndi Lauper saying the song "glorifies" date-rape:
In a recent interview, Cyndi explained that, in her opinion, the basic intent of the controversial performance was to glorify rape. "[Miley's] in a song that literally says that the blurred lines allowed you to – when a woman says no, she means yes – and that's frightful because that's date rape."
Now, Thicke of course disputes this, and says "Blurred Lines" simply refers to the pick-up artist's goal of blurring the line between what a girl should do (not have sex with aggressive players like the one Thicke is depicting) and what she often ends up doing (which of course is having sex with him). And he thinks this is just a playful, maybe cynical, and kind of funny exaggeration of the male-female pick-up ritual.
Besides, he has a great defense against the charge of the song being "rapey."
The song isn't about rape at all, he says. That's silly.
It's about degrading women.
#4. By Thicke's Own Accounting, He Wanted the Video to be As Degrading to Women As Possible. From Wikipedia:
Asked about the racy content of the video, Thicke responded: "We tried to do everything that was taboo. Bestiality, drug injections, and everything that is completely derogatory towards women. Because all three of us are happily married with children, we were like, 'We're the perfect guys to make fun of this.' People say, 'Hey, do you think this is degrading to women?' I'm like, 'Of course it is. What a pleasure it is to degrade a woman. I've never gotten to do that before. I've always respected women.'"
Oh well, I guess he was trying to sort of be funny. And I guess he's right, if he (and Pharrel and TI, the cowriters/coperformers on the song) are all happily married, then there is a certain safety in having married men, faithful to their wives, have a bit of fun lampooning their younger, single days.
In fact that's a pretty cute marketing technique, isn't it? Women want the bad boy, so he's the bad boy in the video. But women also of course want the good boy, the one who's faithful to his wife and devoted to her. His "I'm happily married, but here's my depiction of what I would do if I were a Bad Boy" is the perfect commercial exploitation of this dual desire of women: Dangerous, yes, and sexual, but yet safe and loving.
And as Robin Thicke is married to the beautiful actress Paula Patton (last seen in Mission Impossible 4: Ghost Protocol), I guess his wife shouldn't be worried.
#3. His Wife Should Be Worried. Yes yes yes, it's the triple flip. He pretends to be a Bad Boy Player, but in reality he's a happily married faithful husband.
But actually, behind the faithful happily-married husband act, he's really a Bad Boy Player.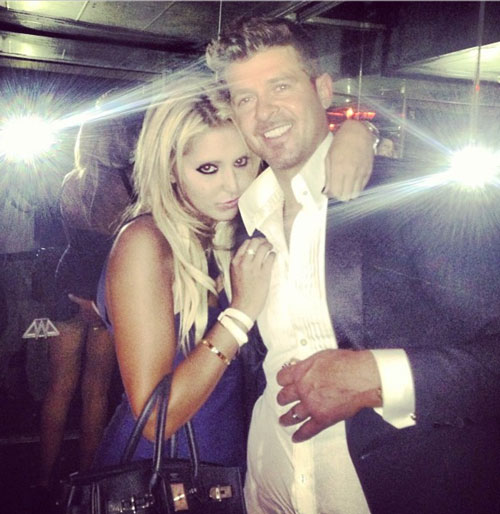 I heard he had his hand on a blonde,
but then I looked in the mirror and saw
he had his hand in a blonde
This picture was taken after the VMAs, and probably would have been more infamous, had Miley Cyrus not dived on the Controversy Grenade.
Ah well. He's a funny guy. I'm sure deep-down he's reasonably normal.
#2. His Video Moves from Shamelessly Self-Promoting, to Nearly Obscenely Self-Promoting, to Actually Obscenely Self-Promoting, to Hilariously Self-Promoting, to, In the End, Almost Miraculously, Heroically Self-Promoting.
What to say about this one? Oh, we can start with all the pretty photography of him.
But you can't ignore the huge
# T H I C K E
promotion that dominates the screen once every, oh, three seconds or so.
And even worse is the self-promotion -- not of his music, but of sleeping with him -- that occurs at the end of the Uncensored Version of the song.
You saw it, right? Did your jaw drop open as mine did? Did your attitude about his self-promotion move from "baffled annoyance" to "stunned respect"?
If you don't know what I mean, it's near the end of the Uncensored Video, about 90% of the way through. It's on the wall. A gigantic message about Robin Thicke for the home viewer.
If you don't want to watch the video, I'll write it in WHITE FONT below -- I don't want to spoil it for you, unless you want it to be spoiled. Highlight the text below to read Robin Thicke's not-so-secret message to you.
In huge letters on the wall is the message:
ROBIN
THICKE
HAS A
BIG DICK
It's not even just flashed, subliminally. It's on the screen for like three seconds solid.
He's just putting that out there. He just wants you to have all the information.
Do with this information what you will.
But nothing bad can happen from a little egregious self-promotion.
#1. Robin Thicke Will Probably Get Away With Stealing Marvin Gaye's Songs and Then We'll Have Widespread Race Riots.
Because Robin Thicke's Blurred Lines is so "starkly different" from Marvin Gaye's Got to Give It Up, Thicke offered Gaye's estate a six-figure payoff to stop saying crazy things like Thicke should pay the Gaye estate money for the song. The family refused. We now proceed to further negotiations and maybe court.
However, Thicke is probably in the right... per the law, because the law is crude thing. Even though Thicke admits to ripping the song off -- ripping off the basic idea, the party atmosphere of the background vocals, the basic lyrical plot ("got to give it up" pretty much means "you know you want it"), the bass, the drums, the... everything, he did not apparently lift the only thing that infringement law cares about: The melody.
We asked Ron Sadoff, a professor at New York University's Steinhardt School and director of programs in scoring for film and multimedia and songwriting at Steinhardt's Department of Music and Performing Arts Professions, for his opinion.

"Thicke's 'Blurred Lines' may have been inspired by Marvin Gaye's 'Got to Give It Up,' but the songs' respective 'touch and feel,' as well as their use of structural musical materials, are common to many popular songs," Sadoff said. "From a musicological perspective, the songs share even less similarities in terms of their use of structural materials such as melody and harmony. 'Blurred Lines' is composed squarely within the major mode, while 'Got to Give It Up' revolves around the blues scale. In this key area of melodic content, there doesn't appear to be evidence that would suggest plagiarism on the part of Robin Thicke."
This rule cuts both ways: Even though Thicke ripped off the the magical thing about "Got to Give It Up," he did not rip off the legally protected thing.
The reverse of this is that you can be forced to pay lots of money if your melody is similar, even if your song is nothing like the song you supposedly infringed. George Harrison's My Sweet Lord sounds nothing, nothing like the Chiffons' He's So Fine, but Harrison had to pay a lot of money for "infringing" that song. (The court found he was guilty of "unconscious plagiarism," too. Harrison was quite upset to be accused of any plagiarism, whether conscious or unconscious.)
And to this day I do not understand how the hell Ray Parker, Jr'.s Ghostbusters theme is in any way really an infringement of the much-different I Want a New Drug by Huey Lewis and the News. (Yeah, I guess it's that basic synthesizer riff-- which is not really the most important part of either song.)
So, Robin Thicke changed just enough for legal purposes and probably cannot be sued by the Gaye estate.
But we all know what he did, and did before that, and did before that too.
And so, you know: The world will burn.
All for Blurred Lines.
Although, I have to say, the song has really grown on me. And I was huge fan of "Got to Give It Up," too. That's like in my all-time top twenty.
But that brunette.
That brunette.

posted by Ace at
07:00 PM
|
Access Comments