« Mid Evening Open Thread
|
Main
|
Top Headline Comments 8-22-13 »
August 21, 2013
Overnight Open Thread (8-21-2013)
Public Morality and the Case for Neo-Realism
But American foreign policy cannot merely be defined by R2P [Requirement to Protect] and Never Again! Statesmen can only rarely be concerned with humanitarian interventions and protecting human rights to the exclusion of other considerations. The United States, like any nation-but especially because it is a great power-simply has interests that do not always cohere with its values. That is tragic, but it is a tragedy that has to be embraced and accepted.
And our national interest in Syria is....well mostly keeping Syria's troubles inside Syria.
And that leads us to the 'To Hell With Them' Doctrine which is pretty much where I'm at.
The sad reality is that in order for the Arab world to have a chance at any real peace, a whole lot of Arabs will have to die:
America forgets that it corrected the flaw in its founding by killing 30 percent of Southern men of military age during its own Civil War, so many that the Confederate Army collapsed for lack of manpower. There are numerous wars which do not end until all the young men who want to fight to the death have had the opportunity to do so. And of all of history's conflicts, none was so likely to end with this sort of demographic attrition as the present war in the Middle East. Compared to the young Arabs, Persians and Pakistanis of today, American Southerners of 1861 were models of middle-class rectitude, with the world's highest living standards and bright prospects for the future. The Europeans of 1914 stood at the cusp of modernity; one only can imagine what they might have accomplished had they not committed mutual suicide in two World Wars.

Today's Middle Eastern and South Asian Muslims have grim future prospects. The world economy has left them behind, and they cannot catch up. Egypt was at the threshold of starvation and economic collapse when the military intervened, bringing in subsidies from the Gulf monarchies. The young men of the Middle East have less to lose, perhaps, than any generation in any country in modern times. As we observe in Syria, large numbers of them will fight to the death.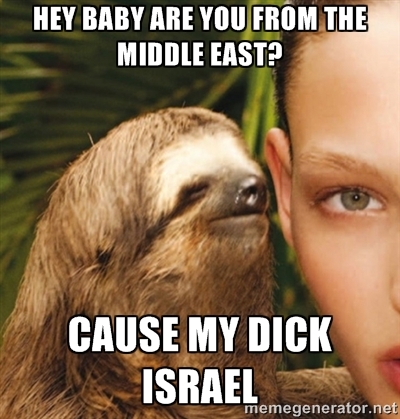 Why I'm Not Up in Arms Over Greenwald's Boyfriend Being Detained
Because when you choose to act as a freelance espionage agent and boast about carrying a state's leaked secrets, don't be surprised when you get a little Official Attention when you pass through that state. And no the title 'journalist' doesn't exempt you from the law either.
What seems to be forgotten here is that Greenwald has already published a great deal not only about the secret activities of the NSA but also those of its British partner, GCHQ. (Among the early headlines generated by Snowden's theft was the news that GCHQ had spied on the Russian delegation during an international conference in London.) Britain takes that kind of thing seriously-its laws, notably the Official Secrets Act, are tilted much more heavily toward preserving government secrecy than are the laws in the United States. Which is why it makes perfect sense that British officials would detain Miranda when he happened to alight in their jurisdiction.

He was not on a pleasure trip. He was traveling from Berlin, where he had met with Laura Poitras, a filmmaker and anti-American propagandist who, like Greenwald, has been one of the key enablers allowing Snowden to reveal the existence of classified NSA activities whose outing can only help America's (and Britain's) enemies. Miranda was, in fact, serving as a courier between Poitras and Greenwald: "Mr. Miranda told reporters in Rio on Monday," according to the New York Times, "that all of the documents encrypted on the thumb drives came from the trove of materials provided by Mr. Snowden."
US Government To Issue Secure Online IDs
Tom Groenfeldt reports in Forbes that the U.S. Postal Service has awarded a contract to SecureKey to implement the Federal Cloud Credential Exchange (FCXX) designed to enable individuals to securely access online services at multiple federal agencies - such as health benefits, student loan information, and retirement benefit information - without the need to use a different password or other digital identification for each service. SecureKey already operates a trusted identity service in Canada using identification keys provided by one of five participating Canadian banks. It allows Canadians to connect with 120 government programs online with no additional user names or passwords for everything from benefits queries to fishing licenses.
What could possibly go wrong?
Why Reducing Gun Deaths Is The Most Important Issue of Our Times!!!
Or not. Assuming you're going by what actually kills people versus what makes you feel all icky.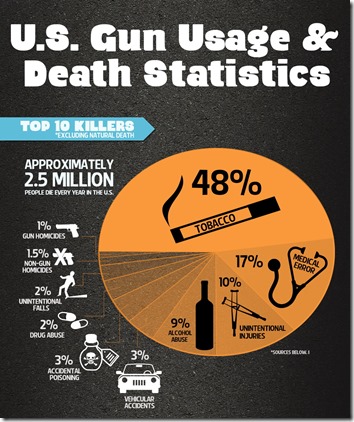 Who Does College Partying Hurt Most?
The poorer girls with similar credentials ("strivers") who got on the party track tended to emerge with low GPAs, unimpressive post-college jobs (frequently jobs that they could have gotten without a college degree) and burdened with debt. They actually often wound up with downward mobility, rather than the upward mobility that colleges sell. (Interestingly, the "strivers" who did best were the ones who transferred to less-prestigious regional state universities, which were also often cheaper. These schools - the Northern Kentucky Universities of the world - focus more on teaching, and are often more oriented toward student success, frequently in a less party-oriented atmosphere). The big schools, for the "strivers," were often an expensive detour.
How NOT to Test a Bullet-Proof Vest
Painful to watch in more ways than one. Note that bullet-proof vests do not protect the target stand holding the vest up. And Samir may not be able to hit a target. This is one video I'm hoping really is fakey-FAKE.
How To Reply to a Legal Threat
29th April 1971
Dear Sir,
We act for Mr Arkell who is Retail Credit Manager of Granada TV Rental Ltd. His attention has been drawn to an article appearing in the issue of Private Eye dated 9th April 1971 on page 4. The statements made about Mr Arkell are entirely untrue and clearly highly defamatory. We are therefore instructed to require from you immediately your proposals for dealing with the matter.
Mr Arkell's first concern is that there should be a full retraction at the earliest possible date in Private Eye and he will also want his costs paid. His attitude to damages will be governed by the nature of your reply.
Yours,
(Signed)
Goodman Derrick & Co.
------------------------------

Dear Sirs,
We acknowledge your letter of 29th April referring to Mr. J. Arkell.
We note that Mr Arkell's attitude to damages will be governed by the nature of our reply and would therefore be grateful if you would inform us what his attitude to damages would be, were he to learn that the nature of our reply is as follows: fuck off.
Yours,
Private Eye
Chris Rock Gave Porn To Dying Kid
"I had a Make a Wish kid, like a 15-year-old kid dying of cancer, and I snuck him the, uh, Pam Anderson sex tape. He's dead now."

To which Seinfeld replied, "But he lived a little more." I think this is one of the best stories of celebrity altruism I've heard in a while. A lot of celebs do charity work in order to make themselves look good in the public eye. But what could Rock possibly have gained from secretly giving a sick boy a video where Pam sucks Tommy Lee's giant shlong? Nothing but the satisfaction of knowing that he perhaps gave the kid a little bit of joy in his time of dying.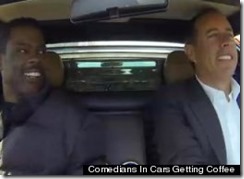 From Stuff Jefferson Had To Get Done (Volume IV).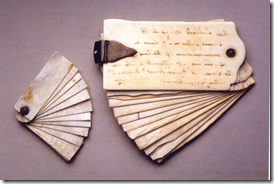 "Should I Leave My Husband For My High School Crush?"
I'm 32 and married with two young children. Recently I reconnected with one of my best friends from 20 years ago online. We have always had strong feelings for each other and after high school checked in on each other a few times throughout the years. But because we've always been with other people, we respected those boundaries. He has always been verbal about his feeling though I haven't. We have been able to talk to each other like no one else. In February I went to visit him and the feelings were too intense for both of us. We talked everyday, he repeatedly told me he loved me and wanted to know did I love him (although he is also married with two kids). Eventually it got physical. ...He called me 30 minutes later to tell me how much he loved me and hasn't returned a call or email since then. I just want him to tell me that he fell out of love, or he thinks we were in the wrong. Or whatever the reason was . Why won't he at least do that?
Followed by some harsh but honest advice from the columnist.
Teh Tweet!
Le AoSHQ groupe de Yahoo. Ooh la la!
Yahoo group. That is all.
Tonight's post brought to you by Rita: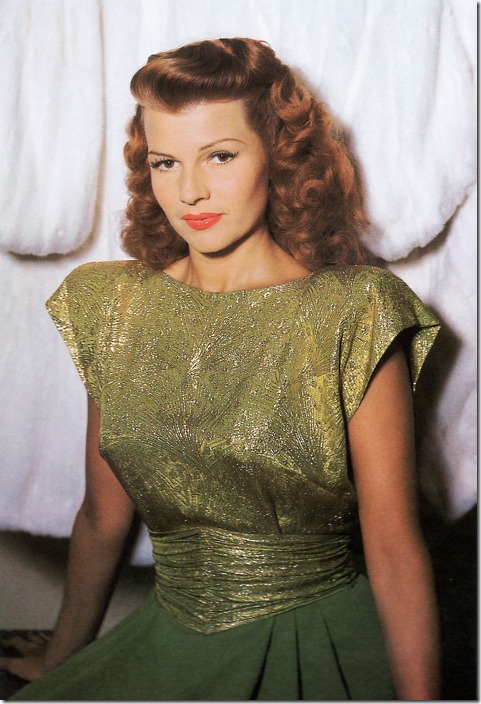 Notice: Posted by permission of AceCorp LLC. Please e-mail overnight open thread tips to maetenloch at gmail. Otherwise send tips to Ace.

posted by Maetenloch at
10:37 PM
|
Access Comments