« Review of Christian Nation From USAToday
|
Main
|
Top Headline Comments 8-20-13 »
August 19, 2013
Overnight Open Thread (8-19-2013)
86 I doubt the Vikings swore off Ireland because of redheaded women. Scandinavia's prolly got more redheads than Ireland ever had.

Posted by: Cowboy at August 18, 2013 10:28 PM (m5TOl)
Sherman, pull up the ginger distribution maps and let's take a gander at this hypothesis. Ah here it is: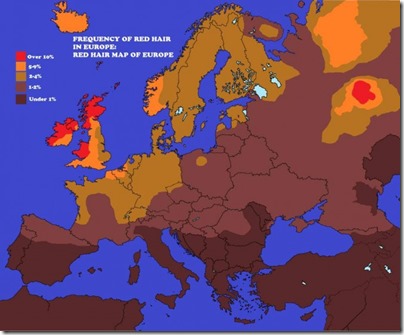 Well the Scandis certainly know the heartbreak of Gingerness, but nothing like the Irish or Scots where over 10% of the population are afflicted. And then of course you have the Udmurt peoples of central Russia who seem to be super-Gingers as exemplified by Anastasia Ivanova.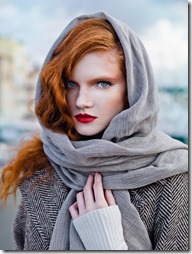 Note that all these populations seem to share the same MC1R mutation and difficulty thriving below the 45th parallel.
So about all we can conclude is that the Viking were never able to close the Ginger gap with the Irish. Whether it was the Irish Gingeresses that drove them out is still an open question.  And actually there is some evidence that the gingerhood in western Norway is actually due to Celtic slaves brought back by Viking raiders. So maybe it was a fifth column Gingeress kind of thing.
Start a Tea Party Group, Get Investigated by the IRS, FBI, OSHA, and the ATF
Which ended up costing the Engelbrechts approximately $20,000 and their non-profit group still hasn't been approved after three years. But this is just a phony scandal so move along citizen.
Professor: College Football Just Like the Tuskegee Study
What evidence do they have to back up this astonishing claim? "African American males composed the largest segment of football players (45.8 ) percent" in 2009-10. Since African Americans constitute less than 13 percent of the population, "African-American football players face a disproportionate exposure to the risk of concussions and their consequences." That's it.
Oh and the infamous Tuskegee Study wasn't quite the racial genocide it's made out to be.
73 Rules For Running For President As A Republican
Some of the pithier ones...
3- If you don't like Republican voters, don't run.

5-If you've never won an election before, go win one first. This won't be the first one you win.

6-Winning is what counts. Your primary and general election opponents will go negative, play wedge issues that work for them, and raise money wherever it can be found. If you aren't willing to do all three enthusiastically, you're going to be a high minded loser. Nobody who listens to the campaign-trail scolds wins. In the general election, if you don't convey to voters that you believe in your heart that your opponent is a dangerously misguided choice, you will lose.

10-You will be called a racist, regardless of your actual life history, behavior, beliefs or platform. Any effort to deny that you're a racist will be taken as proof that you are one. Accept it as the price of admission.

65-Never hire consultants who want to use you to remake the party. They're not Republicans and you're not a laboratory rat.

70-If you are convinced that a particular running mate will save you from losing, resign yourself to losing because you've already lost.

73-Make a few rules of your own. Losing campaigns imitate; winning campaigns innovate.
Oppression by Capitalist Words
While we're on the subject of odd Guardian articles - odder than usual, I mean - here's another. Owen Hatherley, formerly a contributor to the Socialist Worker and Socialist Review, is today telling his readers that "capitalism is altering our language" in dastardly ways that must be resisted. He knows this because he regards unique, individual and choose as "particularly acquisitive words." For him, it seems, the words unique, individual and choose signify first and foremost avarice and rapaciousness - nasty things like that. So no tendentious altering of language there. As you might expect, Mr Hatherley is also unhappy about the word consumer, which, he says, is "a word we now use entirely unthinkingly to describe the 'consumption' of everything from shoes to food to health care." Note the use of we, by which of course he means you're the ones "unthinkingly" talking about consumers, unlike our mentally nimble class warrior, who wishes to "reveal the pernicious assumptions behind these professedly innocuous words."
I'm guessing that the mere titles of Milton Friedman books would make Hatherly's head explode.
Criminal Background Checks For Shooting Ranges?
Apparently so as Denver Broncos linebacker Von Miller found out when he went to shoot at a local range.
The 24-year-old All-Pro was trying to enter the Centennial Gun Store and Range just outside of Denver -- and submitted to a routine mandatory background check, as required by everyone looking to shoot at the range.

But the background check revealed a warrant out for Miller's arrest -- which was issued back in January after he failed to appear in court to face multiple traffic violations.

According to law enforcement, Miller had been charged with careless driving, driving without a license and having no proof of insurance back in October 2012.

Miller was taken into custody at the gun shop -- and was hauled to a nearby Sheriff's Dept. where he was booked
Granted Miller was an idiot but is this a common practice? And wouldn't this tell authorities exactly who has a gun and is shooting it?
Amazon Selects Their Favorite Fake Customer Reviews
But on the other hand do NOT cross state lines with rented Amazon textbooks.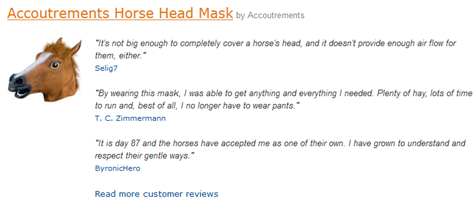 Every Landlords Worst Nightmare
Or why you don't want to lease a house to a Section 8 renter.
The Yahoo AoSHQ group. Bla bla bla.
And my twitter thang.
Tonight's post brought to you by the SAS Long Range Desert Group, 1943: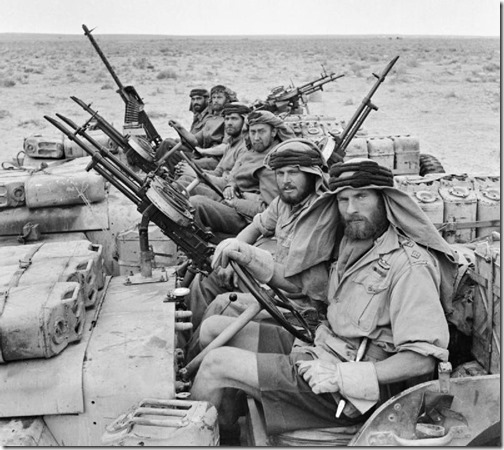 Notice: Posted by permission of AceCorp LLC. Please e-mail overnight open thread tips to maetenloch at gmail. Otherwise send tips to Ace.

posted by Maetenloch at
09:56 PM
|
Access Comments