« Salon writer calls for Maureen Dowd sacking
|
Main
|
The Founding Fathers Were 'Extremists' [OregonMuse] »
August 24, 2013
Spaced-Out Challenge: So You Want a Telescope? The Buyer's Guide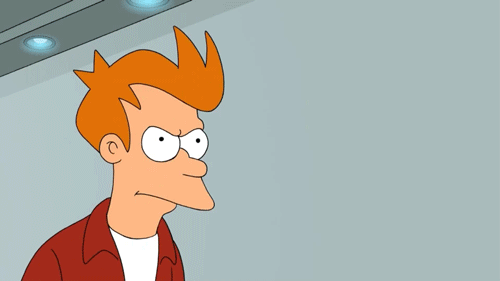 Note: I usually post these on Sunday, but I have a funeral to attend, and wanted to be around to answer any further questions. Quite a few of you have asked me to recommend various items, and have inquired what would make for a great first scope. Well, here you go.
All suggested items are linked through Ace's Amazon store with a few exceptions you will have to purchase from outside sellers. Manufacturers of all of these items offer various warranties and solid customer support, so in the event you get a lemon, chilllll brah.
Your First Telescope
Your primary concerns for your first telescope are: what can you comfortably carry, where are you carrying it to, and what do you wish to see? If you are lucky enough to live in rural area free from the blight of lights, the first two don't carry as much weight. If, however, you live under heavily light-polluted skies like mine, you have the devil's tussle of aperture versus weight to get in a nice observing session. Many sub-par scopes were sold in the 60s and 70s that offered fair-to-poor optics, leaving residents of more urban areas assuming (wrongly) they couldn't see anything even with a telescope. The best telescope you will buy is the one that gets used. Note I didn't prioritize "how much does it cost" because the assumption is you will spend between $250 and $1000 to dip your toe in, as you would with any hobby (ask Walt if $100 is enough to seriously get into photography and he will beat you with a busted Pentax lens).
The Beginner's Refractor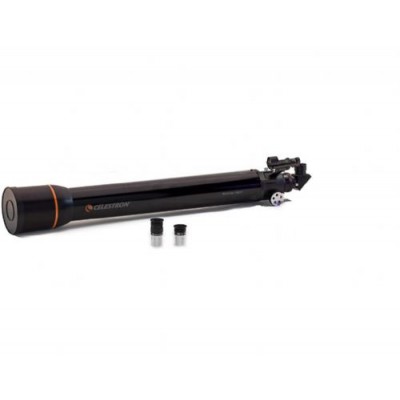 Celestron's 102mm NexStar GT Optical Tube Assembly w/ diagonal, red-dot and eyepieces
$80 +$5-$15 shipping from OPT Telescopes but only until August 25!!
Four inches of aperture and solid optics for under a hundred bucks is a deal enough, but throw in a red-dot and diagonal, and a few eyepieces, and this becomes a steal. You will need a mount/tripod for it, and several options (out of literally hundreds) are listed below.
The upsides for this scope are numerous: refractors of this size and quality aren't usually this cheap. It's relatively lightweight, and with the right mount makes for great backyard observation and as a grab-and-go to darker skies. You will enjoy good lunar and planetary views at moderately high magnifications. The entire Messier catalogue is readily accessible from dark skies, and it makes for a great astrophotography option if you wish to dip your toe in those waters.
The downsides: at 4" deep sky objects won't have the same WOW as you could get with a large reflector. Also, at very high power, the 102's optical quality starts to wane, but you could eat that or spend 25x as much to "overcome" that with a better scope. I'd say eat it.
There is a great modification thread with too many suggested add-ons to count
here
.
Mounting options
The "Costco" Go-To (complete scope+mount)
A fully assembled go-to is available from Hayneedle for $299 shipped, and a few more are available for $225 on ebay right now. You should strengthen the mount and tripod a bit as there are some reports of wobble and vibration in the mount, but for an out-of-the-box scope, it breaks the general rule to never buy a department store scope.
Orion's AstroView Equatorial Mount
$250 shipped, this option can be motorized with a kit for future astrophotography. For secure attachment, a set of 100 mm rings should be sufficient and brings your total cost for mounting to about $290. You will need to learn how to set up your EQ, but with solid tutorials on youtube, it is a relatively easy skill to learn, and makes tracking deep sky objects, even manually, far easier than with an altitude/azimuth mount. This mount has the benefit of being far more solid than the go-to out-of-box option and, with motorization, a nice setup for beginner's astrophotography.
Orion's VersaGo II Altazimuth Mount
$200 shipped, you may need to get a dovetail bar for more secure mounting. An easy grab-and-go, the mount weighs just 15 pounds. It lacks slow-motion controls for tracking objects that Vixen's Porta II mount has, but it's also $80 cheaper. Figure about $220 for the mount and brackets.
Celestron's Heavy Duty Altazimuth Tripod
At just $73 shipped, if you don't mind additional do-it-yourself modifications to the tripod to stabilize it, this is the cheapest "new" option that will work with the 4" refractor. For mounting, you will need a set of 100mm rings and a dovetail bar, bringing your cost for the total mount to just $133 plus any applicable tax. You will need to modify and strengthen this mount yourself, but it is doable in a pinch.
The eBay/Craigslist option
If you are trying to save scratch, the tube itself is still (for now) a steal, so you could scan Craigslist or ebay for any of the following suggested mounts (you will probably still need to purchase a dovetail plate and rings):
Vixen Polaris Mount
Celestron CG4 Mount
Vintage Jason/Tasco/Unitron scopes often came with decent mounts. Ask the seller to test it out for "wobble".
The "Just Buy the Damn Thing" Option
If you want to save up for your mount, totally understandable, and if the other two telescopes mentioned in this thread aren't appealing, just buy the damn thing while it's on sale. You will be very hard pressed to beat $60 and shipping for a 4" refractor tube.
A Beginner's Cassegrain
Orion's StarMax 90mm Mak-Cass Telescope & Tripod Bundle
$300 shipped, tabletop version is $200. Cassegrains are the hybrids of the telescope world, combining elements from both refractors and reflectors and compacting your optics to deliver more portability per aperture. While the 8" SCT is what usually comes to mind, more recent Mak-Cass designs like the Meade ETXs and Orion's StarMax have brought smaller, cheaper, more portable options to market.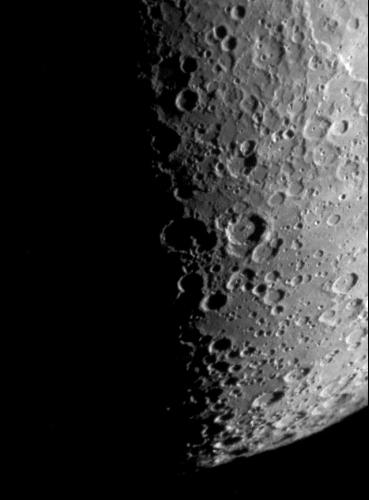 Amazon buyer blackthumb snapped this through his 90 mak
At just over 9lbs with the tripod, this is the lightest option scope listed here, making for a great grab-n-go when you wish to trip out to dark skies. It makes a fine backyard scope too, with great optics delivering enjoyable views of the moon, planets, sun (with a filter of course), and brighter deep sky objects like the Andromeda Galaxy, the Great Nebula Orion, and open clusters. If your interest in astronomy wanes, it makes a great terrestrial telescope as well.
Upsides: portability, bonus use as a terrestrial scope, good optics.
Downsides: smallest aperture of these three telescopes limits deep sky observing, the mount is reported to be a bit wobbly which means you'll need to be patient observing at higher power.
If you are feeling adventurous, and want to go with a larger Cassegrain telescope, try out eBay and Astromart, but check the Used Telescope Blue Book and Uncle Rod's Used SCT Guide to avoid overpaying for a dud. Some classic C8s can be found for only $300 if you know where to look!
CAC's Personal Choice: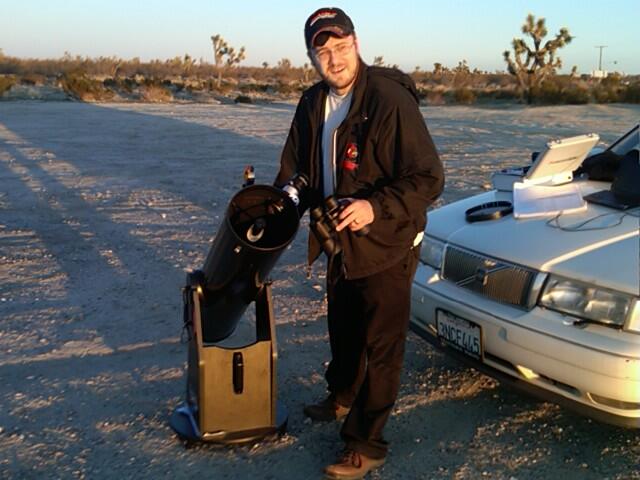 the author and his beloved
The Orion SkyQuest XT8 Classic
$360 shipped.
The best introductory amateur telescope sold in the last hundred years. Tough. Large. Extremely easy to assemble and use. Highly adaptable. Intimidating to your neighbors.
Joe Ricci snapped this sequence of the ISS with his XT8
The upsides? Too many to count: incredible views for the price, just $360. I've glimpsed the Pillars of Creation, Saturn's fainter rings, too many galaxies and planetary nebulae to count, all for $360. The telescope offers incredibly great optics for just $360. Did I mention it is only $360? The customer service and warranty from Orion are just cherries on top. For residents of suburban and urban areas, it cuts through some of the worst light pollution and delivers. Take it out to a dark sky site with decent eyepieces
and it will change you.
The downsides? Like all reflectors, it will require occasional collimation (aligning of the mirrors). It is the largest of all the scopes discussed, weighing in at 40lbs assembled, breaking down into two 20 pound pieces (the optical tube and mount). Deep sky astrophotography requires serious DIY motorization. Tracking objects is all on you. The red-dot finder should be upgraded. It takes up about 48x24x24 in your closet. But it's also only $360. Of the three telescopes, if the weight and occasional adjustments don't scare you, you are insane to pass over it.
My wife calls it the other woman, and for good reason. If it were possible to love an inanimate object, well, here you go.
Orion recently released an upgraded version, the
SkyQuest XT8 PLUS
, with better collimation knobs, an adjustable altitude clutch, better included eyepieces, an eyepiece rack, a shorty barlow lens, solar filter, and a striking finish:
At $500 shipped, it's up to you whether that seductive blue is worth the extra coin. I'd stick with the original black beauty myself.
Beginner Binoculars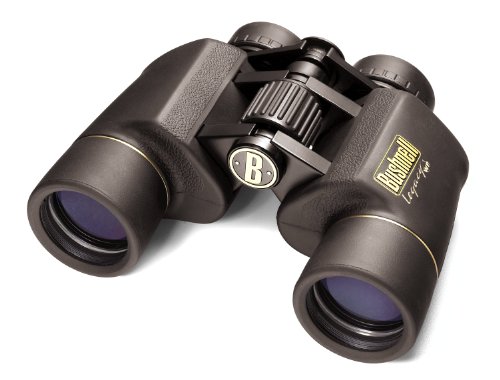 Bushnell Legacy 8x42 WP Binoculars
$77 shipped. My wife owns a pair of Bushnell Legends, which are no longer in production. However, coming very close to them for a small pair under $100 are the Legacy's. Bushnell is an odd company: it can make really, really great binoculars, but much like Tasco has sullied itself with quite a few sub-par offerings. Not so with the Legends or the Legacy, IMO. The optics aren't as sharp as the Pentax, but you're also spending about half as much, shipped.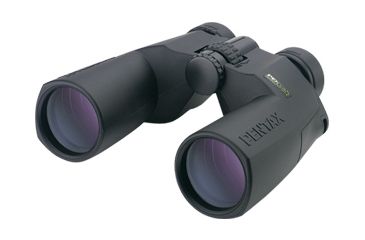 Pentax PCF II 10x50 Waterproof Binoculars
$160. Excellent, excellent, excellent binoculars, especially for the price. From the feel to the surprising light weight to the high-performance optics, if you have the scratch, spend it. They easily out-perform binos selling for three times as much, but that's Pentax for ya.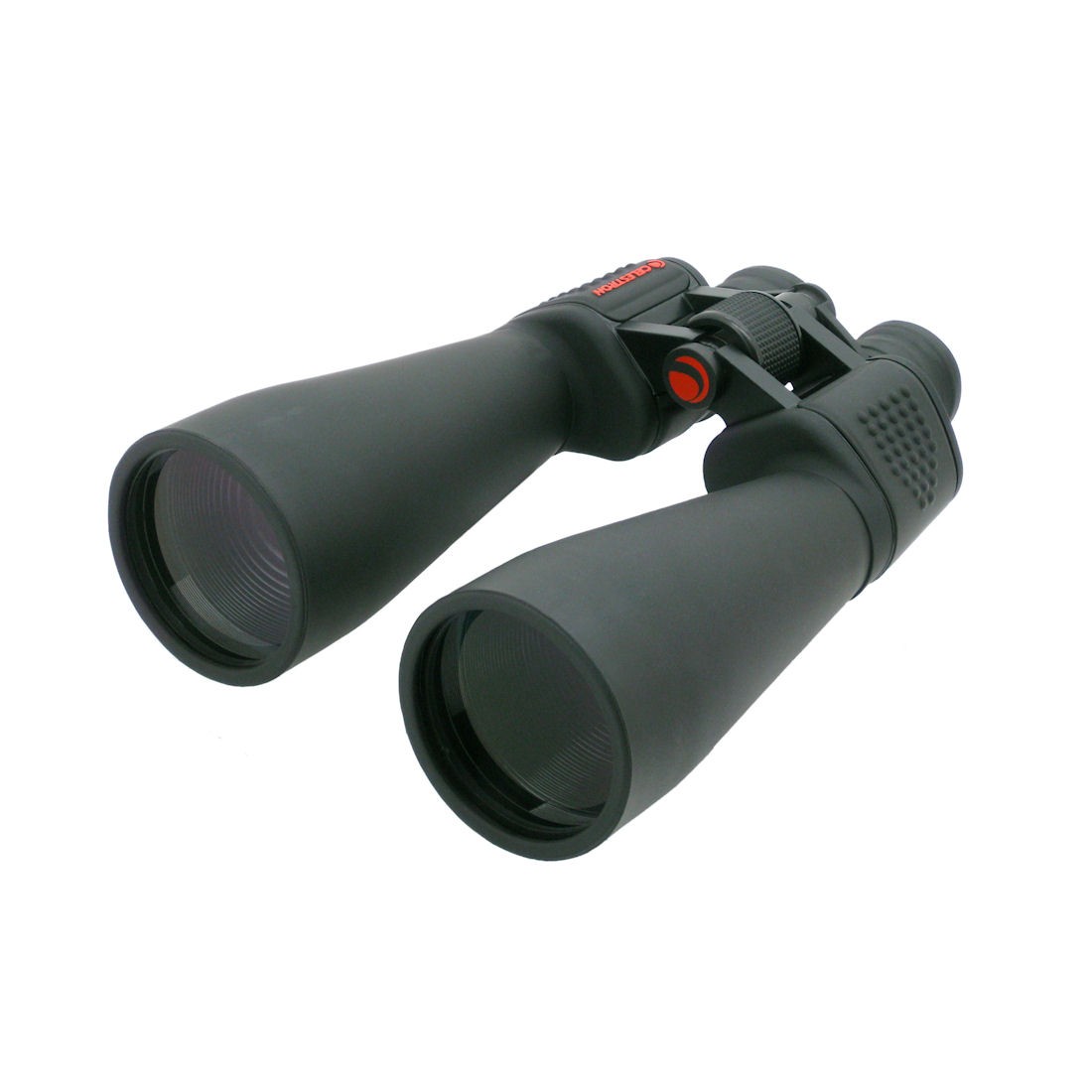 Celestron's 15x70 SkyMaster
$66. Large, heavy, and a great buy- if you get a good pair. There has been much written about an inconsistent build, with quite a few pairs suffering from poor collimation out of the box. Celestron will fix the lemons, and I haven't had any problem with mine after a year of use. I guess it comes down to whether the price entices you enough to go for it. You will need a tripod for observing as these babies get quite heavy after just a few minutes.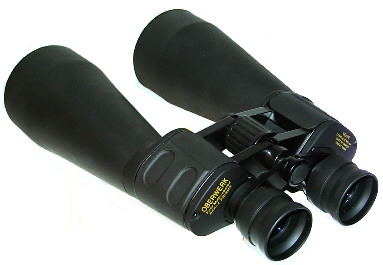 Oberwerk 15x70mm Binoculars
$150. I would still recommend a tripod for long hours of observation, but the Oberwerk's lighter weight (only three pounds!), more consistent build, and great optics are the better buy if you have more cash to burn.
Orion's Paragon HD-F2 Heavy Duty Tripod
$140. A great tripod not just for binoculars but spotting scopes as well. Sturdy, solid construction, and will handle the Oberwerk or Celestron binos easily.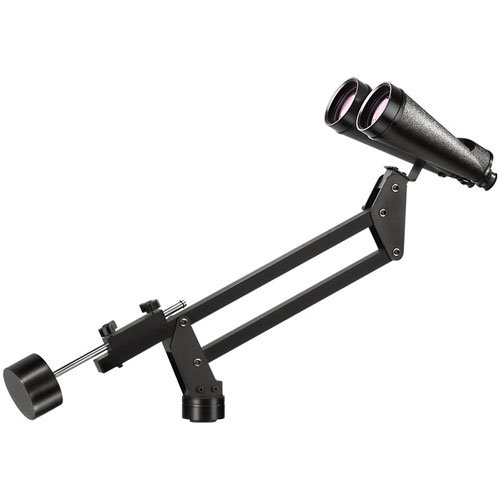 Orion's Paragon-Plus Binocular Mount (w/o Tripod)
$135. Does exactly what it says: holds your large aperture binoculars. If you decide to upgrade to mount with more swing, here ya go. The sliding counterweight and sturdiness makes your 15X70s and larger lighter than air.
Recommended eyepieces, kits, and filters
Astro-Tech 1.25" Eyepiece and Filter Kit
$130 shipped from Astronomics
. There are a few "beginners kits" out there, but none have the bonus of a great "wide-field" eyepiece and at least two with great eye relief. Included eyepieces are 6mm, 9mm, and 40mm plossls, and one 15mm 68degree Superview. Four colored filters for aiding planetary observing, a moon filter, and a barlow lens round out the kit. The 6 and 9 mm have only 3mm of eye relief, but the rest of the kit more than makes up for this shortcoming.
<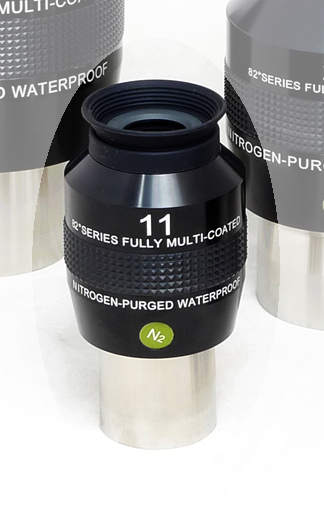 Explore Scientific 11mm 82degree 1.25" Eyepiece
$99+shipping from Astronomics
. A great way to augment your Astro-Tech kit, the super-wide view, excellent eye relief and optics are only rivaled by eyepieces costing at least 3x as much.
Explore Scientific 24mm 68degree 1.25" Eyepiece
$120 from Astronomics.
If you can't afford a Televue Panoptic, here is an incredible clone for nearly a third the price. It's argon purging and O-ring make it waterproof to eliminate fogging, boasts excellent eye relief for glasses-wearers, and ES offers a warranty protecting it as long as it is manufactured, plus an additional five years. Not a Televue. But damn close.
Zhumell Z Series Planetary Eyepiece Kit
$170 shipped from Hayneedle
Planetaries that rival eyepieces costing 5x as much,
with a padded carry bag?
. The Z series offers nearly an inch of eye relief, 55 degrees of apparent field of view, and have gotten rave reviews from the amateur community.
Celestron 8 to 24mm 1.25" Zoom Eyepiece
$53 on Amazon. If you are on an extreme budget, here's a great budget zoom. I would still seek out a few solid eyepieces, but it's a decent add-on to whatever eyepieces are included with your first scope.
Orion's 2" Q70 Wide-Field Telescope Eyepieces
Set of 3 for $250. You can buy the 26, 32, or 38mm eyepieces individually for $100 each. With a 2" diagonal (see below) for the 4" refractor or the 2" focuser on the 8" reflector, you can enjoy these wide-view, long eye relief eyepieces. They are a bit on the heavier side, so plan accordingly.
Celestron's Oxygen-III Filter
1.25" $58.
2" $73.
The best budget nebula filter you will find, this O-III from Celestron enhances views of most planetary nebula, some emission nebula, and the fabulous Veil Nebula.
Orion's UltraBlock Narrowband Filter
1.25" $100
2" $125
If you can't afford Lumicon's UHC, Orion makes a great cheaper alternative, and enhances detail in the Orion Nebula, Eagle Nebula, Crab Nebula, and quite a few more.
Orion's SkyGlow Broadband Filter
$80. Blocking the most common wavelengths of light pollution, this is a must-have in moderately to mildly light polluted areas to help enhance your views of nebulas, clusters, and galaxies.
Orion 1.25" Variable Polarizing Filter
$40. While moon filters can be grabbed for cheaper, Orion's boasts a range from 1% to 40% light transmission, allowing for adjusting as conditions require. It also makes a great accessory for terrestrial observing.
Orion's Basic Four Color Filter Set
$50. If you passed on the Astro-Tech kit but still want a few planetary filters, here's your best bet, with a range that will enhance features on all the major planets and even comets.
Orion's Shorty Barlow
$47. If you pass over the Astro-Tech kit and go straight for the other eyepieces, here is a nice economical addition to double your magnification without losing much of the pop.
Diagonals and Finderscopes
Orion 2" Dielectric Mirror Star Diagonal
$130. An excellent economical upgrade if you chose the 102mm refractor, boasting a 99% rate of reflectivity.
GSO RACI 8x50 Finderscope
$60. A significant upgrade from the stock red-dot finders, it delivers a correct-image of about 5.6 degrees. Finders are a matter of choice. Some prefer the TELRAD, I prefer something that I can use and compare to smaller FOVs with my Stellarium software. At $60, it is the same cost of Orion's much smaller 6x30 RACI finder.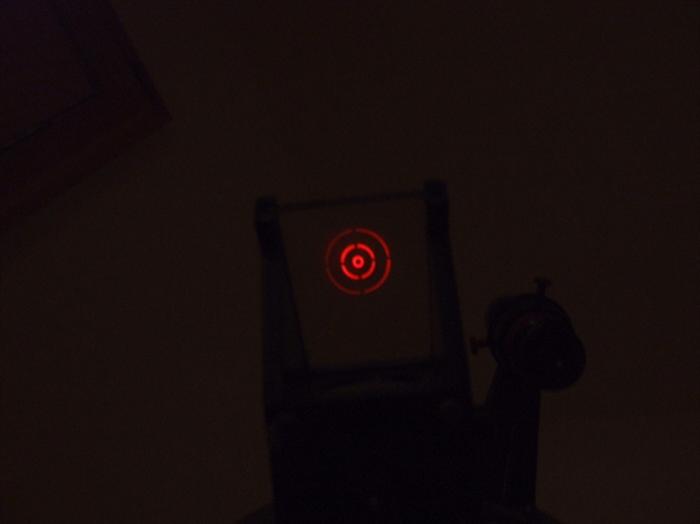 TELRAD Reflex Sight
$39. A favorite among amateurs, the Telrad makes a nice upgrade from the stock red dot finders you find on most telescopes. Projecting a series of concentric circles aiding tremendously in star-hopping, there are plenty of deep sky charts with the Telrad in mind available on the net, and the concentric design is even replicated inside the S&T Pocket Sky Atlas. A downside: it is a significantly large finder, so plan accordingly. You may find an old-fashioned finder more practical if you have a smaller instrument.
Recommended Reading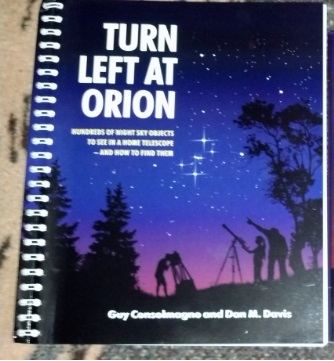 MUST-HAVE: Turn Left at Orion by Guy Consolmagno and Dan Davis (spiral-bound version)
$20.48. I loved it so much I actually bought a second one and donated it to my local library to beef up their astronomy section. You need absolutely no experience with a telescope to use it, it contains fantastic references and charts for the planets and moon including upcoming eclipses, spot-on illustrations, and the spiral-bound version is perfect to use while observing. Whatever telescope or binocular you own, this is the ultimate beginner's reference guide to hundreds of night sky targets.
The Backyard Astronomer's Guide by Terence Dickinson & Alan Dyer
$32.46. I'm going to quote an Amazon reviewer who puts it best:
I picked this book up and didn't put it down until I had read it from front to back. It covers everything from equipment and star atlases, to techniques for finding objects and photographing them. Every page has wonderful illustrations, all photographed or drawn by backyard astronomers
Rather than spreading itself too thin, "The Backyard Astronomer's Guide" concentrates on backyard astronomy as a hobby, staying away from much of the science behind the objects we view.

If you are seriously looking into the hobby, an essential read.
NightWatch: A Practical Guide to Viewing the Universe by Terence Dickinson
$23.49. Though I'm more partial to
Turn Left
,
NightWatch
is unmatched as
the
all-around stargazing guide. The most recommended book on the subject, and for good reason: great atlases, a how-to on astrophotography, excellent reference tables, star charts for the Southern Hemisphere, incredible images, handy references for selecting equipment, it's all here.
The Stars by H. A. Rey
$10.28. Rey is most famous for Curious George, but had a far lasting impact on the world with his unique "reworking" of the constellations. Beautifully illustrated, his vision of the heavens may be a bit contorted, but is still a fantastic guide and sorts out the clutter up there for those who can't tell the difference between Ursa Major and Centaurus.
Binocular Highlights: 99 Celestial Sights for Binocular Users by Gary Seronik
$17.46. A great reference for those who prefer to do their stargazing with both eyes, this compact book is easy to read with a red light flashlight and covers the best and brightest targets for residents of North America.
Sky and Telescope's Pocket Sky Atlas by Roger Sinnott
$14.46. Easy-to-read, easier to use, with a tough spiral binding, mine has been dog-eared to death but has been essential in finding and identifying too many objects to count.
Creature Comforts

HQRP Red LED Flashlight
$10. One bright flash of white light can ruin your night vision for hours. Yet you'll still need to reference a star atlas or swap out eyepieces or filters during long observing sessions. Here is a tough, cheap, bright solution to that.
Verstil Ergonomic Worker Seat
$130. While not in the product description, this is arguably the nicest adjustable observers chair you can buy. Lightweight, strong, and easy to use, just sit back and enjoy your long hours at the eyepiece without screwing up your neck and spine.
***
If you are still looking for a dark sky spot for your first set up, the Perseid thread lists available sites for all fifty states. That about wraps up this week. I hope this guide has been helpful, so until next time clear skies to you and keep looking up!

posted by CAC at
05:03 PM
|
Access Comments