« Japanese Products have Strange Names, But This One is Stranger Than Most [CBD]
|
Main
|
Praying to Barack Obama? [OregonMuse] »
August 17, 2013
SECNAV Chooses "USS Indianapolis" For the Name of LCS-17 UPDATED
In honor of the WWII cruiser USS Indianapolis.
Good call.
Most of you know the story of the USS Indianapolis, I remembered it here. Delivered the first atomic bomb in WWII. Torpedoed by a Japanese submarine, sank in minutes with heavy losses.
Littoral combat vessels are small and designed for operations in the "littoral" (shallow) zone.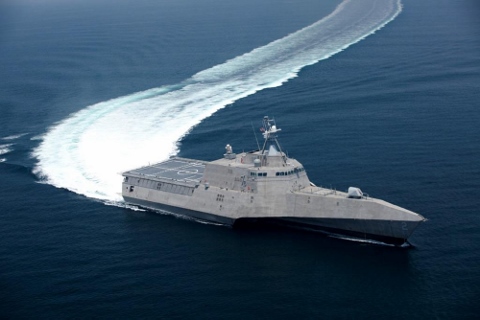 This is supposed to be the USS Detroit, LCS 7, but who knows with the internets
Good to see their memory and their vessel honored in this naming. I like it much better than the name chosen for LCS-10. With all due respect.
*via Dick
UPDATE: heh, you monkeys. Suggested names for future vessels (however many of those there will be.) Via commenter Garrett: USS Middle Class
carry on


posted by Dave In Texas at
01:55 PM
|
Access Comments