« Sunday Morning Open Thread
|
Main
|
Elon Musk Unveils His Latest Taxpayer Boondoggle »
August 11, 2013
Sunday Morning Book Thread 08-11-2013: Modern Weaponry, Good and Bad [OregonMuse]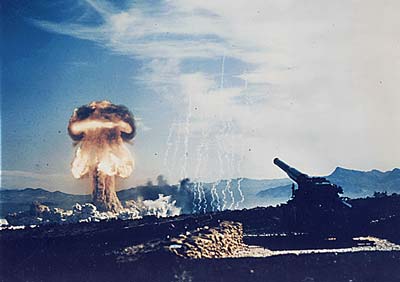 Actually, This Was Only A Test

Good morning morons and moronettes and welcome to the AoSHQ's always-explosive Sunday Morning Book Thread.

How I Learned To Stop Worrying And Love The Bomb
So this week marked the anniversary of the atomic bombing of Hiroshima and Nagasaki,
we had a couple of threads on this topic (here and here). There were a number of morons who posted comments along the lines of "I had a (father | grandfather | uncle | other relative) in the Pacific theater in 1945 and they were overjoyed when they found out they didn't have to invade the home islands. They probably would not have lived through it." A lot of these brave soldiers were survivors of some of the earlier battles, Iwo Jima, Okinawa, and other Pacific campaigns, who knew from first-hand experience what it would take to defeat the Japanese army, i.e. kill every last one of them.
So here are a couple of books that were recommended by morons in those threads:
The first one, With the Old Breed: At Peleliu and Okinawa by E.B. Sledge, has become a classic. It brutally portrays the horror of those Pacific campaigns, and you wonder how the survivors could be whole or sane ever again.
And as to what the American and Allied armed forced were up against, moron commenter Vashta Nerada recommended The Knights Of Bushido by Lord Russell of Liverpool, a history of Japanese war crimes during WWII. Lord Russell was a British judge advocate in charge of war crimes trials. This book will tell you what the soldiers of the Imperial Japanese Army did to Allied soldiers on the battlefield, to POWs they captured, and civilians who just happened to be in their way. I haven't read this one, but I'm told the accounts of the war crimes are astoundingly horrific. To me, it sounds like a book that you have to read in small doses, otherwise you just get numb to it all as you go on page after page. Solzhenitsyn is kind of like that, too. You just find it difficult to believe that such horrors can possibly exist.
So, there's no question that Truman's decision to use the atomic bomb saved thousands, if not millions, of lives, both American and Japanese.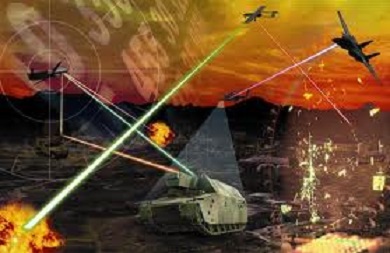 Pew! Pew! Pew!

"No Blasters! No Blasters!"
I've just finished A Choice of Treasons by Jim Doty, which I've recommended before, and I'm doing so again. It's a very enjoyable read. But I noticed something interesting about it: even though it takes place 2-3K years in the future, and all the characters zip around the galaxy in ships run with advanced computers and powered by some sort of FTL drive, the weaponry is all ballistic. Sidearms carried by soldiers fire bullets and the fighting ships shoot guided warheads at each other. Laser or particle-beam weapons do not exist in the Treasons universe. The reason for this is explained in the book's afterwards:
ABOUT THE AUTHOR



J. L. Doty was trained, with a Ph.D. in Electrical Engineering. His specialty has always been laser science and laser physics. He spent all his working life in various facets of the laser industry including a number of years in research and development, even working briefly on laser weapons in the early '80's...When writing science fiction, Jim is sometimes hindered by his deep knowledge of laser physics, and for that reason you'll never see a laser weapon of any type in his science fiction books. In fact, you can visit his website to read his rant on laser weapons, and how they are almost always badly misused in science fiction. You don't have to be an engineer or physicist to understand it, and you might find the information on lasers of interest.
The aforementioned author's rant on laser weapons is a worthwhile read. The science seems sound, but if it weren't, I'd never know. I don't know enough about the physics involved to have an opinion that's worth a toot. I do seem to recall an article in Scientific American making pretty much the same points back sometime in the 1980s as a (negative) response to the Reagan Administration's announcement of the Strategic Defense Initiative. Actually, it sounds like Doty may have done a little bit of SDI work himself back then.
I always wonder about these things. It all sounds right, but there's always this 'and yet..' clause lurking in the background. I used to know this guy, back in the 70s, who was a bona fide nuclear physicist. Had a big-ass Ph.D in nuke physics and everything. And he swore up and down to me on a stack of Bibles that the neutron bomb didn't exist, because it couldn't exist. And he explained to me the reasons why, I forget exactly, but I couldn't argue with him because I didn't know the science like he did. And yet, he was wrong. Wasn't he? Do we not have stockpiles of neutron bombs somewhere?
___________

Books For Morons
A lurker who occasionally posts comments under his nom de moron HungarianFalcon e-mailed me to recommend the book His Grace on a Rollercoaster: memoirs of a grateful survivor by Mark Jagger, MD.
HF says Dr. Jagger was a remarkable man who
pursued a dream of flying militarily only to have that dream cut short by health issues. He then went on to become an eye doctor (the medical kind, not an optometrist), before ultimately succumbing to health issues at an early age. The book...is an effort by him and his wife to tell his life story and the proceeds benefit the family.
Also
While it is on Amazon under the title "His Grace on a Rollercoaster" the family does a lot better, off the sale, if you order it thru them. All profit is going to the "Jaggers' Family Fund" for the kids, so this is Mark's way of taking care of them from beyond.

Amazon only has the black and white version ($15.68 w/ shipping) or you can order it thru Mark's daughter Meredith...for $12 plus $2 for shipping.

There is also a color version for $25 plus $2 for shipping (this version is not on Amazon). I am told there are many pictures that Mark had picked out in the book.
If you are interesting in ordering it directly from the family, you can contact Dr. Jagger's daughter Meredith for a copy. Her email is 'mjaggers' followed by the "'a' in a circle" symbol, then 'purdue' and then dot, and then the letters ee, dee, you.
I hate to sound paranoid, but since this isn't my blog, I should tell you all that I'm posting this in good faith. I have not verified any of this information, but it appears to be legit. Even so, and I hate to have to say this, but caveat emptor always.
But it does sound like he led an inspirational life that might be worth reading about.
___________
So that's all for this week. As always, book thread tips, suggestions, rumors, threats, and insults may be sent to OregonMuse, Proprietor, AoSHQ Book Thread, at YOURPANTSaoshqbookthread, followed by the 'at' sign, and then "gee mail", and then dot cee oh emm. But don't forget to remove YOURPANTS, otherwise I won't get your e-mail.
What have you all been reading this week? Hopefully something good, because, as I keep saying, life is too short to be reading lousy books.


posted by Open Blogger at
10:50 AM
|
Access Comments